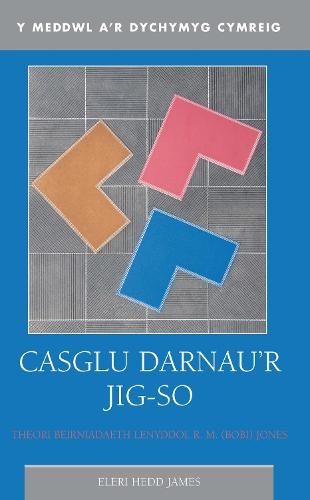 Casglu Darnau'r Jig-so: Theori Beirniadaeth R.M. (Bobi) Jones - Y Meddwl A'r Dychymyg Cymreig (Paperback)
Hedd James Eleri
Paperback
Published: 18/11/2009
Can be ordered from our supplier
"Er gwaethaf y berw Ol-Fodernaidd a welwyd yn ystod yr 1990au, prin fu'r sylw a roed i theori lenyddol yng Nghymru. Prinnach fyth ydyw'r beirniaid llenyddol Cymraeg a fentrodd i fyd dieithr theori beirniadaeth lenyddol. Y mwyaf gwreiddiol a thoreithiog o'n beirniaid llenyddol yw R. M Jones, a ddisgrifiwyd yn ddiweddar fel yr unig feirniad o statws Ewropeaidd sy'n ysgrifennu yn Gymraeg. Dros y degawdau diwethaf bu'n gweithio ar fenter arloesol mewn beirniadaeth lenyddol a ddisgrifiwyd eto fel y fenter fwyaf o'i bath yn hanes beirniadaeth Gymraeg. Cyhoeddodd gyfres o gyfrolau, bob un ohonynt yn rhan o'i ymgais i ddatblygu beirniadaeth lenyddol o safbwynt theoretig penodol a'i diffinio fel genre. Cyhoeddodd weithiau a oedd yn cymhwyso theoriau ieithyddol i fyd llenyddiaeth cyn i theoriau o'r fath gael eu mabwysiadu gan feirniaid Eingl-Americanaidd adnabyddus megis Culler. Eithr ni dderbyniodd sylw haeddiannol yn rhyngwladol hyd yma; adlewyrchiad o'r anfantais o gyhoeddi mewn iaith leiafrifol efallai. Yn ei gyfrolau gwelwn drafodaeth wreiddiol ar lenyddiaeth sy'n bur wahanol i'r math o feirniadaeth a welir yn Gymraeg gan amlaf, sy'n un rheswm efallai paham na chafodd ei sylw haeddiannol mewn cylchoedd llenyddol Cymraeg ychwaith. Er aruthredd a gwreiddioldeb gyrfa lenyddol ac academaidd Bobi Jones, prin fu'r sylw a roddwyd i'w waith ar lefel Cenedlaethol na Rhyngwladol. Fe'i hesgeuluswyd gan genhedlaeth o feirniaid na allent ddirnad na chyd weld a'i safbwyntiau llenyddol. Mae'r gyfrol hon felly yn ymgais i osod y ddysgl yn wastad, gan ymdrin a'i fenter i ddiffinio natur llenyddiaeth ar ei hyd am y tro cyntaf erioed. "
Publisher: University of Wales Press
ISBN: 9780708322468
You may also be interested in...
We would love to hear what you think of Waterstones. Why not review Waterstones on Trustpilot?