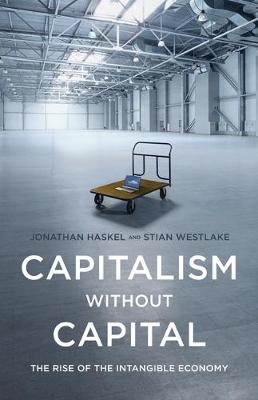 Hardback
288

Pages / Published: 17/10/2017
The first comprehensive account of the growing dominance of the intangible economy Early in the twenty-first century, a quiet revolution occurred. For the first time, the major developed economies began to invest more in intangible assets, like design, branding, R&D, or software, than in tangible assets, like machinery, buildings, and computers. For all sorts of businesses, from tech firms and pharma companies to coffee shops and gyms, the ability to deploy assets that one can neither see nor touch is increasingly the main source of long-term success. But this is not just a familiar story of the so-called new economy. Capitalism without Capital shows that the growing importance of intangible assets has also played a role in some of the big economic changes of the last decade. The rise of intangible investment is, Jonathan Haskel and Stian Westlake argue, an underappreciated cause of phenomena from economic inequality to stagnating productivity. Haskel and Westlake bring together a decade of research on how to measure intangible investment and its impact on national accounts, showing the amount different countries invest in intangibles, how this has changed over time, and the latest thinking on how to assess this. They explore the unusual economic characteristics of intangible investment, and discuss how these features make an intangible-rich economy fundamentally different from one based on tangibles. Capitalism without Capital concludes by presenting three possible scenarios for what the future of an intangible world might be like, and by outlining how managers, investors, and policymakers can exploit the characteristics of an intangible age to grow their businesses, portfolios, and economies.
Publisher: Princeton University Press
ISBN: 9780691175034
Number of pages: 288
Weight: 595 g
Dimensions: 235 x 152 mm
---
MEDIA REVIEWS
One of the Economist.com "Wise Words 2017 Books of the Year" in Economics and Business
One of Blackwell's Best of Non-Fiction 2017
One of Financial Times (FT.com) Best Books of 2017: Economics
The historical view of 'capital as something tangible persists and limits our thinking, ' the authors argue. To be sure, exactly which intangible assets qualify as capital can be debated endlessly. In Capitalism Without Capital, [they] choose a broad definition and explore its implications. In so doing, they provide insights into some puzzling questions . . . [and] make a good case that we don't know as much as we think because some of our tools for measuring economic performance are out of date.---George Molloan, Wall Street Journal
Economist Jonathan Haskel and UK government adviser Stian Westlake describe in an entertaining and engaging way why governments need to count innovation as an engine of profit.---Ehsan Masood, Nature
For an introduction, though, it would be hard to do better than Capitalism without Capital, which is clear and lively and raises--without having all the answers--the relevant questions.---Diane Coyle, The Enlightened Economist
And before anyone starts talking about 'the pettiness of arguing over symbols', let me point you to an amazing new book by an ex-colleague of mine, Stian Westlake, called Capitalism Without Capital: the Rise of the Intangible Economy.---Pat Kane, The National
[Capitalism without Capital] needs to be read by anyone seeking to understand the nature of modern capitalism and its politics.---Daniel Finkelstein, The Times
A great new book Capitalism without Capital by Jonathan Haskel and Stian Westlake suggests the rise of intangible assets makes corporate banking riskier.---Manish Sabharwal, The Indian Express
[Capitalism without Capital is] superb and important.---Yuval Levin, National Review
One of this year's most important and stimulating economic reads. . . . Read this book.---Tyler Cowen, Marginal Revolution
Haskel and Westlake's book focuses on the rise of the intangible economy. They are not trying to make any statement on the EU, but in one chapter of their book they plot tangible and intangible investment against an OECD measure of employment strictness. The results are fascinating. In their own words: 'countries with more restrictive hiring and firing invest more in tangibles and less in intangibles'.---Graeme Leach, CityAM
An intriguing book. . . . Perhaps the most surprising facts in a book full of surprises is how large investments in intangible assets--in research and development, software, databases, artistic creations, designs, branding and business processes--now are. . . . Messrs Haskel and Westlake have mapped the economics of a challenging new economy.---Martin Wolf, Financial Times
A first-rate book.---Arnold Kling, Askblog,
The best books on economics take a theme that is instantly recognisable and intuitively correct, and run with it. Capitalism Without Capital, which has been causing a stir recently by charting the rise of so-called intangible investment, is thus a good and thought-provoking book. . . . And, unlike a lot of economics, it is firmly rooted in the world we are in.---David Smith, Sunday Times
[Capitalism without Capital] is a very relevant and timely book.---Peter A. Coclanis, Raleigh News & Observer
Selected for Askblog's Books of the year 2017, chosen by Arnold Kling
"A must-read for anyone concerned about how to revive the growth of living standards."--Robert Peston, author of How Do We Fix This Mess?: The Economic Price of Having It All and the Route to Lasting Prosperity
"This book shines a wonderful spotlight on the hidden capital that influences our world--measuring and understanding it is a top priority."--William R. Kerr, Harvard Business School
"This fascinating book examines an important but overlooked subject--the intangible nature of capital and activity in the modern economy. The transformation of the intangible economy has rarely been pointed out, and its implications are not much understood or discussed. There are no other books similar to this one."--Diane Coyle, author of GDP: A Brief but Affectionate History
"The nineteenth- and twentieth-century world where capitalists owned factories and workers supplied labor has ended. In this book, Haskel and Westlake explain with fascinating examples how business assets today are mostly intangible and how this changes everything we know about business--corporate strategy, accounting, leadership, and industrial strategy. Whether you are a customer, investor, manager, employee, or politician, you will gain new insights from this tour de force."--John Kay, author of Other People's Money
"On almost every page of this book I found myself going 'Oh, now I understand' or 'Yes, I never looked at it that way.' Capitalism without Capital is highly original and illuminating. It has changed the way I look at things."--Daniel Finkelstein, The Times columnist
"With an impressive breadth of topics, this thorough book takes a compelling look at the importance of intangible capital. Arguing that it offers an invaluable lens to view modern, dynamic innovative economies, the framework that Haskel and Westlake set forth is useful, insightful, and indispensable."--Carol Corrado, The Conference Board
In Capitalism without Capital, Haskel and Westlake examine the key characteristics of intangible investments, including scalability, sunk costs, spillover effects, and synergies. . . . Capitalism without Capital is an essential introduction to an important and often overlooked driver of the modern economy.--HuffPost
The growing importance of the intangible economy is explored in [this] fascinating book.---John Looby, The Sunday Times
The portion of the world's economy that doesn't fit the old model just keeps getting larger. That has major implications for everything from tax law to economic policy to which cities thrive and which cities fall behind, but in general, the rules that govern the economy haven't kept up. This is one of the biggest trends in the global economy that isn't getting enough attention. If you want to understand why this matters, the brilliant new book Capitalism Without Capital by Jonathan Haskel and Stian Westlake is about a good an explanation as I've seen.---Bill Gates,
You may also be interested in...
Simply reserve online and pay at the counter when you collect. Available in shop from just two hours, subject to availability.
Thank you for your reservation
Your order is now being processed and we have sent a confirmation email to you at
When will my order be ready to collect?
Following the initial email, you will be contacted by the shop to confirm that your item is available for collection.
Call us on or send us an email at
Unfortunately there has been a problem with your order
Please try again or alternatively you can contact your chosen shop on or send us an email at