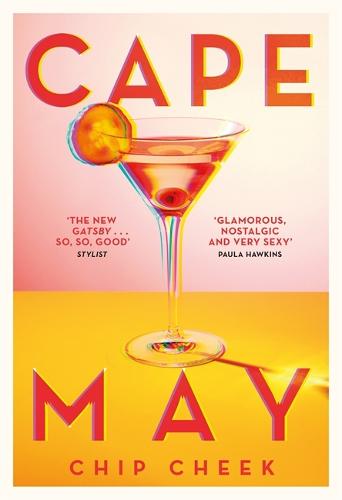 Hardback
272

Pages / Published: 30/04/2019
'Glamorous, nostalgic and very sexy' Paula Hawkins
'Powerful and devastating... A heady cocktail' Mail on Sunday
'The new Gatsby' Stylist
'Thoroughly sexy and engrossing' Heat
'Nods to classics like The Great Gatsby and Revolutionary Road' Independent

September 1957
Henry and Effie, young newlyweds from Georgia, arrive in Cape May, New Jersey, for their honeymoon. It's the end of the season and the town is deserted.
As they tentatively discover each other, they begin to realize that everyday married life might be disappointingly different from their happily-ever-after fantasy.
Just as they get ready to cut the trip short, a decadent and glamorous set suddenly sweep them up into their drama - Clara, a beautiful socialite who feels her youth slipping away; Max, a wealthy playboy and Clara's lover; and Alma, Max's aloof and mysterious half-sister.
The empty beach town becomes their playground, and as they sneak into abandoned summer homes, go sailing, walk naked under the stars, make love, and drink a great deal of gin, Henry and Effie slip from innocence into betrayal, with irrevocable consequences that reverberate through the rest of their lives...
'Gorgeous, seductive storytelling, martini-dry prose reminiscent of James Salter's finest. I loved it' Lucy Foley, author of THE HUNTING PARTY
'An exquisitely crafted exploration of young love, the power of desire, and the lifelong ramifications of choices made in an instant... A modern classic' Whitney Scharer, author of THE AGE OF LIGHT
Publisher: Orion Publishing Co
ISBN: 9781474609531
Number of pages: 272
Weight: 460 g
Dimensions: 226 x 156 x 28 mm
---
MEDIA REVIEWS
What a treat. Glamorous and nostalgic and very sexy, Cape May is a novel about marriage, lust, shabby seaside towns and lots of gin. Brilliantly unsettling - one of those books that stays with you. * Paula Hawkins *
The new Gatsby... With shades of F Scott Fitzgerald, Revolutionary Road and even Mad Men, this is one of those books that transport you to a different era and leaves you mesmerised by bad behaviour and human failings. It is so, so good. * Stylist (The Top 10 Books of 2019) *
The atmosphere of this torrid Fifties psychodrama lingers long after the final page...Southern honeymooners Henry and Effie [...] are sucked into a Gatsby-esque bacchanal that unleashes powerful, devastating desires... Cheek's deft way with characters and consequence makes for a heady cocktail. * Mail on Sunday (Best New Fiction) *
Terrific. * Daily Mail *
Cheek's glamorous and nostalgic first novel is an atmospheric tale of sexual longing and loss in 1950s America that nods to classics like The Great Gatsby and Revolutionary Road * Independent (30 Best New Books for 2019) *
Racy... Cheek's lyrical portrayal of '50s small-town America, and the erotic tales of the gang's escapades are thoroughly sexy and engrossing * Heat *
A sensuous story, full of nostalgia and wistful charm. * Sunday Mirror *
An intoxicating romance, laced with an anxious tension against a background of racy erotism. At its heart the novel is the study of a marriage; can love overcome betrayal? But it's also about the destructive danger of desire and lust... Dark, turbulent and ultimately thought-provoking, with an ending that echoes around your head. * Australian Women's Weekly *
Chip Cheek's eminently readable debut, Cape May, takes a pair of innocent newlyweds from Georgia and transports them to an east coast Bacchanalian landscape where everything goes... Their opening up to each other is tenderly depicted by Cheek, whose sensual writing brings immediate intimacy with his characters and their situation... Cheek's novel has an atmospheric nostalgia similar to the debuts of Jess Walter and Lisa Klaussmann... Cheek's success is that the tension lies not just in the promise of an affair between Henry and Alma but also in watching Effie, albeit through her husband's eyes, draw ever closer to the hedonism. The latter half of the book is given over to the affair, written brilliantly, from the illicit sex, the intoxication of desire, the rush of snatched moments, to the pendulum of Henry's emotions... Cheek is also good on the hypocrisies of the era, the double standards applied by lothario Henry to all three of the women. * Irish Times *
Chip Cheek's exquisitely-paced, erotically-charged debut novel... What unfolds in this compact novel is a strange and delirious exploration of power and sexuality that reads, at times, like a fevered dream. Cheek deftly creates tension by depicting scenes where the five main characters - Henry, Effie, Clara, Max, and Alma - are always speaking in innuendo and half-truths. At any moment, it seems, a single glance, or word, can lead to something more exciting and dangerous. In the final fifty pages, these tensions are gloriously exploited to full effect, and the prose - always tight and spare - carries us along for the ride... Though dark and, at times, quite brutal, Cape May, as a reading experience, is every bit a seduction in and of itself, and the novel, among its many delights, announces the arrival of a blistering new talent. Chip Cheek brilliantly explores the limits of marriage, of monogamy, and of a certain kind of staunch and superficial American masculinity that still persists today, more than half a century later. * Chicago Review of Books *
A mesmerising tale of sexual desires and discovery... Cheek's sensual first novel leaves you wanting more. * People *
Glamorous, very sexy and rather unexpected... This novel is a careful study of the complexities of love and passion. It is written in a pleasant, languid style and captures both the glamour and the hypocrisies of the era... There is plenty of tension to grip the reader, as well as steamy prose to titillate. A short but powerful novel about the way other people can change you. * Nicky Pellegrino, New Zealand Woman's Weekly (Book of the Week) *
Darkly fascinating * Hello! *
Churchgoing combined with spouse-swapping; picnic lunches complemented by bottomless gin and tonics: the ingredients are all here for an Edward Albee redux with sand between its toes. But a few things help Mr. Cheek dodge the shoals of cliche. First is his beguiling, undemonstrative writing style. The parties are raucous affairs but Mr. Cheek portrays them from a calm remove, which allows him to reveal the stages of Henry's unlikely transformation from a virginal country boy to a scheming roue... He wields the same observational control over the sex scenes, which are plentiful and, against the odds, extremely well done. It's the spell of sexual desire rather than the era's social mores that interests Mr. Cheek... A dozy, luxurious sense of enchantment comes over the story, until the rude awakening at its finale... Cape May does something better than critique or satirize: it seduces. * Wall Street Journal *
Seductive... A sweet and bitter ride. * RTE Guide *
Chip Cheek's debut novel is an updated New Jersey version of Paradise Lost and he's very finely tuned in to the social mores of the 1950s... A gripping read. * Irish Independent *
Chip Cheek's Cape May has superb prose, acute psychological insights, and a riveting narrative; though it's impossible to put down once you've started, to call it a "summer read" is dismissive of Cheek's carefully wrought artfulness. * Lit Hub *
A swirling vortex of psychological suspense with insights about marriage that recall writers like Margot Livesey and Alice Munro. The 1950s setting, the pellucid prose, and the propulsive plot make this very steamy debut novel about morality and desire feel like a classic. * Kirkus (Starred Review) *
Gorgeous, seductive storytelling, martini-dry prose reminiscent of James Salter's finest. I loved it -- Lucy Foley, author of THE HUNTING PARTY
Cape May is a perfectly mixed cocktail of beauty, desire, and heady desperation. In his gorgeous debut novel, Chip Cheek offers his readers a portrait of mid-century America and the timeless allure of love on the rocks. * Bret Anthony Johnston, internationally bestselling author of REMEMBER ME LIKE THIS *
Earthy and sensual, raw and real, Cape May is an exquisitely crafted exploration of young love, the power of desire, and the lifelong ramifications of choices made in an instant. Cheek's virtuosic prose reads like a modern classic, piercing through the veneer of male sexual fantasies of the 1950s and rendering a heartbreaking portrait of a man-and a marriage-undone by betrayal. * Whitney Scharer, author of THE AGE OF LIGHT *
This is no soft-focus coming-of-age story... Mood drives the story-the empty beach town exudes a barely hidden sense of threat, of the unknown lurking everywhere-and, as Effie and Henry become closer to playboy Max; his lover, Clara; and his half sister, Alma, we feel the gathering storm in every aspect of the landscape, from the roiling ocean waves to the reverberating clink of the gin bottle. Yes, betrayals are at the core of what happens at Cape May, but beyond that, this remarkable debut novel offers a sobering reminder of how the possibilities of life, when first encountered, often carry their own riptide. * Booklist *
Unexpectedly affecting. * New Zealand Listener *
Chip Cheek's Cape May follows an innocent honeymoon couple as they destroy their marriage before it's even begun. Set in the 1950s, there's lots of gin, sea-sand, drunken sailors and nostalgia and it's a taut, tense, sexy debut. -- Anne Cunningham * Irish Sunday Independent *
The naive outsiders drawn into a world of decadence is an old trope, but Chip Cheek makes it feel fresh in this unsettling, atmospheric novel. -- Anna Carey * Irish Times *
You may also be interested in...
Simply reserve online and pay at the counter when you collect. Available in shop from just two hours, subject to availability.
Thank you for your reservation
Your order is now being processed and we have sent a confirmation email to you at
When will my order be ready to collect?
Following the initial email, you will be contacted by the shop to confirm that your item is available for collection.
Call us on or send us an email at
Unfortunately there has been a problem with your order
Please try again or alternatively you can contact your chosen shop on or send us an email at