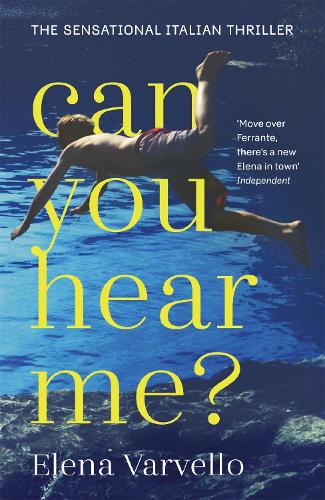 Paperback
272

Pages / Published: 31/05/2018
A blistering psychological thriller that never skimps on characterisation for the sake of cheap plot twists, Can You Hear Me? is the darkly compelling tale of murder, jealousy and madness set in a tight-knit community in Northern Italy. Gripping and credible, it marks Varvello out as one of the greatest living practitioners of European noir.
Waterstones Thriller of the Month for June 2018
The perfect summer read, this is a grippingly taut coming-of-age thriller, set amidst the scorched landscape of an Italian heatwave.
In the August of 1978, the summer I met Anna Trabuio, my father took a girl into the woods...
I was sixteen.
He had been gone a long time already, but that was it - not even a year after he lost his job and that boy disappeared - that was when everything broke.
1978. Ponte, a small community in Northern Italy. 
It is an unbearably hot summer, not unlike many others. For sixteen year-old Elia Furenti, living an unremarkable life of moderate unhappiness, the summer promises little. That is, until the day the beautiful, damaged Anna – the mother of his new friend Stefano - returns to Ponte and firmly propels Elia to the edge of adulthood. 
Then everything starts to unravel.
First Elia's father, Ettore, is let go from his job and loses himself in the darkest corners of his mind. Then a young boy is brutally murdered and a girl climbs into a van and vanishes in the deep, dark woods...
Translated by English PEN Award-winning translator Alex Valente, Can You Hear Me? is a deliciously dark slice of Italian noir, the first of award-winning author Elena Varvello's novels to be translated into English. Hailed by the Guardian as 'a novel of crime and darkness that eschews straightforward domestic noir', it combines the sophisticated characterisation of Elena Ferrante, with the psychological shockwaves of Leila Slimani's Lullaby. A perfectly pitched summer thriller that introduces a major new voice in Italian fiction.
Publisher: John Murray Press
ISBN: 9781473654891
Number of pages: 272
Weight: 216 g
Dimensions: 199 x 156 x 18 mm
---
MEDIA REVIEWS
'Can You Hear Me? poignantly touches on problems of friendships, families and coming of age in a small community in northern Italy. There is much beauty and sadness in this slim novel.' - The Times
'I love books I can read all in one sitting (maybe with a break to make tea) and can you hear me? by Elena Varvello was one of these. A thriller, a mystery, a coming-of-age story that utterly gripped me from beginning to end - and the translation from the original Italian never for a second gets in the way.' - Victoria Hislop, Good Housekeeping
'Move over Ferrante, there's a new Elena in town... Can You Hear Me? is the first of Elena Varvello's novels to be translated into English - elegantly so by Alex Valente, no easy task since the story episodically flits between two narrative strands, and splices memories of the recent past in with sections set in the present. It's as if, as one character puts it, "time has all bunched up like a bedsheet"... Varvello maintains a sense of tension and dread throughout, all cleverly focused on Elia's slow comprehension of the situation he finds himself in. The novel is something akin to noir, but the emphasis in on the psychological... It made me think of the opening of Ian McEwan's The Cement Garden... Like all the best coming-of-age stories, at its heart Can You Hear Me? is about understanding the limits of one's own knowledge.' - The Independent
'The novel is carried by both the brilliance of its setting and by a scattering of emotional truths... Here, Varvello's spare poetry reveals itself in masterly atmosphere and sense of place... It is refreshing to read a novel of crime and darkness that eschews straightforward domestic noir, and Varvello was brave to write about the trauma that haunts her.' - The Guardian
'Varvello is emerging as one of the strongest young voices in the Italian literary world. Can You Hear Me? is a sparse, stark tale, at once a murder mystery and a coming-of-age story. Can You Hear Me? is a bleak and vivid book, about the way that life can throw up events that are forever impossible to come to terms with, so that subsequent life is a joyless affair.' - TLS
'Haunting... Set in a small Italian town in the late 1970s, Can You Hear Me? reads like a collaboration between Daphne du Maurier and Megan Abbott, a superb psychological study marinated in a teenage boy's simmering hormones. A poet and award-winning short-story writer in her native Italy, Varvello writes tautly lyrical prose (beautifully translated by Alex Valente), delivering an absorbing tale that draws the reader into a nightmarish fever dream of isolation and paranoia given a chilling sense of inevitability by Varvello's matter-of-fact tone and Elia's deadpan narration.' - Irish Times
'A claustrophobic read... Marrying the unsettling feelings of a coming-of-age tale with a panic-inducing abduction story, Varvello explores the psychological impacts of fear, love and mental illness in pared-back prose.' - Daily Express
'A spare, underplayed and suspenseful story about a terrible crime eating away at a family.' - Sunday Herald
'A beautiful, stark, poignant account of fear, love and loss.' - Emma Flint
'I loved Varvello's pared-back writing style, and how she manages to say so much in so few words. An intense read, wonderfully anxiety-inducing, where everything is bubbling uneasily just below the surface.' - Claire Fuller
'A noir that reminded me of great Italian literature: the atmosphere I found in Niccolo Ammaniti's I'm not scared, mixed with the images that someone like Bassani can create with such accuracy... I can't even tell you how excited I am to finally talk about it with customers and colleagues.' - Dafne Martino, Waterstones bookseller
'Elena Varvello's Can You Hear Me? is riveting and luminous. It's a gorgeous heart-rending novel that you want to finish in one sitting - and few readers will be able to resist the exquisite gravity of such temptation - but it's also a novel that you long to savour, to make last, to draw out because there won't be another one this rich, this compelling, this extraordinarily satisfying for a long, long time.' - Bret Anthony Johnston
'Can You Hear Me? is not a faint-hearted book. Elena Varvello plays with some big themes here; fear, love and loss are prominent and sketched in heart aching relief. The story is a tense exploration of the mysteries of the human heart, the weight of paranoia and the often destructive nature of love and blind devotion... Varvello's writing is so redolent and vivid that the reader can almost feel the sweltering heat of summer in Italy, the intense desire between Elia and Anna and the individual anguish and grief of all characters here. This is not a light-hearted summer read but rather an intensely brilliant noir, tightly paced but with the wistful quality of a midsummer daydream. The characters are vibrant, relatable and powerfully realised and the story moves at breath taking pace. This is a beautiful coming of age story, a meditation on the nature of adulthood and a sizzling reminder of the turmoil of adolescence. Varvello has expertly captured the exquisite torture of first time lust and the agony of betrayal. The intensely personal nature of the story becomes clear when Varvello discloses that she wrote the book as a way of exorcising her own difficult relationship with her father, himself a sufferer of mental illness, in an act of letting go of her own past. This adds another level of poignant tenderness to this already heart wrenching tale and it adds another layer of humanity to Varvello's writing... Alex Valente has adoringly translated Varvello's work and the partnership between them is a wonderful example of how loving translation can bring powerful writing to readers across the world. If you like your fiction dark and deep, your characters strikingly real and are prepared to have your heart lovingly shattered then this is the book for you.' - Bookbag
'I can't remember reading a thriller that is as eerily intense as Elena Varvello's Can You Hear Me?... While this novel is obviously far removed from my own circumstances, the style and subject of Varvello's story invoked a deep sense of nostalgia in me. Elia is a somewhat awkward young man who makes a loose friendship with a boy named Stefano. Their friendship develops organically. They don't necessarily have a huge amount of shared interests but are pulled together more because of circumstances when there is no one else to spend time with. A lot of childhood friendships seem to be formed in this way and the only other book I can recall that got this so well is Tim Winton's novel Breath. During their summer together they spend time swimming at a remote water hole. I have strong memories of doing something similar and the representation of this uneven friendship felt very real... While Elia tries to deal with these normal issues surrounding any young man's development, he also grows increasingly wary of his father who believes that he's been cheated out of a job and becomes increasingly absent from the home. Marta seems to bury her head in the sand about her husband Ettore's behaviour and withdraw into herself. So this boy is mostly left to struggle with all of this on his own. Because of this, the story develops an increasing level of emotional poignancy as it goes on at the same time as it grows more unsettlingly tense. Varvello's captivating writing style drew me in and had me gripped in that way that made me really resent having to stop reading it at the end of my commutes or lunch breaks. It's a powerful book that reminds me of some of Joyce Carol Oates' novels in the way that Varvello so effectively builds suspense amidst a plot involving friendship and embittered economical hardships. And (coming from me) you know that means I think very highly of it!' - Lonesome Reader
'Can you Hear Me? is no ordinary psychological thriller - to pigeonhole it into that sub-genre would be to ignore large parts of this atmospheric and intense novel. Alongside the central mystery is a coming of age story and the two themes mesh together seamlessly... We've seen how Varvello generates suspense; she is also very skilful in making us care about all the characters: from Marta's tender, careworn love and inability to recognise Ettore's illness, to broken but unbowed Anna; from the adolescent bluster of Stefano to the growing confidence of Elia as he takes charge of his life. All are detailed alongside the tragedy of Ettore. Can you hear me? - which is Ettore's constant question, was tremendous, possibly the best thriller I'll read all year and as I said before, unputdownable. More please!' - Shiny New Books blog
'From the start this novel is heady and you can feel the Italian heat in every sentence. Considering how dark and intense this novel gets it's passionate and you find yourself relishing every chapter. Varvello's writing is like a shadowy mix of King and Du Maurier, it's part compelling noir and elegant coming -of-age story... I was so rooted in the story, Elia's confused emotional state and his father's mental decline was fascinating. Also I must mention the translation of this novel is brilliant, when reading translated fiction is often noticable when a translator loses the flow of the story but this doesn't happen at all in this book... it just feel like Italy.This is going to be my book of the summer and potentially the year.' - Bookspume blog
'We've seen how Varvello generates suspense; she is also very skillful in making us care about all the characters: from Marta's tender, careworn love and inability to recognise Ettore's illness, to broken but unbowed Anna; from the adolescent bluster of Stefano to the growing confidence of Elia as he takes charge of his life. All are detailed alongside the tragedy of Ettore. Can you hear me? was tremendous, possibly the best thriller I'll read all year and as I said before, unputdownable. More please!' - Shiny New Books
'At first glance, Elena Varvello's Can You Hear Me? has all the hallmarks of a commercial thriller... Yet those who venture further into the pages expecting the novel to be nothing more than a page-turner are in for a surprise. For this book offers so much more. Varvello has published two collections of poetry and it shows. Not only is her writing (translated here by Alex Valente) taut, but it is also exquisitely precise. Rather than scatter-gunning the reader with details, she selects one telling enough to convey an entire character or mood. From the way a person watches their reflection in a mirror, or the briefest of exchanges, the author conjures entire scenes, imbuing her pages by turns with menace, nostalgia and wistfulness... Chief among the cast of blinkered individuals is the narrator, Elia's, father, whose redundancy and subsequent breakdown are the catalysts for much of the action. Menacingly erratic and yet pitiable, he towers from the page... At points the writing is breathtakingly deft. The result is an engrossing and troubling book that hangs big questions on the taut wire of a gripping plot. Like her namesake Ferrante, Elena Varvello knows how to keep readers hooked. We shall see more of her work.' - ayearofreadingtheworld.com
'...but overall, it is far more about the unspoken, about all the things that crack open a facade and leave people broken, even though they pretend to be resilient. It is about people hiding the truth even from themselves... With its ability to capture the tormented adolescent soul, it reminded me of Bassani's The Garden of the Finzi-Continis, but this is far less idyllic and nostalgic. The tense, moody atmosphere, conveyed not through purple prose, but through a very restrained, economical style, is more reminiscent of Alberto Moravia. There are also hints of that author's disenchantment with human nature, modern life and that elusive myth of finding happiness.' - Finding Time to Write blog
'A taut, smart, viciously gripping noir about family and the destructive force of unconditional love. It took my breath away and kept me glued to the page until its heart-breaking end: a phenomenal achievement.' - Kirsty Wark
'Haunting, surreal, and deeply engaging, Elena Varvello's Can you hear me? is at once suspenseful and elegiac, as beautiful as it is horrifying, as Varvello takes us deep inside the mind and heart of 16-year-old Elia Furenti during his summer of change. Readers will devour this novel in one sitting as I did, then chew over it long after the book is done.' - Karen Dionne
'Elena Varvello's thrilling novel Can You Hear Me? holds a magnifying glass to a family spiralling into darkness while simultaneously casting a net that ensnares the poignancy of the end of adolescence. We are swept away by the vivid characters as their dark and broken places are deftly revealed. Varvello's command of her story, and yet delicate delivery, makes for stunning writing. A smart, dark, page-turner that lingers long after the last page.' - Kate Mayfield
'The bleakness and menace of this 'Hitchcockian' novel owe much to its brevity and the starkness of its prose. A raw and heartrending portrayal of masculinity and loneliness, the burden and complexity of family ties and the perils of crossing boundaries in a small community.' - Isabel Costello
'Can you Hear Me? shines a light on one family's black heart, a place where opposites coexist: tenderness and fear; happiness and pain; unfaltering faith and ugly suspicions. A book to get lost in.' - Paolo Giordano
'Reading Can you Hear Me? is like being swept away by a powerful current. The best Italian novel of the year.' - Fabio Geda
'One of the best Italian novels of 2016. A book that doesn't shy away from pain - it shines a light on it. And it does so beautifully, page by page.' - Alessandro Baricco
'Elena Varvello has created a world of suspense a la Hitchcock: a 16-year-old boy tells his story and that of his tragic family... The ravine and the forest of the Piedmontese hills described in Can you hear me? are threatened by evil which colours every page of this novel and reaches the reader via a shattering, dry dialogue. The rapidly industrialised landscape in a provincial corner of northern Italy, containing woods, waterfalls but also discarded tins and other rubbish, speaks of the tragedy: all is normal in the microcosm of Can you hear me?, even intense unhappiness has been accepted as normality.
Elena Varvello is a skilled and able narrator; her strong prose belongs to a new vein that has sprung out of modern Italy: women writers revel in an imagination that used to belong to the male world but with an added dose of poetry that is altogether feminine.' - Gaia Servadio
'A dark and painful novel, constructed with great wisdom and written with rare restraint.' - Nicola Lagioia
'Varvello has written both a noir and a coming-of-age novel that is in some ways reminiscent of Niccolo Ammaniti's I'm Not Scared... Varvello reveals the widening cracks slowly, perceptively, as one family scene unfurls from another, telling the story through omissions that become enigmas.' - Il Messaggero
'Can you Hear Me? is one of the most beautiful, intense and original books I have encountered in my life... A beautifully written book, that brings to mind Cormac McCarthy.' - Huffington Post Italy
'It brought back to mind Elsa Morante's Arturo's Island, and those classics with the ability to capture the abyss of adolescence, authors like Moravia and Bassani. This novel will grab you instantly and force you to read with a growing sense of panic, something tight in your throat: like a noir of ordinary life, bloodless and thus even more ruthless.' - La Stampa
'A coming-of-age story of friendship and passion that keeps the reader glued to the page.' - Repubblica
'Magnificent' - Il manifesto
'With her ability to capture the fragmented rhythm of life, the clockwork eruption of a drama foretold, Elena Varvello hooks the reader.' - Corriere della Sera
'Pain is treated here, not as an emotion to fear, but to be observed under the stunning microscope of Elena's prose.' - Australian Women's Weekly (NZ edition)
'
Can You Hear Me?
is a perfect coming-of-age novel, with a dark core that will make you read until the very last page ... Elena Varvello has poured her heart and soul into this beautiful, haunting piece of fiction.' -
Cesca Lizzie Reads
You may also be interested in...
×
Download the Waterstones App
Would you like to proceed to the App store to download the Waterstones App?
Reserve online, pay on collection.
Or,
add to basket
, pay online, collect in as little as 2 hours, subject to availability.
Thank you for your reservation
Your order is now being processed and we have sent a confirmation email to you at
When will my order be ready to collect?
Following the initial email, you will be contacted by the shop to confirm that your item is available for collection.
Call us on or send us an email at
Unfortunately there has been a problem with your order
Please try again or alternatively you can contact your chosen shop on or send us an email at