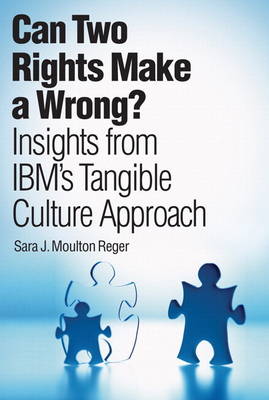 Can Two Rights Make a Wrong?: Insights from IBM's Tangible Culture Approach (Paperback)
Sara J. Moulton Reger
(author)
Paperback
304

Pages / Published: 01/08/2013
"This is the book for people who never get past page two of a management book-it is as close as the genre comes to being a compulsive page turner. Its main thesis is built on at least three big ideas that are individually persuasive and cumulatively compelling. They naturally fit into an alignment tool that is applied to the range of day-to-day and exceptional challenges all enterprises face, including the Holy Grail of transformational change."
-Donald Macrae, general counsel and chief knowledge officer, Department for Environment, Food and Rural Affairs, England
"Having been in the business of cultural transformation and alignment for many years, I've carefully looked for a thoughtful strategy and an intentional approach to bringing about healthy and thriving cultures. Can Two Rights Make a Wrong? is simply the best-it is the most thoughtful and practical work I've seen in this growing and critical area. This is a must buy!"
-Dr. Ron Jenson, Future Achievement International, international author, speaker, and consulting and executive coach
"Can Two Rights Make a Wrong? is a superb account of how to manage the 'soft side' of mergers and acquisitions, but it has great value for managing many other new business practices as well, such as Open Innovation. It provides a powerful, practical method to identify conflicts, develop alignment, and achieve effective coordination between two parties that would be tremendously helpful in a variety of collaborative contexts, such as alliances, research partnerships, or joint ventures. Moulton Reger and her colleagues at IBM should be congratulated for a thoughtful, insightful book."
-Henry Chesbrough, professor at University of California Berkeley's Haas School of Business, author of Open Innovation
"Numbers are neat and clean. Human beings are often messy and complex. If everyone in your organization knew what to do and when, how, where, and-most importantly-why to do it, how would your organizational culture be defined? The authors of Can Two Rights Make a Wrong? have introduced new ways to proactively address culture and, most importantly, tie it to bottom-line benefits."
-James H. Amos, Jr., chairman emeritus, MBE/The UPS Store "This book is a must read for leaders hoping to change their organization's culture as well as those attempting to merge firms with uniquely different cultures. Moulton Reger's insights are grounded in theory and real-world experience. In this unique book, culture change is a complex concept broken down into bite-sized pieces and presented in a way that any leadership team can embrace at its own pace."
-Merrill J. Oster, author of Vision Driven Leadership, founder Oster Communications, Inc.
"Here at last is a business book that takes culture seriously and isn't intimidated by it. The method described can be used with practically any type of business problem in any industry, and the book does an excellent job of drawing on research and theory while keeping the focus practical. The three elements of Outcome Narratives, Right vs. Right, and Business Practices are significant ideas in their own right-each is a unique insight. All three ideas have been around in various guises for several years, but have not been as well crystallized or as focused on complex business problems as they are in this book. The authors' achievement is extraordinary and goes a long way toward making the juicy idea of culture something to be built on and worked with."
-Peter Vaill, professor, Antioch University
"The Achilles heel for any major organizational change is that organization's culture. In every change, consultants talk about culture, but few provide specific sequential steps designed to actually do anything about it. This book provides such steps, and provides them in ways that makes sense. 'Makes sense' is the key because the steps provided can be easily adapted to virtually any organization, large or small."
-George Falldine, Air Force civil servant, Air Force Materiel Command
"Sara Moulton Reger is one of the premier organizational design consultants in the country, and this book reflects her in-depth knowledge of and experience with the subject matter. This book is essential reading for those striving to achieve greater results from ongoing change initiatives. Can Two Rights Make a Wrong? contains a broad range of concepts, examples, and specific steps culled from Moulton Reger's direct experience. Such a complete presentation of strategic and tactical advice makes Can Two Rights Make a Wrong? a mandatory addition to every manager's bookshelf."
-Steven Bragg, CPA, author of twenty-eight business books, CFO of Premier Data Services
"This is a serious book that gives intelligent guidance to anyone who leads an organization and takes creating and managing culture seriously. The section on Outcome Narratives is the best 'how to' on casting a unifying vision that I have seen. If you're a leader and take your role in creating and managing corporate culture seriously, then you should read this book."
-Regi Campbell, principal, Seedsower Investments, author of About my Father's Business
"I don't read most 'culture change' books-waste of time. This book is different. Can Two Rights Make a Wrong? combines both soft and hard approaches, with a continuous focus on how-to and results. Buy it. But, more importantly, read it."
-Jack Grayson, founder and chairman, American Productivity and Quality Center (APQC)
"We used Right vs. Right to help integrate an important acquisition-one that brought many differences we needed to carefully leverage to achieve IBM's business objectives. I found it to be a powerful technique for quickly reconciling strategic views of the business model and different operating preferences. Now, a few months later, we have the business results-and employee satisfaction-to prove Right vs. Right works."
-Jim Corgel, general manager, Small and Medium Business Services, IBM
"Leaders wouldn't think about doing a major project without a plan and a project manager, but how many consider the cultural implications? This book fills a key void because it clarifies the topic of culture so that it is easier to understand, and includes examples for applying the framework to many types of situations, including business-to-business alliances and crossgeography teams."
-Cindy Berger, vice president, American Express
"There is no question that the biggest hurdle to achieving a successful merger is culture. Market opportunities may be staggering and synergies may seem perfect, but, without a cultural match, odds are the merged company will struggle. Can Two Rights Make a Wrong? can help you avoid the problems. Even if you are not contemplating a merger, Moulton Reger's deep insight provides an excellent management primer and interesting historical perspective. A worthwhile read."
-John R. Patrick, author of Net Attitude, president of Attitude LLC
"This is an excellent book that provides a pragmatic approach to identifying and alleviating cultural issues created when two groups of people must work together. Effectively blending business cultures is a key requirement for successful outsourcing, and most companies lack the tools necessary to do this. Companies looking to reduce outsourcing risk should follow IBM's Tangible Culture approach."
-Lance Travis, vice president, Outsourcing Strategies, AMR Research
"This book will help leaders and cultural-change practitioners take a practical, well-architected approach to creating the culture they need to support their strategies. Thanks, IBM, for sharing what you have learned from your own transformation."
-Valerie Norton, vice president, Talent Management and Organizational Effectiveness, Merck & Co., Inc.
"Based on IBM's own experience with organizational transformation and mergers, this book belongs on the reading list of any executive contemplating major changes to their business."
- Peter Richerson, professor, University of California Davis
-
"Finally, a book that goes beyond just declaring 'it's the culture change' and gets to a real recount of why and how to move on that need. This is a practical approach for senior leaders in large corporations and government to address the most pressing issues in modern business life!"
-Kenneth I. Percell, executive director, Warner Robins Air Logistic Center
"I like the way the authors move the idea of organization culture from intangible (values) to tangible and practical. They offer that culture can be viewed and changed by examining and discussing what people do. Using the techniques described in Can Two Rights Make a Wrong? will demystify culture clash."
-Lynda Aiman-Smith, Ph.D., North Carolina State University
"A must read for leaders charged with planning and executing major change initiatives involving a single organization or multiple organizations. The book is original, thoughtful, thorough, and pragmatic. The elements of Can Two Rights Make a Wrong? and their interrelationships that work to drive successful change are particularly beneficial. The authors demonstrate a hands-on grasp of this important subject and the related literature. The material is presented in a concise, easy-to-understand format, with lots of tables, charts, and illustrations to help guide the reader."
-Stephen W. Brown, Edward M. Carson chair in services marketing, professor and executive director, Center for Services Leadership, W. P. Carey School of Business, Arizona State University
"Many have observed that mergers and acquisitions will fail to achieve their goals without proper attention to human and cultural factors, but few have shown us the way to manage these factors in any meaningful way. This book takes up that challenge and delivers a real solution by identifying business practices as the crucial element of 'culture' that can make or break a merger or acquisition, and by providing a hands-on methodology for managing and aligning differences across cultures."
-Marietta Baba, dean of the College of Social Science, professor of Anthropology, Michigan State University
"Sara Moulton Reger's application of Business Practices, Right-vs. Right, and Outcome Narratives to business transformation spoke directly to my own business experience. I found the book's comprehensive approach very appealing. It brought together the story of a historic merger; a review of traditional approaches to culture transformation in business organizations; the powerful new techniques of Outcome Narratives, Right vs. Right, and Business Practices Alignment; and useful examples of the way to apply these techniques."
-Dwight E. Collins, Ph.D., adjunct professor, Presidio School of Management, sustainable business and supply chain optimization consultant, president, Collins Family Foundation
"We know unsuccessful mergers and acquisitions are often the result of underestimating the people and the cultural issues. Derived from experience, here is practical help in improving your chances of being one of the success stories."
-David Hope, human resources director, Norwich Union Insurance
"This is state-of the-art. This practical approach is extremely useful for anyone involved in integrating two large organizations, especially professional organizations. I found the book Can Two Rights Make a Wrong? fascinating-excellently describing the preparation and process that is required in integrating culturally different organizations."
-Fred WI Lachotzki, professor of business policy, Nyenrode University, coauthor of Beyond Control: Managing Strategic Alignment through Corporate Dialogue
Nowadays, nearly every business leader recognizes the crucial importance of culture. But, in many organizations, attempts to handle culture issues remain "squishy," unfocused, and unlikely to bring any value or results. Now, IBM's leading experts reveal the way to make culture tangible to everyone involved-and how to effectively deal with a variety of culture challenges.
Can Two Rights Make a Wrong? leverages the lessons learned during IBM's $3.5 billion acquisition of PricewaterhouseCoopers Consulting: insight that IBM has crystallized into a powerful methodology for transforming business culture.
The authors introduce "Business Practices," an actionable surrogate for "culture" that business people can identify with, gauge, and act upon. Then, one step at a time, you'll learn how to apply IBM's practical culture transformation techniques in your unique environment. You'll discover common patterns that lead to culture clashes so you can resolve or, better yet, prevent them. You'll learn to clarify your expectations so people really "get" it-and do it. You'll gain the way to measure culture change progress in terms everyone can understand and buy into.
Whether you're involved with M&As, joint ventures, major transformation, internal restructuring, or any other initiative where culture is important, this book can help you take culture from a worrisome risk to a competitive advantage.
Business Practices: the unseen hand that propels action
Uncover what makes your organization unique
Right vs. Right: What to do when good options conflict

Understand and manage the source of culture clash
Outcome Narratives: Get to the right place, the right way

Clarify your desired future, clear the obstacles, measure progress, and deliver results
Successful culture change requires the same discipline you bring to the rest of your business. It demands a strong methodology that helps you clarify your goals and expectations, identify and overcome obstacles, measure progress...and get results.
This book delivers that methodology.
IBM's powerful, proprietary Tangible Culture approach will help you make culture visible and measurable- so you can replace "feel good" culture work with focused, actionable plans for change.
Use IBM's techniques to surface, understand, and reconcile differences among groups that must work together, so you can launch alliances more successfully...drive more value from acquisitions...enhance cross-silo and global operations...choose the right strategies...and make real transformation happen.
Whatever your goals, culture is central to your success. With this book, you can finally address culture-systemically, proactively, and effectively.
Leverage IBM's Breakthrough Methodology for Driving Effective Culture Change
Drive real culture change, survive the effort, and reap genuine results Overcome culture challenges and risks Successfully execute on M&As, business alliances, transformation and internal restructuring Use downloadable templates to customize IBM's techniques for your environment Learn what IBM learned from its $3.5 billion acquisition of PricewaterhouseCoopers Consulting
Foreword xxi
Preface xxiii
Acknowledgments xxv
About the Author xxvii
Contributing Authors xxix
Section I: The Basics 1
Chapter 1: Introduction-An Overview of Tangible Culture 3
Chapter 2: We Can't Do This the Traditional Way-IBM's Acquisition of PricewaterhouseCoopers Consulting 17
Chapter 3: Traditional Approaches to Culture Transformation-How Others Have Dealt with the Challenge 33
Chapter 4: How to Get to the Right Place the Right Way-Outcome Narratives 49
Chapter 5: The Good Thing That Can Cause Big Trouble-Right vs. Right 67
Chapter 6: The Unseen Hand That Propels Organizational Action-Business Practices 85
Chapter 7: Putting It All Together-The Business Practices Alignment Method 103
Section II: The Application 119
Chapter 8: Mergers and Acquisitions- Managing the Common Sources of Culture Clash 121
Chapter 9: Alliances-Finding Ways to Leverage Your Collective Capabilities 143
Chapter 10: Major Restructuring-Gaining Sustained Value from Your Reorganization 163
Chapter 11: Major Transformation-Addressing Your Plan's Hidden Barrier 181
Chapter 12: Key Decisions and Everyday Business-Extending Tangible CultureInto the Operational Parts of Your Business 203
Section III: The Projects 225
Chapter 13: The Co-operators-Using Business Practices to Clarify Expectations 227
Chapter 14: Sales Pipeline-Using Right vs. Right to Differentiate Issues 241
Epilogue 251
Appendix: About the Contributors 255
Index 268
Publisher: Pearson Education (US)
ISBN: 9780133461206
Number of pages: 304
Weight: 408 g
Dimensions: 229 x 152 x 23 mm
You may also be interested in...
Simply reserve online and pay at the counter when you collect. Available in shop from just two hours, subject to availability.
Thank you for your reservation
Your order is now being processed and we have sent a confirmation email to you at
When will my order be ready to collect?
Following the initial email, you will be contacted by the shop to confirm that your item is available for collection.
Call us on or send us an email at
Unfortunately there has been a problem with your order
Please try again or alternatively you can contact your chosen shop on or send us an email at