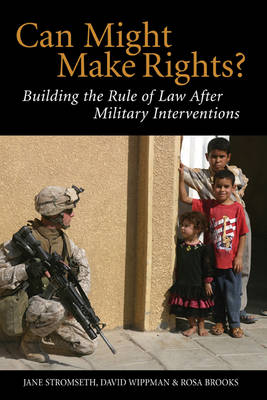 Hardback
428

Pages / Published: 02/10/2006
This book looks at why it's so difficult to create 'the rule of law' in post-conflict societies such as Iraq and Afghanistan, and offers critical insights into how policy-makers and field-workers can improve future rule of law efforts. A must-read for policy-makers, field-workers, journalists and students trying to make sense of the international community's problems in Iraq and elsewhere, this book shows how a narrow focus on building institutions such as courts and legislatures misses the more complex cultural issues that affect societal commitment to the values associated with the rule of law. The authors place the rule of law in context, showing the interconnectedness between the rule of law and other post-conflict priorities, such as reestablishing security. The authors outline a pragmatic, synergistic approach to the rule of law which promises to reinvigorate debates about transitions to democracy and post-conflict reconstruction.
Publisher: Cambridge University Press
ISBN: 9780521860895
Number of pages: 428
Weight: 800 g
Dimensions: 229 x 152 x 27 mm
---
MEDIA REVIEWS
"Finally a single volume that coherently and intelligently examines the current wave of rule of law efforts in nation building endeavors. Its mix of theory, contemporary examples and practical guidance makes it immensely valuable to policy makers, practitioners and students a like. With refreshing candor and cognizance of the ultimate limitations of external efforts to establish the rule of law, Can Might Make Rights is nonetheless invigorating and inspiring of our ability to do this work much more effectively." --Deborah Isser, Senior Rule of Law Advisor, United States Institute of Peace
"This book is an important advance in the scholarship related to transitional and post conflict issues to ensure that the rule of law is the cornerstone to a building plan in restoring a sustainable peace in a war-torn and unstable region[...]Can Might Make Rights is an honest and imminently practical resource for the policy maker, legal practitioner/advisor, and student who must understand the nuances in creating a new society or nation based on the rule of law after the shooting has stopped. This readable book helps in our understanding of the process by which we can ensure that a military intervention can produce a positive and peace-sustaining society. [...]The authors, experienced practitioners and academics, correctly focus on a synergetic approach to building the rule of law, stressing the importance of the historical and cultural context in establishing stability in the "dark corners" of the world that are used by terrorists to hide and for the beast of impunity to lurk unchecked. [...]Having been involved in military interventions or in seeking a sustainable peace after conflict all my professional life, the world is just beginning to realize that only through the rule of law will that peace be sustainable and allow for the growth of freedom and equal justice so important in the international fight on terror. I would have found this book useful in my work domestically and internationally." --David M. Crane, Distinguished Visiting Professor of Law, Syracuse University College of Law
"Can Might Make Rights addresses the most difficult challenge in the realm of military interventions, whether justified or unjustified: what to do in the aftermath. Professors Stromseth, Wippman and Brooks have written the most comprehensive and impressive book examining how the rule of law is the foundation of any society's post-intervention recovery and advancement. This is a study for the policy-making and academic worlds that brilliantly offers historical perspective, contemporary insight, and invaluable guidance for the future. It would be folly to act in ignorance of what this book teaches." --Professor David Scheffer, Northwestern University School of Law and former U.S. Ambassador at Large for War Crimes Issues
"Whether in Iraq or Kosovo, building rule of law after military conflict cannot be done on the cheap. This complex, critical task demands not just resources and planning, but vision and imagination. This important, readable volume offers these elements, as three talented and experienced international lawyers build on hundreds of interviews to design a synergistic, systemic framework for creating rule of law cultures in post-conflict societies." --Harold Hongju Koh, Dean of Yale Law School and Assistant Secretary of State for Democracy, Human Rights, and Labor, 1998-2001
"This study includes a number of well written and highly informative chapters on the core issues surrounding implementing the rule of law in post-conflict societies. [...]One comes away from this volume understanding both the incredible challenges and complexities that face efforts to establish the rule of law in post-military conflict situations, but also a sense of empowerment due to the analytic tools that the authors provide the reader. [...]Can Might Make Rights?" represents a major contribution to codifying, in a sophisticated and compelling manner, the multiple dimensions and complexities facing rule of law efforts in post-conflict societies." --Eric Davis, Rutgers University, Perspectives on Politics
"Finally: a practical guide for the rule of law development practitioner. After a baptism by frustration as a rule of law planner in Iraq, it became clear that a systemic and holistic approach with realistic expectations was required for any genuine and sustainable progress. For military planners, fighting a conventional war is easy when compared to a protracted counterinsurgency. This book, rather than claiming to have all the answers, urges the reader to ask the right questions. The authors guide the planner to a reasoned and measured approach to rule of law in a conflict zone, while pointing out that true successes are rare. Most importantly, the book correctly points out that there are no short cuts. Rule of law development requires patient, dedicated (and well funded) support to develop a culture of lawfulness. I wish this book had been available BEFORE my deployment." --Major Paul F. Meagher, Rule of Law Officer, 4th Civil Affairs Group, U.S. Marine Corps
"...Can Might Make Rights, a project of the American Society of International Law, is the latest of several recent texts seeking to draw lessons out of the international community's involvement in reconstruction efforts and is notable for its focus on such efforts as they have taken place, and are currently taking place, in the specific context of post-intervention environments...Can Might Make Rights should become part of the personal professional library of any individual involved in the planning and execution of or support to reconstruction efforts...an optimistic book, albeit also a realistic one...succeeds in being a very valuable addition to the ongoing conversation. It is a conversation that will continue by necessity, and will, one hopes, include practitioner's handbooks that continue an interdisciplinary, interagency, and multinational approach even as they write for their specific audiences...In Can Might Make Rights, these scholars do an excellent job advancing the dialogue. --CDR R. James Orr, JAGC, USN, Deputy Legal Advisor to the North Atlantic Treaty Organization's Headquarters, Supreme Allied Command Transformation in Norfolk, Virginia, International Judicial Monitor
You may also be interested in...
Simply reserve online and pay at the counter when you collect. Available in shop from just two hours, subject to availability.
Thank you for your reservation
Your order is now being processed and we have sent a confirmation email to you at
When will my order be ready to collect?
Following the initial email, you will be contacted by the shop to confirm that your item is available for collection.
Call us on or send us an email at
Unfortunately there has been a problem with your order
Please try again or alternatively you can contact your chosen shop on or send us an email at