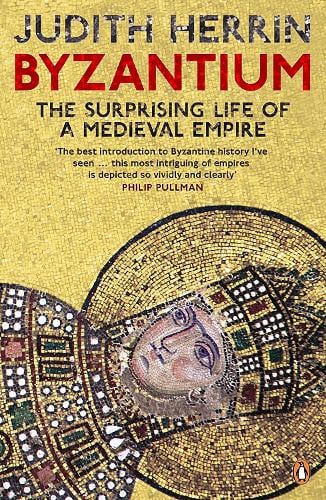 Byzantium: The Surprising Life of a Medieval Empire (Paperback)
Judith Herrin
(author)
Paperback
416

Pages / Published: 03/04/2008
For a thousand years an extraordinary empire made possible Europe's transition to the modern world: Byzantium. An audacious and resilient but now little known society, it combined orthodox Christianity with paganism, classical Greek learning with Roman power, to produce a great and creative civilization which for centuries held in check the armies of Islam.
Judith Herrin's concise and compelling book replaces the standard chronological approach of most histories of Byzantium. Instead, each short chapter is focused on a theme, such as a building (the great church of Hagia Sophia), a clash over religion (iconoclasm), sex and power (the role of eunuchs), an outstanding Byzantine individual (the historian Anna Komnene), a symbol of civilization (the fork), a battle for territory (the crusades). In this way she makes accessible and understandable the grand sweeps of Byzantine history, from the founding of its magnificent capital Constantinople (modern Istanbul) in 330, to its fall to the Ottoman Turks in 1453.
Publisher: Penguin Books Ltd
ISBN: 9780141031026
Number of pages: 416
Weight: 340 g
Dimensions: 198 x 129 x 25 mm
---
MEDIA REVIEWS
The scope and shape of Herrin's survey of Byzantine history and culture are impressive. She moves from the foundation of Constantinople to its fall before the Turks in a series of twenty-eight short chapters. This allows the curious or impatient reader to sample, according to taste, such delectable topics as Greek fire, eunuchs, icons, and the Towers of Trebizond . . . -- G.W. Bowersock, New York Review of Books
The book is comprehensive, but the paragraphs are never dense and the prose retains throughout a lively quality. -- J.W. Nesbitt, Choice
The big, standard histories contain a wearying succession of emperors, patriarchs, battles, and sieges...At the other end of the scale there are lightweight travelogues, or books that pick out the juiciest moments (such as the final siege of 1453), leaving aside many things that are more important but less conducive to a good story. Judith Herrin has tried to find a middle ground between those two extremes, and has succeeded in a rather original way. Her book is a necklace of short chapters, each on a different topic, strung out in broadly chronological order. Some are devoted to places (Ravenna, Mount Athos and, of course, Constantinople itself); some are about people (Anna Comnena, Saints Cyril and Methodius, and the unforgettably named Basil the Bulgar-Slayer); and some are on general subjects, whether large (Greek Orthodoxy, the Byzantine economy, the Crusades) or small ('Greek Fire', and eunuchs). -- Noel Malcolm, The Daily Telegraph
Judith Herrin, a professor at King's College London, sets out to show that there are far better reasons to study and admire the civilisation that flourished for more than a millennium before the conquest of Constantinople in 1453, and whose legacy is still discernible all over south-east Europe and the Levant. She presents Byzantium as a vibrant, dynamic, cosmopolitan reality which somehow escaped the constraints of its official ideology. -- The Economist
[A] remarkable new history...Herrin takes a fresh approach and focuses on manifold aspects of Byzantine culture, civilization, and religion. Herrin's scholarship is impeccable, yet she writes like the very best of travel writers. She paints vivid pictures of this prosperous and pious culture whose capital was a fortified city of sunlight glinting off the gilded church domes and spires, surrounded on three sides by the shimmering Sea of Marmara and the Bosphorus.... From the first page, the author embraces the reader in the love of her subject. She entertains and captivates while throwing open the doors to her formidable treasury of knowledge... -- M.M. Bennetts, Christian Science Monitor
[Herrin] takes an innovative approach.... The scope is broad--religion, politics, art, war, gender--and the style lively and personal. -- The Atlantic
Herrin's hope is to dispel the aura of decadence that hangs over Byzantium so that we can see the empire for what it was: one of the great, creative civilizations. Herrin's account shows that, indeed, Byzantium can't be explained as a millennial slide downhill, the judgment propounded by Gibbon in "The Decline and Fall of the Roman Empire" and often repeated since. -- Roger Gathman, Austin American-Statesman
Herrin has produced an accessible, fascinating book that avoids the pitfalls of writing by scholars for scholars. She doesn't dwell on the spectacular, although Byzantium has plenty of drama, but rather provides a surprisingly deep look into a lost world. Much to the point, as well, is that modern Europe and the rest of the Western world would have been a much different place had it not been for Byzantium and its thousand-year history from the sixth century to the 15th. It's an amazing story, and well told, as Herrin traces a civilization that combined pagan, Christian, Greek, Roman and ancient and medieval influences. This is a terrific read. -- Mark Horton, The Edmonton Journal
The information here is both solid and detailed--so much so that even a specialist will frequently encounter previously unknown facts. . . . Byzantium offers a solid introduction to Byzantine history and culture, and the sheer depth of information it contains could repay multiple readings. -- Richard Tada, The Weekly Standard
In this carefully researched, clearly written, and engaging book author Herrin opens up a neglected part of western history for the general reader. -- Charles L. P. Silet, Magill Book Reviews
Offering a brilliant study of the history of the Byzantine empire, Herrin...draws [an] original portrait of a tradition-based yet dynamic empire that protected Christianity by checking the westward expansion of Islam. Drawing on letters, journals and other primary documents from both political figures and ordinary citizens, Herrin splendidly recreates an empire whose religious art, educational curriculum, tax and legal systems, and coronation rituals preserved the best of the empire's pre-Christian Greek past while at the same time passing along advances to the rest of the world. Herrin's history is hands-down the finest introduction to Byzantium and its continuing significance for world history. -- Publishers Weekly
Others in recent years have made worthy efforts to interest us in the Byzantine achievement, but none has made it live in quite the way that Herrin does. She's been bold in foregrounding themes, concerned more with painting a panoramic picture of Byzantium's 'surprising life' than to establish a chronology--though the narrative's there to give the reader a sense of how it all progressed. Free from portentousness and pretentiousness, she doesn't insist on her subject's importance or relevance: the freshness and enthusiasm of her book is its real point. Not just an important work of scholarship but a delight to read, this study works a minor miracle in raising Byzantium, Lazarus-like, from its dusty grave. -- Michael Kerrigan, The Scotsman
Byzantium's history is presented chronologically, which helps explain why there's no simple description of its legacy. Herrin's emphasis on the empire's proudest achievement, its culture--separate chapters are devoted to religion, economy, warfare, art and literature--is an armchair delight. -- Brett Popplewell, The Toronto Star
Here of course lies the strong contemporary resonance of Herrin's argument. Her lively portrayal of a forgotten civilisation impacts on the revived Muslim awareness and expansion of today. -- Tom Nairn, Open Democracy Blog
It is only as one sees Byzantium for itself, and not simply in relation to Islam or Western Europe, that one can begin to appreciate its greatness. And that is what makes Herrin's "Byzantium" so welcome. All the expected topics are here: the founding of Constantinople, the building of the great church of Agia Sophia, the rule of Justinian and the codification of Roman law, the shimmering mosaics of Ravenna, the harsh consequences of the rise of Islam, the place of icons in Byzantine life and the iconoclastic controversy, the conversion of the Slavs and the creation of an alphabet for the Slavic tongue, Mount Athos, the outstanding historian Anna Komnene, the arrival of the Crusaders, the siege of Constantinople. But the book contains much more. -- Robert Louis Wilken, First Things
At its best, the text is skillfully written, judiciously crafted, and lively. -- Florin Curta, American Historical Review
Judith Herrin's book provides a fine cultural backdrop to the study of Byzantine liturgy--and a good read for understanding this remarkable society on its own terms. -- Frank C. Senn, Worship
Byzantium covers a huge period of space, time, and cultural influence, which is now synthesized into bite-sized pieces in Judith Herrin's new book Byzantium. . . . As a non-specialist, I can fully attest to her success in making her book appear friendly and imminently readable. . . . The eye-catching cover is a visual clue to the treasures within this book, which explores the intrigue of the imperial Byzantine court; describes the lavish clothing, administration, food, architecture, and art of Byzantium; reveals a fascinating cast of royals and ascetics; and captures the imagination about this era of the Eastern Roman Empire down to the 15th century, when Byzantium falls to the Ottoman Empire. . . . Herrin seeks to promote the positive and creative aspects of Byzantium and show the reader a Byzantium that is more than derivative of Greek and Roman culture, but rather it 's own culture. She excels at this. . . . -- E-History.com
You may also be interested in...
Simply reserve online and pay at the counter when you collect. Available in shop from just two hours, subject to availability.
Thank you for your reservation
Your order is now being processed and we have sent a confirmation email to you at
When will my order be ready to collect?
Following the initial email, you will be contacted by the shop to confirm that your item is available for collection.
Call us on or send us an email at
Unfortunately there has been a problem with your order
Please try again or alternatively you can contact your chosen shop on or send us an email at