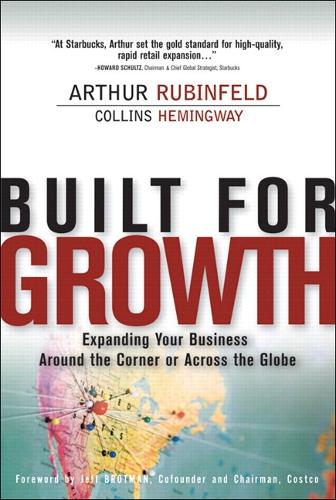 Paperback
368

Pages / Published: 10/09/2009
If there's one thing that's consistent in today's business world, it's rapid change. So how do you not only stay steady but actually grow'and quickly enough to stay safely ahead of your competitors? Built for Growth delivers specific solutions to create a brand and presence that generates true customer passion, as you lay a solid foundation for long-term success. Author Arthur Rubinfeld was a major driver in Starbucks' unprecedented retail expansion from 100 stores to more than 4000-- and its transformation into one of the world's most recognized brands. Here he draws on his singular expertise to present a proven, holistic approach to conceiving, designing, and executing your business plan: creating exciting concepts, growing them to fruition in local markets, expanding rapidly, and keeping your brand fresh and relevant as it matures. His revolutionary approach to business strategy embodies strong personal values, promotes exceptional creativity, leverages scientific methodology in finance and market analysis, and brings it all together with 'old-time' customer service.
Publisher: Pearson Education (US)
ISBN: 9780137025701
Number of pages: 368
Weight: 550 g
Dimensions: 232 x 160 x 20 mm
---
MEDIA REVIEWS
From Kirkus Reports, February 10, 2005 Volume 2, Issue 1
Built for Growth: Expanding Your Business Around the Corner or Across the Globe
By: Arthur Rubinfeld and Collins Hemingway
Publisher: Wharton School Publishing
Pub Date: March 2005

With a first section titled "Make No Little Plans," Rubinfeld makes clear his philosophy of viable business expansion. As the man instrumental in taking Starbucks to the nearest corner, he knows from expansion. He also knows about the mainstays of any successful business: functional design, staying on budget, maximizing profits, and customized customer service (each of which is treated in its own section). From this strong foundation, the business person can begin to think big, or "Go Long," in Rubinfeld's parlance. The first step is to create a business plan, which the author explicates in detail. After assuring that the economic plan is rock-solid, then make sure that employees will remain motivated. Rubinfeld also has plenty of ideas on how to maximize revenue with a minimum investment: a pizza chain can market its sauce, a crafts store can offer lessons to shoppers for a premium, and so on. Although the sections on real estate and "locationing" are particularly valuable given the author's experience, nearly every page has a concrete idea, suggestion, or caution. Rubinfeld delivers serious value for money here, and small business owners and managers would do well to take advantage of it.
Financial Times
March 28 2005
Book review: Blend that brought the world Starbucks
By: Jonathan Birchall
Books: BUILT FOR GROWTH
Expanding your business around the corner or across the globe
By: Arthur Rubinfeld and Collins Hemmingway
Wharton School Publishing $25.95
Ever wondered what happened to the glass and metal storage bins full of coffee beans that used to stand around in Starbucks' coffee shops? The design team, apparently, thought they would give customers a subliminal connection to old-world in-store coffee roasters, but without that old-world fire risk.
But the company's operations people never liked the idea. The staff didn't use them. The storage bins became just a store decoration. And then they were slowly phased out.
The hand-made pendant lampshades over the curved wooden platform used to present drinks to the customer, on the other hand, are still around - spotlighting each beverage as if it were something more than, well, just a coffee.
After 10 years leading Starbucks' store development programme, during which time the company expanded from 150 stores to more than 4,000, Arthur Rubinfeld has an eye for that kind of detail.
Trained as an architect, his early career included working as construction manager on a hotel building in Manhattan; he moved on to directing workers on the building site of one of the most successful retail brands in recent business history.
So, appropriately for a man whose made his name in bricks and mortar, or at least in terracotta tile and modular countertops, he has written a very hands-on manual for the would-be entrepreneurial retail brand builder. Strangely, for a book that celebrates original thinking, Wharton Publishing (an imprint of Pearson, owner of the Financial Times) opted for a title that echoes Jim Collins' best selling Built to Last. But this is a far more wildly discursive production, ranging from tips on signing a good lease, to the importance of a unified concept of design, to plain old-fashioned business street smarts.
Trying to get a grip on the economic demographics of a potential location for a new store or restaurant? Check out the clothes hanging in a local dry cleaners (too many shirts is bad news). Or assess the range of ethnic foods available in a local supermarket - greater variety in an up-market supermarket means more adventurous shoppers.
But it is the anecdotes from Starbucks' evolution, and from Rubinfeld's subsequent career as a brand development consultant, that drive the book forward. From store design and location to "high touch" customer service, the brand's expansion provides the paradigm for the value of combining imaginative planning with hard-nosed execution.
The author describes, for instance, how a design team came up with the concept of using design "touchstones" of earth, fire, water and air that were supposed to evoke the development of the coffee bean (growth, roasting, brewing and aroma). Sounds zany, perhaps, but it inspired the palette of colours used and the organic feel of the stores, and in turn shaped other decisions, such as the choice of round, rather than square tables, aimed at creating a less formal mood that made customers more relaxed.
Taken all together, the design concept worked in a way that the company's rivals found impossible to emulate with attempts to mimic any individual element such as the wallpaper, or the lighting.
The process also resulted in a kit-of-parts approach, where 80 per cent of every new store could be fitted with a selection of mass produced standard components, with local designers then given leeway to customise the remaining 20 per cent to meet the conceptual requirement of individuality. The stores in turn were being directed to areas selected by both economic and educational demographics, with the exact location of each initial bridgehead outlet individually chosen for its high-profile impact.
Sometimes the authors' principles seem self-evident, such as seeking staff who are prepared to make eye contact with the customers. But there are also enough failures around the world's shopping zones to suggest there's a pretty big market for instruction, and he tells his stories with the enthusiasm of a man who clearly loves the detail of retail.
You can feel his pain over the foolishness of a cashier at the head of a long check-out line asking customers whether they had found everything they wanted. Or his discomfort over dirty tables in an ice-cream parlour, or chefs cooking out front in an Italian restaurant wearing tatty sneakers and scruffy beards.
This is the nitty-gritty of the competitive retail war being waged across the US, and elsewhere too, in the battle to persuade customers to differentiate. At its heart, he argues, is the struggle between two visions of the retail future - "the death spiral of commoditisation and price wars or the life spiral of creativity, quality and differentiation".
The big brands are increasingly seeking to personalise the impersonal - Wal-Mart already has its greeters at the door whose job is to make customers feel wanted.
For Rubinfeld, the smaller retailer will only survive in what he calls the "New Age of Retail" by defining a defensible lifestyle or speciality niche. And once there, they need to secure a position with "high touch and human engagement". After all, that's how Starbucks persuaded people to spend all that money on what is, well, just a cup of coffee.
Review in Library Journal, May 1 2005
RUBINFELD, ARTHUR & COLLINS HEMINGWAY. Built for Growth: Expanding Your Business Around the Corner or Across the Globe. Wharton. 2005. c.256p. index. ISBN 0-13-146574-0. $26.95. BUS
Creating and developing a retail brand can be challenging, but as businessman Rubinfeld and coauthor Hemingway maintain, it must be done properly. Rubinfeld knows whereof he speaks, having played a role in Starbucks's retail expansion and worked on Oakley, Gateway, Adidas, and Washington Mutual brand-building campaigns.
The authors intend the book to be "a valuable primer on all aspects of retail: brand, location, people, finance, property management, expansion strategy and long-term thinking." To that end, they advocate a three-step approach-ideate, create, and execute-which, in a nutshell, translates into formulating ideas for a business, creating viable business solutions, and then successfully following through. While the importance of "location, location, location," high-quality retail design, and optimal customer service may seem obvious, the authors stress that these are in fact vital and often overlooked retail building blocks.
An informative read for both beginners and seasoned retailers, this outstanding book abounds with insightful case studies and expert advice that should enhance the success of any retail brand.
Recommended for public libraries and all business collections.
- Richard Drezen, Washington Post/New York City Bureau
You may also be interested in...
Simply reserve online and pay at the counter when you collect. Available in shop from just two hours, subject to availability.
Thank you for your reservation
Your order is now being processed and we have sent a confirmation email to you at
When will my order be ready to collect?
Following the initial email, you will be contacted by the shop to confirm that your item is available for collection.
Call us on or send us an email at
Unfortunately there has been a problem with your order
Please try again or alternatively you can contact your chosen shop on or send us an email at