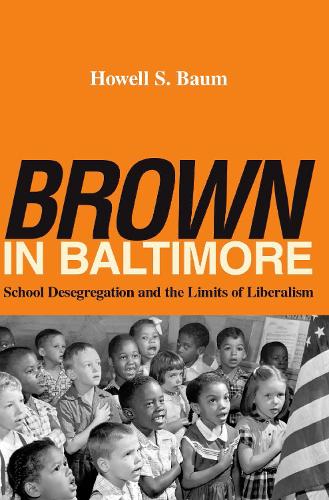 "Brown" in Baltimore: School Desegregation and the Limits of Liberalism (Paperback)
Howell S. Baum
(author)
Paperback
296

Pages / Published: 08/04/2010
In the first book to present the history of Baltimore school desegregation, Howell S. Baum shows how good intentions got stuck on what Gunnar Myrdal called the "American Dilemma." Immediately after the 1954 Brown v. Board of Education decision, the city's liberal school board voted to desegregate and adopted a free choice policy that made integration voluntary.
Baltimore's school desegregation proceeded peacefully, without the resistance or violence that occurred elsewhere. However, few whites chose to attend school with blacks, and after a few years of modest desegregation, schools resegregated and became increasingly segregated. The school board never changed its policy. Black leaders had urged the board to adopt free choice and, despite the limited desegregation, continued to support the policy and never sued the board to do anything else.
Baum finds that American liberalism is the key to explaining how this happened. Myrdal observed that many whites believed in equality in the abstract but considered blacks inferior and treated them unequally. School officials were classical liberals who saw the world in terms of individuals, not races. They adopted a desegregation policy that explicitly ignored students' race and asserted that all students were equal in freedom to choose schools, while their policy let whites who disliked blacks avoid integration. School officials' liberal thinking hindered them from understanding or talking about the city's history of racial segregation, continuing barriers to desegregation, and realistic change strategies.
From the classroom to city hall, Baum examines how Baltimore's distinct identity as a border city between North and South shaped local conversations about the national conflict over race and equality. The city's history of wrestling with the legacy of Brown reveals Americans' preferred way of dealing with racial issues: not talking about race. This avoidance, Baum concludes, allows segregation to continue.
Publisher: Cornell University Press
ISBN: 9780801476525
Number of pages: 296
Weight: 454 g
Dimensions: 235 x 156 x 19 mm
---
MEDIA REVIEWS
"Howell S. Baum's "Brown" in Baltimore provides a history of school segregation in Baltimore from the Civil War through the landmark Brown v. Board of Education decision that ended de jure segregation, to the early 1980s when desegregating the City of Baltimore was deemed a lost cause. In remarkable detail, Baum recounts Baltimore's consistent pursuit of liberal ideals that placed individual freedoms high above racial equality. What resulted was a failed desegregation effort. Baum's attention to context is the most impressive aspect of "Brown" in Baltimore. He places this story of education policymaking in Baltimore's political, geographic, and social settings to explain why these events unfolded as they did. Readers of "Brown" in Baltimore will learn a great deal about modern American history, urban society, city government, and education policy. As such, the text is well suited for upper-level undergraduate and graduate courses on these subjects. Additionally, it will be of great benefit to anyone working to understand the current struggles in American urban education, as the book tells the story of one of many failed educational reforms that preceded current efforts. Surely, Baum's history of school segregation in Baltimore contributes a great deal to our understanding of why efforts to desegregate have failed and, in turn, why desegregation has done little to reform American education."-Journal of Urban Affairs
"Baum captures as no other historian has Baltimore city leaders' abiding faith in the power of liberalism to promote civic equality. . . . Their 'raceless attack on segregation,' Baum argues, was doomed to failure. . . . His book successfully indicts liberalism on its own terms, laying bare the devastating if unintended consequences of free-choice public schooling."-Robert S. Wolff, Journal of American History (September 2011)
"Baum's excellent book populates an account about broad social forces with portraits of very human individuals, most well intentioned, many heroic, all making concrete decisions based on partial information. . . . Baum portrays the real roots of Baltimore's failures as running deeper and developing earlier than the anger over the post-assassination riots. The city's decline into helplessness in coping with race was not a hairpin turn but a slow-moving glacier, more or less predestined by political culture, ideology, and habits that Baum wraps up into the concept of liberalism. Liberalism, as he conceives it, buttressed the city's allegiance to individualism, freedom, and choice: all values that helped to support a readiness to toss aside formal segregation, but which created blind spots about more systemic forms of racial privilege, clashed with proposals to use government power to authoritatively intervene in pursuit of integration, and made it easy for the leaders to misguage political reactions rooted in collective identities, hopes, and resentments tied to race. Above all else, Baltimore was unwilling-possibly unable-to talk about race."-Jeffrey R. Henig, City & Community
"As an account of school desegregation at the policymaking level, Brown in Baltimore is an important book. While the author offers the reader plenty of detail about various policies and administrative issues, he does not lose sight of the larger currents affecting education in the city. Baum provides an excellent account of Baltimore school desegregation which analyzes school policy at the intersection of major forces in American life, especially institutional racism and political liberalism."-Jared Leighton, H-1960s, H-Net Reviews
"The usual story emphasizes the influence of demographic change, federal urban policy, venal blockbusters, deindustrialization, and the politics of race and class. In his powerful account of the abject failure of desegregation in the schools of Baltimore, Howell S. Baum, professor of Urban Studies and Planning at the University of Maryland, does not deny the importance of any of these factors. His history includes all of them. But he digs deeper. Underlying the usual culprits, Baum finds American liberalism with its fixation on individual freedom and preference for markets over governments. . . . Baum's account rests on a thorough canvas of primary sources, including valuable interviews with key participants in the events. . . . Baum's book joins exceptional scholarship with keen political insight and a moral sensibility which never loses track of what is at stake."-Journal of Social History
"As a major city just below the Mason-Dixon line, Baltimore won approval when it became one of the first cities in the country to comply with the Supreme Court's Brown v. Board of Education decision. Unlike their southern neighbors, white officials in Baltimore led the effort that resulted in the relatively peaceful desegregation of its public schools. Yet, in this wonderful book, Howell S. Baum digs deep into Baltimore's history of school desegregation to uncover how the city's 'liberalism' actually led to a pattern of political and civic abandonment. Baum illustrates how 'liberalism' muffled racial conflict and consequently weakened the city's capacity to address issues of race and equality in its public schools. Brown in Baltimore is a genuine tour de force."-Marion Orr, Director of the A. Alfred Taubman Center for Public Policy and American Institutions and the Fred Lippitt Professor of Public Policy, Political Science and Urban Studies at Brown University, author of Black Social Capital: The Politics of School Reform in Baltimore
"In this sensitive, readable, and well-researched book, Howell S. Baum shows how Baltimore officials tried and failed to integrate the city schools. Baltimore City officials honored freedom of choice in the abstract, but that notion proved inadequate to produce schools in which whites and blacks studied together. Baum writes with particular insight about the working-class ethnic whites of East Baltimore, and he shows a fundamental understanding of the workings of federal regulatory agencies and the peculiar pace at which the courts manage social conflict. The result is a wonderful combination of social science and history that illuminates one of America's key social concerns."-Edward D. Berkowitz, George Washington University, author of Something Happened: A Political and Cultural Overview of the Seventies
"Howell S. Baum carefully traces the long arc of struggle over school desegregation in a distinctive American city. With a storyteller's sense of narrative and a scholar's attention to detail, he adroitly assays the limits of classic liberal solutions to the nation's long-standing dilemma of race and sociospatial inequity in urban education."-John L. Rury, University of Kansas, author of Education and Social Change: Contours in the History of American Schooling
You may also be interested in...
Simply reserve online and pay at the counter when you collect. Available in shop from just two hours, subject to availability.
Thank you for your reservation
Your order is now being processed and we have sent a confirmation email to you at
When will my order be ready to collect?
Following the initial email, you will be contacted by the shop to confirm that your item is available for collection.
Call us on or send us an email at
Unfortunately there has been a problem with your order
Please try again or alternatively you can contact your chosen shop on or send us an email at