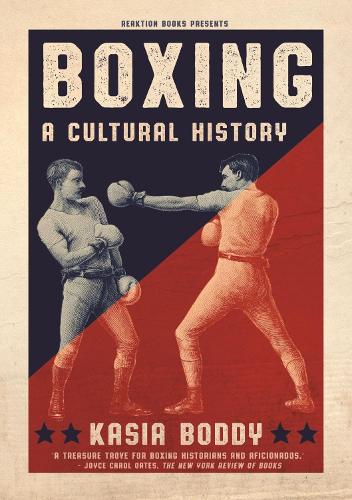 Boxing: A Cultural History (Paperback)
Kasia Boddy
(author)
Paperback
Published: 10/06/2019
Throughout history, potters, sculptors, painters, poets, novelists, cartoonists, song-writers, photographers, and filmmakers have recorded and tried to make sense of boxing. From Daniel Mendoza to Mike Tyson, boxers have embodied and enacted our anxieties about race, ethnicity, gender, and sexuality. In her encyclopedic investigation of the shifting social, political, and cultural resonances of this most visceral of sports, Kasia Boddy throws new light on an elemental struggle for dominance whose weapons are nothing more than fists.

Looking afresh at everything from neoclassical sculpture to hip-hop lyrics, Boddy explores the ways in which the history of boxing has intersected with the history of mass media. Boddy pulls no punches, looking to the work of such diverse figures as Henry Fielding and Spike Lee, Charlie Chaplin and Philip Roth, James Joyce and Mae West, Bertolt Brecht and Charles Dickens in an all-encompassing study that tells us just how and why boxing has mattered so much to so many.
Publisher: Reaktion Books
ISBN: 9781789140514
Dimensions: 250 x 190 mm
---
MEDIA REVIEWS
"Boddy intelligently takes up--via art, literature, film, and the media--the many issues that have historically veined the sport: 'nationality, class, race, ethnicity, religion, politics, and different versions of masculinity, ' plus dialectics like 'brawn versus brains, boastfulness versus modesty, youth versus experience.' Her reach is considerable, but so is her grasp. The result is a sweeping critical history and a perfect power-to-weight ratio."--Atlantic "If one author deserves real praise for stamina, it is Kasia Boddy. The research she has put into this book, combined with her awesome understanding of Western culture, is staggering. She can write with authority about everything from classical Rome to the Dada movement of the 1920s, from the work of George Bernard Shaw to Samuel Pepys' diary. . . . Her book is a magnificent achievement."--Leo McKinstry "Sunday Telegraph " "A penetrating, sparky, and powerfully intelligent work of artistic, sporting, and cultural history. . . . When you get to its final page you will find that you have not merely been entertained but enlightened, too. A literary knockout."--Times, Sports Books of the Year "Boddy's book is a superb work of scholarship, spanning ancient Greece to Mike Tyson. Its reproduced lithographs and colour plates make the book, in its way, a handsome work of art in itself. . . . Boddy referees this heavyweight 15-rounder with elegance, aplomb, and rigor."--Jonathan Rendall "New Statesman " "Compendious, and thoroughly fascinating. . . . An excellent, well-written and beautifully illustrated book."--David Flusfeder "Daily Telegraph " "Future champs may well carry Boddy's book in their sports bags along with their gloves, gum shields, and genital protectors."--Reg Gadney "Literary Review " "Fascinating tome. . . . The breadth and rigour of her research is astonishing. A lecturer in English at the University College London, she is just as sure-footed on the intricacies of boxing as in their depiction in literature, painting, film, and television. . . . This is no dissertation dressed up in book form. Boddy seamlessly weaves together tales of fighting men with tales of the arts, placing them squarely within historical context. . . . She is a more reliable chronicler of boxing than the ringside hack."--Gavin Evans "Financial Times " "[Boddy] provides much merriment along the way as she explores the ways professional fighters excite the imagination of writers, artists and intellectuals."--Economist "The merit of Boddy's meticulously researched and deeply intelligent examination of boxing through the ages is that it refuses to take the pop historian's route of lazy simplification. The political and moral ambiguity of the fights that have played such a seminal role in shaping human consciousness are chronicled in all their rich and equivocal detail. . . . Her volume is one of the most intelligent sporting books of recent times."--Matthew Syed "Times " "Boddy's vivid and highly entertaining book traces the manner in which pugilism has been represented in Western culture from Homer's Iliad of the eighth century BC to the present. . . . A lavishly illustrated study of a contentious yet compelling sport."--John Strachan "History Today " "In this ambitious book, Boddy provides a fascinating account of the ways in which boxing has been represented in literature and the visual arts from ancient Greece to the present. . . . No other work attempts such an exhaustive investigation of boxing's cultural history in the Western world."--Choice "Boddy pursues a lively, wide-ranging critical survey of boxing in literature, film, and other media, a compendious engagement with a fantastically rich tradition. She attends to both the aesthetic and the signifying potential of boxing, which has attracted artists for three millennia not only because it inspires and challenges their creative impulses but because, as Boddy amply demonstrates, the ring has proven to be a lastingly useful venue for staging all manner of ideas about class, violence, history, gender, work, leisure, ideology, politics, race, and nation, among other topics."--Carlo Rotella, author of "Cut Time: An Education at the Fights" and "Good with Their Hands" "The first thing that must be admired is the incredible richness of its sources. Boddy moves from classical Greece to contemporary fine art and mass culture and provides a wonderful synthesis of the writing and visual imaging of boxing. She writes with great clarity and draws this huge variety of material together with great ease. The research is very impressive. The text offers both an historical survey of the culture of boxing and the points of contact and connection across different periods. This is a very accomplished piece of research and writing."--Lynda Nead, University of London Birkbeck "Almost everyone who matters in Western cultural history in the past century enters Boddy's ring. . . . such is the overall quality of the job here that she can be forgiven anything."--Peter Temple "Age " "For what seems like forever, writers have tried to make sense of man's attraction to the sport of pugilism. Precious few have succeeded in explaining the relationship, while many have failed. . . . Boddy is one of those who have successfully captured the essence of boxing's grip on us, and she has done so with flying colors. . . . A tour de force."--The Ring "If you trace man's first footsteps on the planet you'd see much about him has changed - and that some has not - such as his ability and even his need to fight. But not for survival alone--but for a reason for existence, an identity to pass on, to aspire towards. Boddy's Boxing: A Cultural History explores this journey and connects dots that explain why, how long, and who we've been fighting."--Teddy Atlas "I've had a sneak preview of Kasia Boddy's huge, lithe Boxing: A Cultural History, which is out in the spring from Reaktion. Boddy is the kind of writer whose intelligence can bring together and reveal the patterns and resonances between such unlikely contenders as Plato, Scorsese, Fielding, Dickens and Keith Haring. It's a beautifully illustrated, expert, readable and startling expression of the dualities of all things. Boddy is the champion!"--Ali Smith "Guardian " "Splendid and surprising. . . . The illustrations in Boxing alone are worth the price of the book. . . . The author's research is thorough, and her writing is sharp and crisp. 'Boxing' easily pierces the aforementioned haze that surrounds the sport and gets to the crooked heart of the allure."--Julia Keller "Chicago Tribune " "A treasure trove for boxing historians and aficionados. . . . At nearly five hundred densely packed pages . . . Boxing: A Cultural History would seem to include everything that has ever been written, depicted, or in any way recorded about boxing."--Joyce Carol Oates "New York Review of Books "
You may also be interested in...
×
Download the Waterstones App
Would you like to proceed to the App store to download the Waterstones App?
Reserve online, pay on collection


Thank you for your reservation
Your order is now being processed and we have sent a confirmation email to you at
When will my order be ready to collect?
Following the initial email, you will be contacted by the shop to confirm that your item is available for collection.
Call us on or send us an email at
Unfortunately there has been a problem with your order
Please try again or alternatively you can contact your chosen shop on or send us an email at