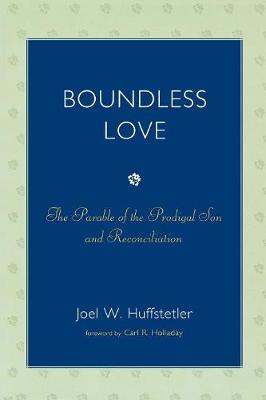 Paperback
90

Pages / Published: 23/06/2008
Boundless Love provides a detailed survey of the scholarship on Luke 15:11-32, the parable of the Prodigal Son-arguably the best loved and most familiar of Jesus' parables. Readers will find key insights regarding the teachings of the parable from leading experts on the Gospels including William Barclay, Kenneth Bailey, Fred Craddock, Luke Timothy Johnson, Henri Nouwen, Pheme Perkins, and N.T. Wright.
Publisher: University Press of America
ISBN: 9780761840916
Number of pages: 90
Weight: 150 g
Dimensions: 232 x 153 x 7 mm
---
MEDIA REVIEWS
With its focus on forgiveness, reconciliation, and joy, the Parable of the Prodigal Son goes to the very heart of Christianity. In this wise and thoughtful book, Joel Huffstetler manages to capture the essence of the parable and how, if we let it, it can transform us. -- Dr. Rick Mathis, Author, The Christ-Centered Heart
In this thorough and masterful examination of the Parable of the Prodigal Son, Father Huffstetler presents a readable, scholarly, and spiritually uplifting gift to all Christians. His treatment of the two sons, who are so unalike and yet alike, and the all-embracing goodness and forgiveness of the father is not only fair, but immensely inspiring. Anyone who carefully reads this work and takes its message of reconciliation seriously will choose, by the very force of God's grace so vividly portrayed herein, to awaken to our universal need for Christian reconciliation, and perhaps to orient his or her faith toward compassion, forgiveness, and reconciliation. -- The Rev. Dr. Michael Doty, Rector, The Episcopal Church of the Holy Cross in Tryon, North Carolina
This book is an excellent resource for small group discussions or class seminars, useful both to average readers as well as the more scholarly. The bibliography is extensive, supporting further reading and research. Part I examines the Parable of the Prodigal Son itself with chapters devoted to each of the three principal persons-the younger son, the father, and the elder brother. Part II has chapters examining each person again as an aspect of the concept of reconciliation, but it would also be useful to [an] examination of many other concepts such as forgiveness, relationships, or the character of love. The reader will find many thought-provoking insights and suggestions in this work. -- The Rev. Dr. Jack B. Van Hooser, Former Professor of Old Testament, Seabury Western Theological Seminary
Joel Huffstetler guides his readers through this most literary of the parables, giving us a concise and useful overview of the scholarship. The book's greatest strength, though, is in the multitude of voices it brings together-theologians, novelists, political leaders, poets, and Huffstetler himself-all of whom remind us once again of the deep meaning we can find in the seemingly simple story of a father and two sons. Huffstetler's focus on reconciliation is timely and speaks to a wide range of challenges facing contemporary Christians. -- Dr. Rachel Reneslacis, Assistant Professor of English, Lee University
Many churches-perhaps most-have "Biblical study" as a regular feature, but few congregations, unfortunately, will generate a book by their collective labors. A few fortunate parishes will have scholarly pastors who integrate learnings from the people as well as the books and then share those learnings with others in books of their own. Joel Huffstetler is one such pastor. In this book, which began in parish Bible study, he argues that the parable of the prodigal son is especially useful in learning how to accomplish reconciliation. By considering each of the characters in this astonishing story not as unrelated models or choices or destinations but rather as closely related aspects of each one of us, we can learn to deal with each other as God deals with us all: repenting, forgiving, including, reconciling. Because Huffstetler includes many quotations from other writers (with bibliography), his book will be a useful compendium for those engaged in either individual or group study of this parable. -- Dr. James W. Dunkly, School of Theology Librarian, Lecturer in New Testament, The University of the South
Disunity seems to be the common theme that defines the reality of most of our lives. Division marks our world, our communities, our families, and even our churches. While reconciliation is sought, it by and large remains but an elusive hope. Dr. Huffstetler, in this well-documented exegesis and treatment, suggests that the Parable of the Prodigal Son offers not only one of the best-loved images of the costly grace of the father but a pattern for all of us if we are to find unity with one another in Christ. The volume is both scholarly and personal and invites the reader to an honest engagement on both levels. -- The Rev. Dr. Gary E. Callahan, Rector, St. Martin's Episcopal Church in Chattanooga, Tennessee
In a time of great division and party spirit in the life of the church, Joel Huffstetler calls us to re-examine our common heritage in the teaching of our Lord on reconciliation in his parable of the Prodigal Son. In his wonderfully judicious way, Dr. Huffstetler succinctly weaves an enormous amount of teaching from many sources to focus us on the implications of our Lord's call to reconciliation in our own life and in our own actions towards others. He moves us beyond being correct and satisfied to that yearning place of relationship and righteousness in Christ that heals antipathies and forgives trespasses. -- The Rev. Carter N. Paden III, Rector, St. Peter's Episcopal Church in Chattanooga, Tennessee
In this brief work Joel Huffstetler presents the best of current writing on this richly nuanced parable. He challenges his readers with the image of the waiting father, who lavishes his love on both erring sons, discovering in this picture lessons for the transforming of lives and relationships. -- Dr. Susan Rogers, Assistant Professor of English, Lee University
... a definitive look at the story of the prodigal son. -- The Rev. Dr. Don Armentrout, Professor of Church History and Historical Theology, The University of the South
A work that succeeds in appealing to both the scholar and the lay reader is rare indeed, but Joel Huffstetler's treatment of one of the Bible's best known parables fits into that category. After effectively providing the first extensive summary of scholarship available on the Prodigal Son, Huffstetler convincingly presents his own interpretations of the parable as primarily a story of reconciliation. It is both a thoughtful and thought-provoking study that will appeal to a wide audience. -- Dr. Verbie Lovorn Prevost, Connor Professor of American Literature, The University of Tennessee at Chattanooga
The Rev. Dr. Joel Huffstetler's passion for scholarship and hunger for reconciliation come together in his new book, opening our eyes to the timeless teachings of Jesus' parable of the Prodigal Son from Luke's Gospel. Whether we identify with the younger prodigal son or the older faithful brother, we cannot help but see the need to ultimately live into the compassionate love of the forgiving father who is forever seeking out return. May all who read his book come to understand the necessity of one day celebrating unity with God our Father and with one another, our brothers and sisters in Christ. -- The Rev. Dr. Stephen Askew, Canon to the Ordinary, Episcopal Diocese of East Tennessee
The book provides a detailed survey of the scholarship on Luke 15:11-32, the parable of the prodigal son. * Chattanooga Times Free Press *
Every sentence in his small book carries weight. It is full of powerful statements that seem to encompass the universe. Father Joel has an extraordinary ability to express and to quote deep truths succinctly. The whole book is the product of profound study, with references carefully recorded. * Anglican Chaplaincy Magazine *
His work as a pastor and scholar comes together in this volume in a unique and useful tool that is easily accessible, yet rigorous in its academic underpinnings....As a teaching tool the book is easily read by anoyone and provides excellent references to resources which are dependable, balanced and well considered in their author's presentations....I have been inspired and educated by his thoughtful and powerfully sincere desire to see the purpose of Christian faith as primarily concerned with the reconciliation of every one of us to God and to one another. -- REV. DR. MICHAEL DOTY, Rector, Holy Cross, Tryon
Many experts agree and calls Huffstetler's examination of the parable masterful and useful to the average readers as well as the more scholarly. * Cleveland Daily Banner *
Fr. Joel Huffstetler has done a wonderful thing. Rarely do you find a writer who can successfully bridge the gap between the experts and the common man. But here, in Boundless Love, Fr. Joel masterfully connects the world of theologians with the world of the laity. * Southern Cross *
This book is commended as an excellent example - even a laboratory - of traditional hermeneutics that is designed to reveal a text's theme for sermonic purposes: word studies, text-critical concerns, commentary research that range from William Barclay to Fred Craddock. For this reason, this book would be useful in the college classroom.... The book is highly motivational for all Christians to participate in the heart of Jesus' ministry of reconciliation. * Restoration Quarterly *
Huffstetler concludes with a personal story from his teen years that exemplifies with the power of joyful tears how wonderful it is when we live this parable. That final story alone is worth the price of admission. * Brethren Life And Thought *
You may also be interested in...
Simply reserve online and pay at the counter when you collect. Available in shop from just two hours, subject to availability.
Thank you for your reservation
Your order is now being processed and we have sent a confirmation email to you at
When will my order be ready to collect?
Following the initial email, you will be contacted by the shop to confirm that your item is available for collection.
Call us on or send us an email at
Unfortunately there has been a problem with your order
Please try again or alternatively you can contact your chosen shop on or send us an email at