The books you love, the emails you want
Opt in by 25 May or you'll stop hearing from us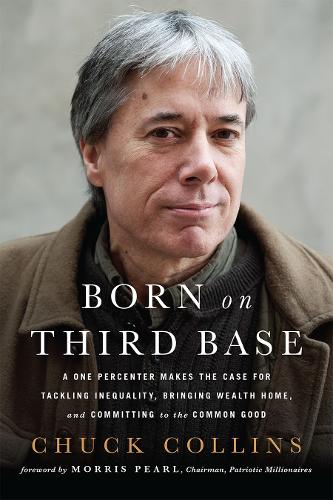 Born on Third Base: A One Percenter Makes the Case for Tackling Inequality, Bringing Wealth Home, and Committing to the Common Good (Paperback)
Chuck Collins
(author)
Paperback
248

Pages / Published: 17/10/2016
Publisher: Chelsea Green Publishing Co
ISBN: 9781603586832
Number of pages: 248
Weight: 408 g
Dimensions: 228 x 152 x 15 mm
---
MEDIA REVIEWS
"I have never read a story remotely like the one Chuck Collins has to tell. Born to the one percent, in circumstances few of us can imagine, he grew an outsized conscience and gave up his inherited wealth for a life of fighting the vicious inequality that is destroying our country. Somewhere along the way, he came to understand that the rich can be part of the solution instead of the problem and started organizing them to join in the struggle for a fair economy. The result is an electrifying challenge to the affluent as well as the one percent. 'Come out of your gated communities and gated hearts, ' he writes, because outside lies the warmth of human solidarity."--Barbara Ehrenreich, author of Nickel and Dimed
"Chuck Collins has already organized the rich against their own immediate economic interest. He and his colleagues at the Institute for Policy Studies were instrumental in blocking the Republican repeal of the federal estate tax for the wealthy. So when he writes in Born on Third Base about all the good that can come from the enlightened rich pressing for justice, not just charity, he speaks from experience as both an organizer and a former affluent heir. Partly autobiographical, this empowering light into a brighter future is a narrative you won't want to miss. Chuck Collins walks the talk and can motivate, if anyone is able to, the super rich to fund systemic drives for change."--Ralph Nader, consumer advocate, author, and lawyer
"A call to action for America's wealthy and a warning shot across the bows of their yachts if they fail to act, Born on Third Base offers a clear and compelling case for why the privileged and powerful must act to reverse widening inequality of income, wealth, and political power in America."--Robert B. Reich, former US Secretary of Labor; author of Saving Capitalism
"The American dream assures us that, if you work hard and play by the rules, you'll succeed. But the facts tell a different story: Everyone knows the system is rigged. In these trickle-down times, income inequality threatens to pit the 99 percent against the 1 percent in violent revolution--and, really, who can blame them? My fellow plutocrat Chuck Collins gets it. Born on Third Base explodes the myth of the self-made man, but it also celebrates true achievement in the classic American sense. This isn't some self-hating rich guy; Collins has thought seriously about what it means to be a citizen, and to be a patriot. He makes the case that we all do better when we all do better, and he does it with compassion and humor. This book would give Ayn Rand nightmares."--Nick Hanauer, entrepreneur; venture capitalist; coauthor of The True Patriot and The Gardens of Democracy
"Chuck Collins may have been born on third base, but he hits a grand slam with this powerful call to even the richest Americans to join their fellow citizens in challenging the obscene wealth gap that characterizes America today. He hammers all the curve balls thrown to justify inequality, writes eloquently but humbly of his experiences, and lays out a winning lineup of ways to bring Americans across class lines together for economic justice."--John de Graaf, coauthor of Affluenza and What's the Economy for, Anyway?
"Chuck Collins does the soul-searching, fundamental work of reminding us all that wealth inequality and injustice make everyone's life worse, including those of us who are supposedly better off. No matter what your class background, Collins's work is an insight into and inspiring call to action for why we all need to be two feet into the fight for a more just world -one that is based on shared prosperity and community, not individualized notions of success. People and the planet literally depend on it."--Jessie Spector, executive director, Resource Generation
"Sobering and inspiring, Chuck Collins has written a Declaration of Interdependence. A must read for anyone on third base who has forgotten that they're part of a team."--Peter Buffett, copresident, NoVo Foundation; composer; author of Life is What You Make It
"There are few tasks as urgent as a radical reorientation of the 1 percent, a radical re-engagement of 'us' with 'them'--and a radical redeployment of the wealth created over the past century in order to address the problems of the next. Chuck Collins is our personal guide."--Woody Tasch, founder, Slow Money Institute; author of Inquiries into the Nature of Slow Money
"This is the engaging story of a courageous rich white guy who gave it all away, journeyed to the dark heart of inequality and deprivation in America, and became a leading thinker and activist for something much better for all of us, including the rich. Collins doesn't disappoint. He is the real deal."--James Gustave Speth, author of America the Possible and Angels by the River
"No one explains inequality better than Chuck Collins, and no one walks his talk with more integrity. All Americans--rich, poor, and in the shrinking middle--will benefit from his insights and be inspired by his example."--Peter Barnes, cofounder, CREDO Mobile; author of With Liberty and Dividends For All
Booklist-
"As the great-grandson of Oscar Meyer, Collins grew up in a wealthy and advantaged family. He considers himself part of the privileged 1 percent, "born on third base," with only a short hop to make it to home plate. But Collins believes it's time for our society to come to a different home, one where inequality is addressed in a new way, where the economy can be made more inclusive, and where the 1 percent can engage with the other 99 to become partners in transforming the future. Collins (99 to 1: How Inequality Is Wrecking the World and What We Can Do about It, 2012) once again presents a convincing and deeply thought-provoking argument in favor of not just the need for societal change but the importance of individual action in making change happen. Written in a well-crafted, conversational style, Collins' latest is a gentle yet clear reminder to readers that real change starts by looking outside ourselves and making even the smallest connection with others."
Publishers Weekly-
"Collins (99 to 1), born to great privilege, takes a thoughtful, well-written, and carefully researched approach to solving the extreme imbalance in wealth distribution, directed toward one- and 99-percenters alike. Refreshingly, Collins not only talks the talk but walks the walk: at age 26 he gave up his $500,000 trust fund and dedicated his life to ending inequality. The book's first half outlines the problems of uneven wealth distribution, which have been made even more evident by the 2008 economic downturn. This part includes a section addressing racial issues in the U.S. and making the case for federal reparations for slavery. What Collins does even better than describing the challenge is, in the book's second half, outlining significant and specific solutions. He includes 10 elements of a program for the wealthiest 1% to follow, imploring readers to connect with both 'people around us' and 'people who are completely different.' He makes an appeal for 'humanity and empathy' at the book's very beginning, shows how he and others have worked to embody it, and reinforces the importance of this approach at the conclusion. Wherever readers fall on the economic scale, this is a worthwhile book to read, digest, and share."
Choice Reviews-
"Drawing on both engaging personal stories and economic research, Collins (Institute for Policy Studies) portrays an 'economic apartheid' of growing inequality of wealth and opportunity in the US, and urges citizens, especially the wealthiest, to recommit to the broader community to address it. Collins describes 'an empathetic barrier to change' that leads rich Americans to deride the industriousness of the less affluent. Raised in a "one percent" family, Collins understands how the wealthy are cut off from the wider society as their experiences lead them to adopt false myths of self-reliance and meritocracy. These views overlook the roles community and equity play in securing prosperity and well-being for rich and poor Americans. The overvaluing of self-reliance obscures the advantages of family wealth as well as the role of government programs in providing gains for the white middle class (in particular, home ownership) over other groups. Collins calls for empathy and solidarity among the rich, the affluent, and the poor to address inequality and environmental degradation. The book lists ways for the wealthy to connect to the larger society and support policies to bring about an equitable and sustainable future. Summing Up: Recommended. All readership levels."
You may also be interested in...
Simply reserve online and pay at the counter when you collect. Available in shop from just two hours, subject to availability.
Thank you for your reservation
Your order is now being processed and we have sent a confirmation email to you at
When will my order be ready to collect?
Following the initial email, you will be contacted by the shop to confirm that your item is available for collection.
Call us on or send us an email at
Unfortunately there has been a problem with your order
Please try again or alternatively you can contact your chosen shop on or send us an email at