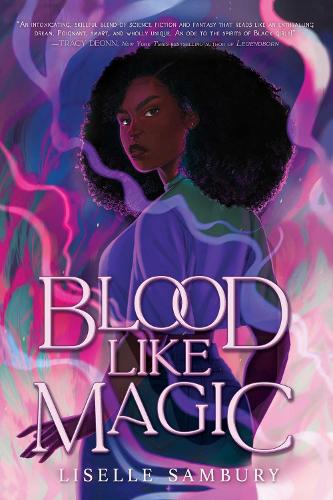 Hardback
496

Pages
Published: 05/08/2021
A rich, dark urban fantasy debut following a teen witch who is given a horrifying task: sacrificing her first love to save her family's magic. The problem is, she's never been in love—she'll have to find the perfect guy before she can kill him.

After years of waiting for her Calling—a trial every witch must pass in order to come into their powers—the one thing Voya Thomas didn't expect was to fail. When Voya's ancestor gives her an unprecedented second chance to complete her Calling, she agrees—and then is horrified when her task is to kill her first love. And this time, failure means every Thomas witch will be stripped of their magic.

Voya is determined to save her family's magic no matter the cost. The problem is, Voya has never been in love, so for her to succeed, she'll first have to find the perfect guy—and fast. Fortunately, a genetic matchmaking program has just hit the market. Her plan is to join the program, fall in love, and complete her task before the deadline. What she doesn't count on is being paired with the infuriating Luc—how can she fall in love with a guy who seemingly wants nothing to do with her?

With mounting pressure from her family, Voya is caught between her morality and her duty to her bloodline. If she wants to save their heritage and Luc, she'll have to find something her ancestor wants more than blood. And in witchcraft, blood is everything.
Publisher: Simon & Schuster
ISBN: 9781534465282
Number of pages: 496
Weight: 655 g
Dimensions: 229 x 152 x 38 mm
---
MEDIA REVIEWS
"Liselle Sambury builds a world not far from our own, where blood is both weapon and salvation. Blood Like Magic is an intoxicating, skillful blend of science fiction and fantasy that reads like an enthralling dream. Poignant, smart, and wholly unique. An ode to the spirits of Black girls, this novel demands that the future never forget the enduring power of family or the long, sharp blade of history. A bold, magical debut full of heart, and an author to watch! "With high stakes, big heart, and lots of Black Girl Magic, Blood Like Magic is everything you love about paranormal fantasy. The fast pace, painfully relatable characters, and incredible generational magic system makes Blood Like Magic unputdownable. Liselle Sambury left me with a massive book hangover that won't be cured until I get the sequel!" 

  A Black teenager faces a difficult choice to bring about her magical awakening.

Voya Thomas is a 16-year-old Black Canadian girl with Trinidadian roots—and a fledgling witch. Her ascension to becoming a proper witch is dependent on her performance at her Calling. Every witch-to-be is assigned a test by one of their ancestors, and if they are successful, they receive their magic and the specially chosen gift of an ability. Refusing to accept the task means no future members of Voya's bloodline will be Called by the ancestors and therefore can never become witches; accepting but failing the challenge set for her will cause every witch in her family to lose the magic upon which their livelihood depends. During the ritual, Voya finds out that the stakes for her Calling are even steeper than she could have imagined: Before the Caribana carnival in a month's time, she must kill her first love. But Voya has never been in love, so she must now find someone, fall in love, and then sacrifice him. Sambury's prose is fluid and eloquent and will enthrall readers. The protagonist's voice feels refreshingly authentic, and the supporting characters are diverse and multidimensional, with well-developed relationships. Sensitive topics and themes, like slavery and racism, emerge in the novel's original and compelling storylines.

A breath of fresh air for the genre; readers will be spellbound. (Fantasy. 14-18) Afro-futurism meets urban fantasy in this strong YA debut. Descended from a long line of powerful Black witches and having just started her Bleeding, 16-year-old Voya Thomas anxiously plans for the Calling that will follow, an ancestor-given trial that she must pass in order to inherit magic. A Thomas hasn't failed in 100 years, but Voya worries nonetheless. To pass a Calling, one must make the correct choice between two decisions—something Voya has notorious difficulty with. Her concerns threaten to become reality when she receives the most impossible task ever known to witches, one with equally unheard of consequences: if Voya does not destroy her first love in one month, all current and future Thomases will lose their magic. Voya's one desire is to help her family, but she's never been in love, and she doesn't want to take a life. As her family tries to find loopholes around committing murder, Voya stumbles across an ancestor she's never heard of, whom the adults insist on pretending doesn't exist. Sambury blends technology and fantasy to create a detailed world that's both futuristic and magical. Featuring a cast of BIPOC and queer characters of all ages, this novel focuses on familial love, individual desires, and making choices that will lead to the greatest good. Ages 14–up. Agent: Kristy Hunter, the Knight Agency. (June) In Sambury's downright dazzling debut, Voya has finally started menstruating, which means she's ready to come into her family's magic and receive her gift from her family's ancestors. To receive this gift, each witch needs to complete a task given to them by an ancestor, and failing is not an option. To Voya's misfortune, Mama Jova, who suffered at the hands of slavery, imparts her task: to echo the family's mantra of "suffer and survive," Voya is instructed to destroy her first love or risk losing her family forever. This engrossing novel features a world both familiar and unfamiliar, in a near-future Toronto. Sambury vividly captures the vibrancy of Toronto as well as the diversity within the witch community, and her dedication to world building lends authenticity to her characters. Family and heritage are two important themes, demonstrated powerfully in the novel's descriptions of history keeping, food, and daily family life. While this urban fantasy takes place in the near future, Sambury does not turn a blind eye to the persistent history of systemic racism against Black people, the evils of slavery, or police brutality targeting Black people, nor how those impact the Black community on a daily basis, all while keeping magic compellingly at the forefront. This impressive debut will wow readers and leave them eager for more from this writer to watch. It's 2049 in Toronto, and sixteen-year-old Voya is about to go through her Calling, the trial that will determine whether she will have magic like the rest of her witch family. She might fail, though, since she's directed to destroy her unknown first love, but if she doesn't do it, her entire family will lose magic and future generations will be magicless. Billion-dollar tech company NuGene offers a solution with a beta matching program, and she's matched with handsome trans NuGene intern and sponsor son Luc, who seemingly wants nothing to do with her; Voya's task will only get harder as the two become closer. Sambury's near-future Toronto is an interesting mix of cultural progressivity and capitalist nightmare, with NuGene's high-tech modding and genetic sequencing services only available to the rich and a "sponsor" system where CEOs groom kids from "so-called 'disadvantaged' countries" to become heirs, but Voya's Black family faces less discrimination than they would in the present day. The technology is additionally thought-provoking, with a rating system for everyone's profiles to determine approachability, and the two prominent trans characters have new tech for transitioning per their preferences but also new battles to fight. It's impossible not to root for Voya, who loves cooking Trinidadian recipes and always looks out for her big, often dysfunctional family, as she uncovers conspiracies in the witch community. Readers will certainly be holding out until the last page to see if Voya and her complex, nuanced family get their much-deserved happiness. 

 
You may also be interested in...
×
Download the Waterstones App
Would you like to proceed to the App store to download the Waterstones App?
Reserve online, pay on collection


Thank you for your reservation
Your order is now being processed and we have sent a confirmation email to you at
When will my order be ready to collect?
Following the initial email, you will be contacted by the shop to confirm that your item is available for collection.
Call us on or send us an email at
Unfortunately there has been a problem with your order
Please try again or alternatively you can contact your chosen shop on or send us an email at