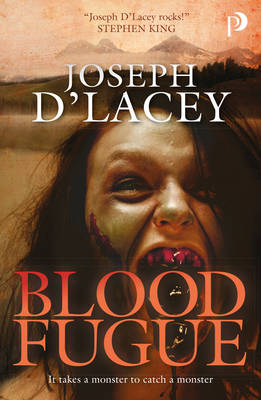 Paperback
272

Pages / Published: 16/11/2012
Reclusive outdoorsman, Jimmy Kerrigan, finds himself battling a vampiric plague which threatens to destroy Hobson's Valley, the isolated mountain community he calls home. When his family, friends and neighbours fall prey to the `Fugue', Kerrigan is the only one who can save them and prevent the disease spreading beyond the remote town's boundaries.
Kerrigan is uniquely equipped to deal with the outbreak. He carries a variant strain of Fugue enabling him to overcome and heal its victims. However, the nature of the illness ensures neither he nor those he hunts down are aware they're infected. After feeding on humans, the diseased forget their behaviour. Even Kerrigan, having confronted or neutralised a Fugue, is unable to recall his actions as guardian of Hobson's Valley.
The illness and its effects have, like tetanus, survived in the earth around the mountain for countless generations. The lineage of Fugue Hunters has always been able to reverse an outbreak but not this time; someone wants the disease to spread and, in combination with a mutation of the virus, Kerrigan realises he may not be strong enough to contain it.
Kerrigan is challenged beyond his limits when an innocent family of outsiders hikes straight into a wilderness crawling with Fugues - a wilderness he is responsible for. Can he really save them and protect the town? Can he defeat the creature who has caused the Fugue to mutate? And, most crucially, when he learns the horrifying truth about his own infection, will he even have the strength to try?
Publisher: Salt Publishing
ISBN: 9781907773372
Number of pages: 272
Weight: 408 g
Dimensions: 198 x 129 x 20 mm
---
MEDIA REVIEWS
Joseph D'Lacey rocks!
-- Stephen King
Atmospheric and chilling ... an irresistibly intense debut novel with the potential to become a controversial horror classic.
-- Dru Pagliasotti * The Harrow *
Meat is a damning and workmanlike commentary on the human race's ceaseless appetite for meat ... an undeniably powerful read.
-- Mathew Riley * Bookgeeks *
Without reservation, Meat is one of the most literate, astonishing, and intriguing books I've read in years.
-- David Niall Wilson
People are going to discover that Meat is not just a speculative fiction novel with an underlying social statement, but that "Meat" is actually an important book and it should be required high school reading.
* Shroud Magazine *
Top-notch, page-turning horror.
* TQR Stories *
D'Lacey is an up and coming force to be reckoned with.
* ShriekFreak Quarterly *
Meat is without question the most disturbing book I have ever read. Period.
* Speculative Fiction Junkie *
Meat is horror, gruesome, and it has a message...compelling reading, and it will haunt me forever.
* Cafe Doom *
The story itself is captivating. D'Lacey gives the main character, James Kerrigan, a secret that even he isn't quite aware of. D'Lacey does a great job dropping hints, but not quite revealing this secret until the right time. He definitely knows how to grab a reader's attention and keep hold of it until the very end.
-- Joseph Mulak * Horror Reviews *
A magic carpet ride back to the early days of horror.
* Clare's Crypt *
If you enjoy eroticism in the woods, being terrified in an arboretum, and want a horror story, beautifully written yet will shake you to the core, then read Blood Fugue by Joseph D'Lacey.
-- Geoff Nelder * Cafe Doom *
It would be best if you dismissed any expectations of a traditional vampire story before you begin to read Blood Fugue. It's not; it's similar, but D'Lacey creates his own creatures as naturally as if they've existed for centuries in the wilderness. They're wonderfully deceitful beings that lurk inside their victims without them even knowing that they've become possessed, urging echoes of The Thing throughout. D'Lacey's victims/creatures were my favourite part of the story, provoking the interesting dilemma of an affliction that sufferers don't remember the evil they complete; a vampiric amnesia if you will.
-- Nathan Robinson * Snakebite Horror *
Horror can be the trickiest of genres to gauge correctly. I think it's the mark of a good author that they know when to go for the out-and-out shock and when to leave the reader to fill in the blanks themselves. Blood Fugue is at times graphic, and occasionally extreme, but D'Lacey knows exactly what scenes require that shock value and which can be left to the reader's imagination. If you're a horror fan and you're not already reading Joseph D'Lacey you had better have a bloody good excuse. In fact I demand you remedy this outrageous oversight immediately.
* The Eloquent Page *
Blood Fugue is definitely not for the faint hearted. Although it appears the idea came from vapiric lore, this is vampires on crack - they're big, bad, and very very ugly. I've always loved a good horror novel - the gorier and more shocking the better - and Blood Fugue delivered on every single level. This is not a novel for the faint hearted or easily squeamish, but it's certainly one for readers who love to scare the absolute crap out of themselves.
* The Aussie Zombie *
Blood Fugue is a near perfect mix of vampires, body horror and ecological thriller. if you only read one vampire novel this year, make sure it is this one.
* Ginger Nuts of Horror *
Blood Fugue is a horror read that is most definitely out of the ordinary and deserves to make it on to your reading list immediately. There's no need to simply take my word for it though... Master of Horror Stephen King succinctly said `Joseph D'Lacey rocks!'
* Andyerupts.com *
This book is just glorious. I read it over Hallowe'en week, and I was absolutely hooked from the first page. It's a fantastic read for this time of year, when everything gets colder and darker, and the idea of monsters starts to feel a whole lot more likely. The cover endorsement, from Stephen King (Stephen King!!! As an author, how unbelievably excellent must that feel?) reads simply, `Joseph D'Lacey rocks'. And, based on the evidence of Blood Fugue, he certainly does.
-- Cassandra Parkin
D'Lacey forms a world that is some part the beautiful mystery of early Koontz, the small town whimsy of King and the dangerously blurry line between sex and violence that encapsulates Laymon.
* Snakebite Horror *
A wonderfully twisted and uber-violent take on the vampire myth.
-- Wayne Simmons
Captivating ... truly a joy to read.
* Horror Reviewsite *
Blowjobs, threesomes and girl on girl...owes more to Fifty Shades of Grey than to Dracula.
* Annexe Magazine *
D'Lacey's writing is definitely sexy, terrifying and very, very visceral...This book is just glorious.
* Adventures in Trash *
A trip through the forest from hell ... Unforgettable.
* Dark Arts Magazine *
What makes the Fugue so compelling, however, is not what it pushes the infected to do, but that it causes them to forget they have done anything at all. The only trouble is that Kerrigan, who is responsible for taking care of any unruly outbreaks of Fugue, is also oblivious of anything amiss, at least until it's too late in most cases. Between discovering his own origins - in some very heartwarming scenes with his adopters, Kath and Burt - and battling the increasingly formidable virus affecting the residents of Hobson's Valley, Kerrigan is soon out of his depth. ... Whether there's a sequel to Blood Fugue or not, it will be interesting to see if Joseph D'Lacey can maintain this degree of excellence.
-- Adam Millard * This is Horror *
You may also be interested in...
Simply reserve online and pay at the counter when you collect. Available in shop from just two hours, subject to availability.
Thank you for your reservation
Your order is now being processed and we have sent a confirmation email to you at
When will my order be ready to collect?
Following the initial email, you will be contacted by the shop to confirm that your item is available for collection.
Call us on or send us an email at
Unfortunately there has been a problem with your order
Please try again or alternatively you can contact your chosen shop on or send us an email at