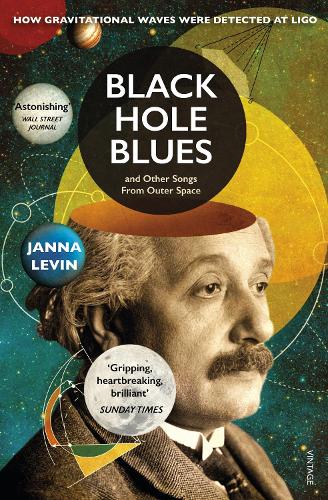 Black Hole Blues and Other Songs from Outer Space (Paperback)
Janna Levin
(author)
Paperback
256

Pages / Published: 23/03/2017
The full inside story of the detection of gravitational waves at LIGO, one of the most ambitious feats in scientific history *Selected as a Book of the Year 2016 in the Sunday Times* 'This is empirical poetry. A fascinating tale of human curiosity beautifully told, and with black holes and lasers too' Robin Ince In 1916 Albert Einstein predicted the existence of gravitational waves: miniscule ripples in the very fabric of spacetime generated by unfathomably powerful events. If such vibrations could somehow be recorded, we could observe our universe for the first time through sound: the hissing of the Big Bang, the low tones of merging galaxies, the drumbeat of two black holes collapsing into one... In 2016 a team of hundreds of scientists at work on a billion-dollar experiment made history when they announced the first ever detection of a gravitational wave, confirming Einstein's prediction a century ago. Based on complete access to LIGO (Laser Interferometer Gravitational-Wave Observatory) and the scientists who created it, Black Hole Blues offers a first-hand account of this astonishing achievement: an intimate story of cutting-edge science at its most awe-inspiring and ambitious.
Publisher: Vintage Publishing
ISBN: 9780099569589
Number of pages: 256
Weight: 181 g
Dimensions: 198 x 129 x 16 mm
---
MEDIA REVIEWS
"Gripping ... very, very well written ... I reached the beautiful ending of this book with a little sob of gratitude ... heartbreaking ... brilliant" -- Bryan Appleyard * Sunday Times *
"It is hard to imagine that a better narrative will ever be written about the behind-the-scenes heartbreak and hardship that goes with scientific discovery. Black Hole Blues is a spectacular feat - a near-perfect balance of science, storytelling and insight ... It is as inevitable as gravity that this book will win a swath of awards" -- Michael Brooks * New Statesman *
"Astonishing ... superb ... Ms Levin is able to tell the tale so soon, and so well, because she has had privileged access to the experiment. She has also known the experimenters for several years ... Ms Levin is herself a scientist, which explains her access, but more than that she is a writer ... readers feel as if they are sitting in on her interviews or watching over her shoulder as she describes two black holes colliding ... A splendid book that I recommend to anyone with an interest in how science works and in the power of human imagination and ability" -- John Gribbin * Wall Street Journal *
"A superb storyteller. This is the most vivid account I can remember of science policy in action ... I'll be surprised if anyone brings out a more readable book on gravitational waves in the near future" -- Clive Cookson * Financial Times *
"The definitive account of how we completed the hundred-year hunt for gravitational waves ... Punchy, witty, timely and deeply insightful; I haven't read a better book on the realities of doing science" -- Michael Brooks * New Statesman, Books of the Year *
"A remarkable achievement that potentially opens up a whole new chapter in our understanding of the cosmos and, with perfect timing, Janna Levin's elegant and lucid book is here to tell us how it was done ... the human drama is compelling ... The main protagonists ... comprise as fascinating a triumvirate as you will find anywhere in scientific literature. Levin, a distinguished astrophysicist in her own right, writes eloquently, sometimes even poetically, about the search for what she calls gravity's music" -- Simon Griffith * Mail on Sunday *
"Taking on the simultaneous roles of expert scientist, journalist, historian and storyteller of uncommon enchantment, Levin delivers pure signal from cover to cover ... Levin harmonizes science and life with remarkable virtuosity ... exposing the invisible, incremental processes that produce the final spark we call genius ... As redemptive as the story of the countless trials and unlikely triumph may be, what makes the book most rewarding is Levin's exquisite prose" -- Maria Popova * The New York Times *
"The most important development in astronomy since the invention of the telescope ... [Levin] excels in conveying the personalities of the scientists and their professional and personal struggles ... With the success of Ligo, we stand at the dawn of a new era in astronomy, Levin says in her excellent book" -- Marcus Chown * Times Higher Education *
"Brilliant and timely" -- James Gleick
"Explains in clear terms the scientific heart of this achievement and the deep and personal fascination that pursuing it has held for several generations of scientists. She also captures the cost of getting to this point, both financial - this is big science in its truest sense - and, in many cases, personal ... the plot is too compelling ... genuinely painful to read in places ... illuminating ... interesting" * Nature *
"A beautifully written account of the quest to open the `gravitational-wave window' onto our universe. As a participant in this wonderful quest, I applaud Janna Levin for capturing so well our vision, our struggles, and the ethos and spirit of our torturous route toward success" -- Kip Thorne, co-founder of LIGO
"Riveting. Janna Levin immerses us in the heady world of scientists straining to detect gravitational waves, the faintest whispers in the universe. Keenly observed and lyrically written, her account of this quest will move you" -- Steven Strogatz, author of The Joy of x
"If Hunter Thompson had taken a break to get a PhD in physics and then become obsessed with gravitational waves, he might have written a book like this" -- Alan Lightman, author of The Accidental Universe
"Levin is a master of storytelling [...] this book [...]keeps the reader hooked in awe page after page. Black Hole Blues is a captivating study of the process of scientific discovery." -- Brad Davies * Independent *
"Levin brilliant captures the immense challenges of today's big science, from the clash of huge egos to the final triumphant proof of a century-old theory" -- PD Smith * Guardian *
You may also be interested in...
Simply reserve online and pay at the counter when you collect. Available in shop from just two hours, subject to availability.
Thank you for your reservation
Your order is now being processed and we have sent a confirmation email to you at
When will my order be ready to collect?
Following the initial email, you will be contacted by the shop to confirm that your item is available for collection.
Call us on or send us an email at
Unfortunately there has been a problem with your order
Please try again or alternatively you can contact your chosen shop on or send us an email at