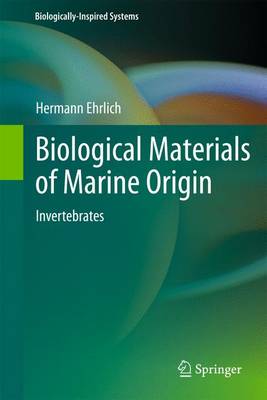 Biological Materials of Marine Origin: Invertebrates - Biologically-inspired Systems v. 1 (Hardback)
Hermann Ehrlich
Hardback
Published: 16/07/2010
Biological substances appeared in marine environments at the dawn of evolution. At that moment, the ?rst organisms acquired the ability to synthesize polymer chains which were the basis, in their turn, for the formation of the building blocks that fueled the so-called self-assembling process. They, in their turn, produced more complicated structures. The phenomenon of three main organic structural and sc- folding polymers (chitin, cellulose, and collagen) probably determined the further development and evolution of bioorganic structures and, of course, the organisms themselves. Allthethreebiopolymers,notwithstandingtheirdifferencesinchemical composition, have the common principles in their organization: nano?brils with the diameter 1. 5-2 nm, the ability to self-assemble, production of ?brillar and ?ber-like structures with hierarchical organization from nano-up to macrolevels, the ability to perform both the role of scaffolds and the templates for biomineralization and formation of the rigid skeletal structures. Chitin and collagen in particular played the determining role in the formation of skeletal structure in marine invertebrate organisms. These two biopolymers possess all the qualities needed to refer to them simul- neously as biological materials and biomaterials, the latter thanks to their successful application in biomedicine. The fact that modern science ?nds chitin and collagen both in unicellular and in multicellular invertebrates in fossil and modern species con?rms beyond a doubt the success of these biological materials in the evolution of biological species during millions of years. I realize that this success should be consolidated at genetic level and the detection of corresponding conserved genes must be the main priority.
Publisher: Springer
ISBN: 9789048191291
You may also be interested in...
We would love to hear what you think of Waterstones. Why not review Waterstones on Trustpilot?