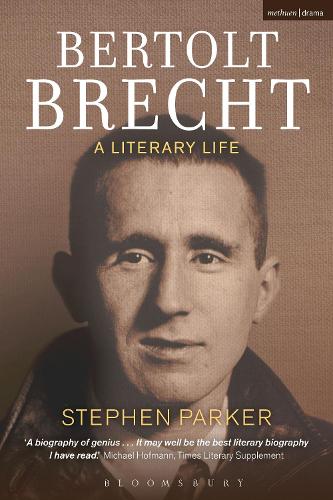 Paperback
704

Pages / Published: 05/11/2015
This first English language biography of Bertolt Brecht (1898-1956) in two decades paints a strikingly new picture of one of the twentieth century's most controversial cultural icons. First published in 2014 and now available in paperback, it was critically lauded and declared the definitive life of this great artist and writer. Drawing on letters, diaries and unpublished material, including Brecht's medical records, Parker offers a rich and enthralling account of Brecht's life and work, viewed through the prism of the artist. Tracing his extraordinary life, from his formative years in Augsburg, through the First World War, his politicisation during the Weimar Republic and his years of exile, up to the Berliner Ensemble's dazzling productions in Paris and London, Parker shows how Brecht achieved his transformative effect upon world theatre and poetry. Bertolt Brecht: A Literary Life is a powerful portrait of a great, compulsively contradictory personality, whose artistry left its lasting imprint on modern culture.
Publisher: Bloomsbury Publishing PLC
ISBN: 9781474240000
Number of pages: 704
Weight: 1062 g
Dimensions: 234 x 156 x 41 mm
---
MEDIA REVIEWS
A magisterial biography of Brecht ... Parker's choice to present new material very much through the prism of the artist is compelling ... Fascinating reading. -- Rebecca Morrison * The Independent *
We should be grateful to [Parker] for reminding us how important, love him or loathe him, Brecht was - and still is. -- John Sutherland * The Sunday Times *
Stephen Parker's Bertolt Brecht: A Literary Life is that rare thing, not only the biography of a genius, but itself a biography of genius. Parker, a Professor of German at Manchester, has written a foot perfect, detailed, fascinating and really inward book on a man who was plausibly described as "one of the most complicated human beings of the past fifty years". It may well be the best literary biography I have read, the intricate demands of the subject met and unfussily answered by the insightful calm and nuanced decisiveness of the biographer . . . His is indeed one of the great literary lives, and Parker's book is every bit as good as it needs to be -- Michael Hofmann * The Times Literary Supplement *
[A] masterly biography of Brecht ... [A]n astonishing tour de force based on impressive scholarship. For once the subtitle, 'A Literary Life', is apposite, for, as the complex strands of Brecht's life are revealed, we never forget that he is above all a writer. -- Donald Sassoon * Literary Review *
British scholar Stephen Parker's new biography replaces the monster of Brecht & Co. with a recognizable human ... Whatever percentage of those plays he wrote, Parker reminds us that it was Brecht whose ideas shaped their creation, Brecht who schemed and fought for their productions, Brecht who galvanized modern theater with a radically new performance style. He was deeply flawed man and an enormously important cultural figure. He fully merits the nuanced portrait he receives in Bertolt Brecht: A Literary Life. -- Wendy Smith * Washington Post *
Stephen Parker has written an extraordinary work about a man he also repeatedly finds extraordinary, giving his book unusual liveliness and spontaneity ... [T]his is by far the fullest of any English-language source, and it is the fullest biography in any language, making good use of the magnificent chronology of Brecht's life of over 1,300 pages by Werner Hecht. -- Nicholas Jacobs * Camden New Journal *
Stephen Parker's superb biography of a great iconoclastic writer is impressively sourced, rich in detail, well-paced, highly readable yet serious. -- David Blackbourn * London Review of Books *
Stephen Parker powerfully evokes Brecht's life within a set of historical circumstances, without sacrificing the complexity of one to the other, in `Bertolt Brecht: A Literary Life'... Parker strikes a delicate balance between the historical events and the more temperamental qualities of Brecht's that informed his writing, be it his lifelong inability to temper his sexual appetite or manage his frail body. In particular, Parker emphasizes the latter in the way that Brecht's writings, even at his most Leninist moments, revolve around a feeling of bodily precarity and appetite-driven excess. Parker's success is the caution and deliberateness with which he traces Brecht's multifaceted, contradictory personality and artistic corpus.... succeeds remarkably in animating the world of political instability and terror that Brecht lived through, where the failure of the Left to coalesce enabled the rise of Fascism. -- Cosmo Pappas * The Michigan Daily *
Parker's Brecht is a tangle of contradictions, a man led but sometimes disorientated by ideology, art and love. This superb biography may not endear us to him but it certainly brings us closer. -- Malcom Forbes * The Catholic Tablet *
[A] valuable source of information and insight. -- John Green * Morning Star *
Brecht expert Stephen Parker has not only taken up [the task of writing a biography of Brecht], but has passed it with flying colours ... His style is effervescent, but not gushing. Unsensational. Respectful without being reverential ... Two beautiful plate sections, a bibliography and notes, as well as an extensive index of so much more than just names (thank you!) supplement the volume. Stephen Parker has produced a standard international work. * Dreigroschenheft (Bloomsbury translation) *
Stephen Parker's superb biography of a great iconoclastic writer is impressively sourced, rich in detail, well-paced, highly readable yet serious. -- David Blackbourn * London Review of Books *
A remarkable feat of concentration and judicious selection, given the overwhelming accumulated material, this story of a literary life is an astonishing achievement . . . Parker's biography contains many unforgettable descriptions from all stages of Brecht's unusual life, from his childhood dependency and lifelong fear of heart failure and emotional agitation, which governed so much of his psyche and determined his tastes. [A] magisterial biography -- Antony Tatlow, Honorary Professor of Drama, Trinity College Dublin * Dublin Review of Books *
In [this] dynamic and lucid text bristling with narrative energy, Parker displays an impressive mastery of his subject, filling a number of information gaps left by previous biographies while also challenging a good deal of myth and misinformation attaching to Brecht ... He offers sensitive and illuminating readings of individual works ... [This] comprehensive, insightful study is highly likely to become and remain the standard English-language biography for many years. * International Feuchtwanger Society newsletter *
This is an immensely important new biography of one of the most controversial and inspiring figures of European modernism. Parker has a profound knowledge of the archival record and brings his subject alive with a wealth of fascinating detail, rising above the old ideologically blinkered debates. Brecht emerges as a flawed and troubled man, but equally as a literary artist and cultural commentator of extraordinary breadth, with as much to say to us global citizens of the twenty-first century as he had to his own contemporaries. -- Tom Kuhn, Fellow of St Hugh's College, University of Oxford, UK
Parker offers an eminently readable account of a life that not only fascinates on its own terms but illuminates the contradictions of the many worlds Brecht inhabited. -- David Barnett, Reader in Drama, University of Sussex, UK and author of Brecht in Practice: Theatre, Theory and Performance and A History of the Berliner Ensemble
Nobody perhaps has gone further than Stephen Parker in trusting the conviction that biographical detail - including somatic detail -- can open up new dimensions of insight into historical moments and the lives through which they exist. The result is a book, written with sympathy and passion, that reveals an unknown, highly complex personality behind the canonized image of the great Marxist playwright Bertolt Brecht... breathtaking. -- Hans Ulrich Gumbrecht, Albert Guerard Professor in Literature, Stanford University, USA
At last, after twenty years of waiting, a new Brecht biography in English that can draw on post Cold War archival sources. Parker offers a weighty but smoothly written literary portrait - both empathetic and critical - of this major twentieth-century writer and thinker. -- Marc Silberman, University of Wisconsin-Madison, USA
This immense dive into the life and work of the 20th-century German playwright and poet offers letters, diaries, and unpublished material to shed more light on his early life, all the way through to his `transformative impact on world theater and poetry,' according to the book's dust jacket. Written by Stephen Parker, the book is out now. Perfect beach reading! * Backstage.com *
The research and presentation of Bertolt Brecht's life is thorough and meticulous ... I learned a great deal. From his personal and professional partnerships, to his politics, to his theatrical works. * www.lookingforagoodbook.wordpress.com *
Few biographies are as instructive. -- Anthony Daniels * The New Criterion *
In this magisterial combination of minute detail and complete command of the social, political, and aesthetic landscape that Brecht surveyed?from provincial Augsburg to cloudless Santa Monica, and above all to the `cold Chicago' of the asphalt city of Weimar Berlin, and, later, East Berlin?the contradictions and complexities of the writer are foregrounded in a way that makes any simple gloss on his character unthinkable... What Parker has brought into focus is the man himself and his network of associates, and if a new appreciation for what it meant to be Brecht, warts and all, emerges, so too does a disruption of the familiar biographical coordinates along the way... Parker's biography eschews conversion narratives in favor of presenting a figure whose ability to adapt to rapidly changing circumstances was less a liability than a recipe for literary, social, and political vitality. -- Eric Banks * Bookforum *
Enter Steven Parker's biography of Brecht, 689 pages of carefully researched and foot-noted conjecture about this paradoxical, irritating, overbearing, brilliant Marxist whose love life would shame a Casanova, and whose intellectual praxis suggests that after Shakespeare he is one of the greatest theatrical thinkers and playwrights. -- Warren Leming * Logos *
Parker's achievement lies perhaps not so much in the discovery of new archival material-although there are exceptions here, such as in the section on Brecht's final illness-as in the skill with which he identifies and marshals an extraordinary wealth of detail spread across a wide range of published primary and secondary sources, from Brecht's works, his collaborators' memoirs and collections of archival documents, through to academic studies. -- Laura Bradley, University of Edinburgh * Modern Language Review *
Stephen Parker's book is the most complete biography [of Brecht] in English to date. ... [The book] generously adds to the illumination of the great playwright's legacy. * Socialism Today *
In BERTOLT BRECHT: A LITERARY LIFE, Stephen Parker places the playwright in proper perspective ... [bringing] to the table new data, including information from previously withheld medical documents. -- Charles Lupia * OnStage *
Parker's biography is a valuable work. It is honest and meticulous. ... A highly readable and stimulating opener to the debate. -- Sybille Fuchs
Using a letter from the archive in which Brecht writes to his son Stefan on the tensions pulling the artistic and political subject between insensitivity and sensitivity, Parker finds a suggestive prompt for investigating the contrary strains on Brecht's body and mind between choler and melancholy, and hardness and receptivity, and their impact on his work pulled between parabolic clarity and poetic turbulence (71). This approach yields fresh insights into the young writer's struggle to master conflicting desires and tame a body wracked by multiple maladies- chapters on Brecht's formation through the 1920s illuminate his creative response to contrary impulses, especially the play between passion and irony in the poetry. * Theatre Journal *
You may also be interested in...
Simply reserve online and pay at the counter when you collect. Available in shop from just two hours, subject to availability.
Thank you for your reservation
Your order is now being processed and we have sent a confirmation email to you at
When will my order be ready to collect?
Following the initial email, you will be contacted by the shop to confirm that your item is available for collection.
Call us on or send us an email at
Unfortunately there has been a problem with your order
Please try again or alternatively you can contact your chosen shop on or send us an email at