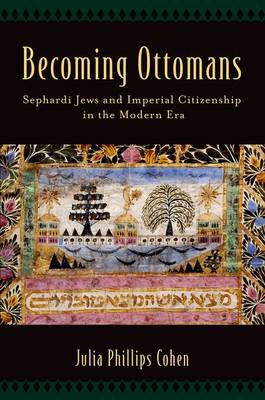 Becoming Ottomans: Sephardi Jews and Imperial Citizenship in the Modern Era (Paperback)
Julia Phillips Cohen
(author)
Paperback
256

Pages / Published: 20/04/2017
The Ottoman-Jewish story has long been told as a romance between Jews and the empire. The prevailing view is that Ottoman Jews were protected and privileged by imperial policies and in return offered their unflagging devotion to the imperial government over many centuries. In this book, Julia Phillips Cohen offers a corrective, arguing that Jewish leaders who promoted this vision were doing so in response to a series of reforms enacted by the nineteenth-century Ottoman state: the new equality they gained came with a new set of expectations. Ottoman subjects were suddenly to become imperial citizens, to consider their neighbors as brothers and their empire as a homeland. Becoming Ottomans is the first book to tell the story of Jewish political integration into a modern Islamic empire. It begins with the process set in motion by the imperial state reforms known as the Tanzimat, which spanned the years 1839-1876 and legally emancipated the non-Muslims of the empire. Four decades later the situation was difficult to recognize. By the close of the nineteenth century, Ottoman Muslims and Jews alike regularly referred to Jews as a model community, or millet-as a group whose leaders and members knew how to serve their state and were deeply engaged in Ottoman politics. The struggles of different Jewish individuals and groups to define the public face of their communities is underscored in their responses to a series of important historical events. Charting the dramatic reversal of Jews in the empire over a half-century, Becoming Ottomans offers new perspectives for understanding Jewish encounters with modernity and citizenship in a centralizing, modernizing Islamic state in an imperial, multi-faith landscape.
Publisher: Oxford University Press
ISBN: 9780190610708
Number of pages: 256
Weight: 360 g
Dimensions: 234 x 171 x 17 mm
---
MEDIA REVIEWS
Becoming Ottomans is a very important contribution not only to the historiography of Ottoman Jews but also to nineteenth-century social and cultural history. The book - through its emphasis on civic agency rather than on state policy, on provinces rather than on the capital, and on a 'view from below' that looks up from streets, fairs, and local celebrations rather than on official discourses - is extremely useful to every scholar interested in the dynamics of nineteenth-century Ottoman society in general and in the history of Ottoman Jews in particular. It provides a basis for further debates on the ever-contested history of Christians and Jews in the Ottoman Empire. * Yasar T. Cora, H-Nationalism *
With Becoming Ottomans, Julia Phillips Cohen breaks new ground in her analysis of the Sephardi communities of Salonica, Istanbul, and Izmir, and of the complex and changing forces that tested their allegiance to imperial citizenship and nationality (Ottomanism). She challenges the long-held master narrative that Ottomanism was an abstract ideology that managed to gain a foothold only among the Ottoman elite.... If Becoming Ottomans was only an examination of the Sephardi response to Ottoman citizenship and the imperial national project, it would be a tremendous contribution to the field. But the book touches on many other subjects under debate among Ottoman historians.... The book is engaging, accessible, and an important contribution to late Ottoman history. * Karen M. Kern, International Journal of Middle Eastern Studies *
Thoroughly researched and documented...Becoming Ottomans is a major contribution to the study of the Jewish communities during the late Ottoman period and it provides scholars of other Ottoman non-Muslim communities with excellent grounding with which to analyze similar developments among the larger Ottoman Armenian and Greek communities. * Eyal Ginio, Middle East Journal *
In this engaging book, Julia Philips Cohen reconstructs the process by which Ottoman Sephardic Jews learned the language of patriotism in the course of the nineteenth and early twentieth centuries, as part of a broader process of the emergence of a discourse of Ottoman imperial citizenship that affected Ottoman society in its entirety.... Becoming Ottomans should be commended for its original and sophisticated treatment of the 'special relationship' narrative on the basis of late nineteenth- and early twentieth-century experiences.... An original contribution to scholarly writing on the history of Ottoman Jews, to the study of imperial citizenship, and to the literature on the passage of the Ottoman Empire to modernity. * Avi Rubin, Association for Jewish Studies Review *
Cohen's portrayal of Jewish Ottomanism is rich in nuance. We learn about the official discourse of Ottoman patriotism but also about dissenting voices and resistance; we learn about the complex negotiation of imperial citizenship in competition with other ethno-religious groups, such as the Armenians or the Greeks; and we get a sense of the many forms that Jewish Ottomanism could take in an increasingly politicized Jewish millet ... . Becoming Ottomans represents an important intervention that allows not only a better understanding of the history of the Sephardic Jews in the Ottoman Empire, but of the multifaceted nature of the Jewish encounter with modernity more generally ... .Cohen's book is as much a contribution to modern Jewish history as it is to the history of the Ottoman Empire. * Matthias B. Lehmann, Sefarad *
Cohen has produced an insightful study on the embrace of Ottoman citizenship by the Sephardic community. ... Highly recommended. * CHOICE *
It contributes significantly to our appreciation of the complex texture of a long-gone society. * Journal of Modern History" *
Becoming Ottomans is a remarkable account of the means Sephardi Jews developed to represent themselves as loyal Ottomans and to transform themselves into a model community during the last century of the empire. Original and marvelously written, the book reveals the complexities and the setbacks, as well as the successes, of this effort. * Olga Borovaya, author of Modern Ladino Culture *
Based in nineteenth-century Salonica, Istanbul, and Izmir, Julia Phillips Cohen's book tells the story of how Jews were swept up in the Ottoman Empire's projects of imperial reform, war, and ethnic rivalries. They also carved out a place for themselves in politics and society, invented traditions commemorating their arrival in the empire 400 years prior, showcased the empire at the Chicago World's Fair, feted the sultan on his royal tour, and mourned the empire's demise after their arrival in New York. Fascinating, thoroughly researched, and engagingly written, Becoming Ottomans will forever change how we understand the Ottoman Empire and its Jews. * Michelle Campos, author of Ottoman Brothers: Muslims, Christians, and Jews in Early Twentieth-Century Palestine *
Becoming Ottomans offers a fresh argument on strategies of imperial belonging, showing how Sephardi Jews put themselves forward as exemplary citizens, a kind of model minority for the late Ottoman Empire. In doing so, it addresses questions about the complexities of co-existence and provides insight on the unique Ottoman realm of inter-confessional relations as much as about the dynamics within the Sephardi Jewish communities of the empire. * Christine Philliou, author of Biography of an Empire: Governing Ottomans in an Age of Revolution *
If Ottoman historians, Middle Eastern historians, and historians of modern Jewry agree on one thing, it is that Ottoman Jews and the Ottoman state enjoyed a 'special relationship' of solicitude on the part of the state and of unalloyed patriotism on the part of the Jews. Julia Phillips Cohen's Becoming Ottomans draws on an impressively multilingual archive to show that this vaunted special relationship was not a pre-political fact but a fairly late political invention created by the late nineteenth century Ottoman Jewish elite. Cohen demonstrates that this political invention demanded constant maintenance through ritual and discursive evocation, and that it was subjected to deepening strain in the last decades of the empire's existence as Jews grappled simultaneously with nationalist secessions and incipient Muslim Turkish counternationalism. * Kenneth Moss, author of Jewish Renaissance in the Russian Revolution *
Becoming Ottomans enhances our perspective * Cihangir Gundogdu, OTTOMAN STUDIES *
You may also be interested in...
Simply reserve online and pay at the counter when you collect. Available in shop from just two hours, subject to availability.
Thank you for your reservation
Your order is now being processed and we have sent a confirmation email to you at
When will my order be ready to collect?
Following the initial email, you will be contacted by the shop to confirm that your item is available for collection.
Call us on or send us an email at
Unfortunately there has been a problem with your order
Please try again or alternatively you can contact your chosen shop on or send us an email at