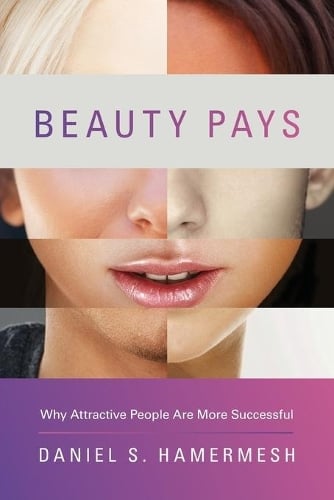 Beauty Pays: Why Attractive People Are More Successful (Paperback)
Daniel S. Hamermesh
(author)
Paperback
232

Pages
Published: 03/05/2013
Most of us know there is a payoff to looking good, and in the quest for beauty we spend countless hours and billions of dollars on personal grooming, cosmetics, and plastic surgery. But how much better off are the better looking? Based on the evidence, quite a lot. The first book to seriously measure the advantages of beauty, Beauty Pays demonstrates how society favors the beautiful and how better-looking people experience startling but undeniable benefits in all aspects of life. Noted economist Daniel Hamermesh shows that the attractive are more likely to be employed, work more productively and profitably, receive more substantial pay, obtain loan approvals, negotiate loans with better terms, and have more handsome and highly educated spouses. Hamermesh explains why this happens and what it means for the beautiful--and the not-so-beautiful--among us. Exploring whether a universal standard of beauty exists, Hamermesh illustrates how attractive workers make more money, how these amounts differ by gender, and how looks are valued differently based on profession. He considers whether extra pay for good-looking people represents discrimination, and, if so, who is discriminating. Hamermesh investigates the commodification of beauty in dating and how this influences the search for intelligent or high-earning mates, and even examines whether government programs should aid the ugly. He also discusses whether the economic benefits of beauty will persist into the foreseeable future and what the "looks-challenged" can do to overcome their disadvantage. Reflecting on a sensitive issue that touches everyone, Beauty Pays proves that beauty's rewards are anything but superficial.
Publisher: Princeton University Press
ISBN: 9780691158174
Number of pages: 232
Weight: 255 g
Dimensions: 203 x 127 x 13 mm
---
MEDIA REVIEWS
"Since the mid-nineties, Daniel Hamermesh ... has done a series of studies on the role that appearance plays in the workplace, and his conclusion is captured by the title of his recent book, Beauty Pays. In the U.S., he finds, better-looking men earn four per cent more than average-looking men of similar education and experience, and uglier men earn thirteen per cent less... Hamermesh finds that pulchritude is valuable in nearly all professions, not just those where good looks may seem to be an obvious asset."--Jim Surowiecki, New Yorker "This chatty, economist's-eye-view of beauty in the marketplace provides solid statistical evidence that beauty does pay."--Publishers Weekly "An extensive, dizzying compilation of economic data explaining 'why attractive people are more successful.' A 40-year veteran in the field of economics, Hamermesh examines the correlation between beauty and economics... Fascinating."--Kirkus Reviews "[A] no-warts-and-all expose of how attractive people earn more, marry better and enjoy a wealth of positive discrimination."--Anjana Ahuja, Prospect "Daniel Hamermesh ... has long written about 'pulchronomics.' In Beauty Pays he reckons that, over a lifetime and assuming today's mean wages, a handsome working in America might on average make $230,000 more than a very plain one. There is evidence that attractive workers bring in more business, so it often makes sense for firms to hire them. Whether rewarding them accordingly--and paying their less attractive peers more stingily--is good for society is another matter."--Economist "If you live in the west and have lately looked at any magazine, watched any television, seen any movie, common sense would dictate that those who are better looking accrue the benefits of such a genetic roll of the dice. But what exactly those benefits are and if they are measurable is the point of Beauty Pays... [T]his book ... will prove more than just eye candy."--New York Journal of Books "University of Texas labor economist Daniel Hamermesh has devoted a share of his career to the study of physical beauty and how it affects employment and earning potential. In his new book, Beauty Pays, he offers up all sorts of data he's collected over years of work. His broad point, that attractive people enjoy advantages in hiring and earning, will surprise no one. But some of the details packed inside this thoughtful and in some respects quirky and confounding book, are illuminating."--Susan Adams, Forbes "Hamermesh's analysis of empirical studies in his book Beauty Pays appears to suggest that being attractive does, indeed, bring measurable materials benefits... Hamermesh's research appears to have clear implications for policy."--Sunday Times "Economist Daniel Hamermesh argues that ugliness is no different from race or a disability, and suggests unattractive people deserve legal protection."--Luke Salkeld, Daily Mail "Beauty Pays is intriguing and easy to read."--World Magazine "In his book, Hamermesh concludes that better-looking employees are more productive, leading to higher sales and potentially higher profit. [Beauty Pays] also shows how society generates premium pay for beauty and penalties for ugliness. Hamermesh says beautiful people earn $230,000 more in a lifetime than workers with below-average looks."--Sheryl Jean, Dallas Morning News "Professor Daniel Hamermesh ... has investigated the financial benefits of beauty and found that looks have a bigger impact on our lifetime earning power than education. In his book, Beauty Pays, Professor Hamermesh says beautiful people are more likely to get jobs, raises and promotions, and suggests that, over a lifetime, the best-looking workers will earn about 10-15 percent more per year than the ugliest."--Australian Women's Weekly "Looks matter... Labor markets as well as marriage markets, according to Daniel Hamermesh, offer premiums for good looks and penalties for ugliness. In Beauty Pays, Hamermesh assesses the role of appearance in American society, explores the options available to 'looks-challenged' people, and demonstrates that, although it's in its infancy, and is easy to mock, 'pulchronomics' (the economics of beauty) is a serious and significant subject."--Barron's "Beauty Pays is a pleasant and interesting read, but along the way it will challenge many of your preconceptions and leave you wondering why we as a society do not do more to protect those with less desirable looks."--Times Higher Education "For the last 20 years, Texas economist Hamermesh has been intrigued by, and has contributed significant research on, what one may term 'The Economics of Beauty'. This short, provocative, engaging volume takes its audience through the author's previous work and contemporary data, analyses, and impact of being considered good-looking by others on one's labor-market outcomes (employment and compensation); in the social world of friends and family; and even the extent to which one's happiness is affected by the presence (or absence) of looks... Whether at the beach, on an airplane, or in the seminar room, Beauty Pays pays handsome dividends for intelligent lay readers, scholars, and public policy decision makers."--Choice "The book is absorbing and disturbing, for the thought upper most in the mind is 'Am I beautiful (enough).'"--Vaidehi Nathan, Organiser "The real value of this book lies not so much in its synthesis of existing results, but rather in the fact that it collects such results in a single volume. Observing side-by-side the various privileges bestowed upon the beautiful paints a picture that is more than the sum of its parts. Even though some specific results in the book may be driven by omitted variables, others are cleanly identified, and the overall set of studies builds a compelling case for the view that 'beauty pays'--being beautiful is valuable whether you are looking for a job, a loan, or a spouse."--Emir Kamenica, Journal of Economic Literature "Beauty Pays, fascinating read, starts with the important data collection issues and questions... Written by a prominent labor economist, shows the reader why beauty can rightly be under the purview or economists."--Jennifer Tennant, Eastern Economic Journal "Reflecting on a sensitive issue that touches everyone, Beauty Pays proves that beauty's rewards are anything but superficial."--World Book Industry
You may also be interested in...
×
Download the Waterstones App
Would you like to proceed to the App store to download the Waterstones App?
Reserve online, pay on collection


Thank you for your reservation
Your order is now being processed and we have sent a confirmation email to you at
When will my order be ready to collect?
Following the initial email, you will be contacted by the shop to confirm that your item is available for collection.
Call us on or send us an email at
Unfortunately there has been a problem with your order
Please try again or alternatively you can contact your chosen shop on or send us an email at