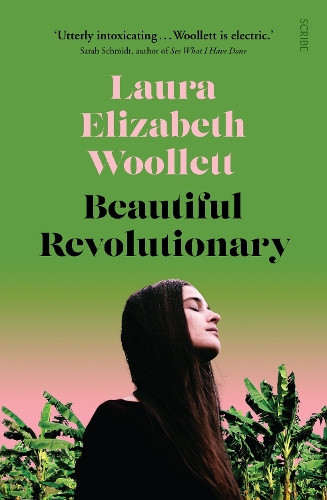 Paperback
416

Pages / Published: 14/02/2019
The thrilling new novel, inspired by the events at Jonestown in the 1970s.
It's the summer of 1968, and Evelyn Lynden is a woman at war with herself. Minister's daughter. Atheist. Independent woman. Frustrated wife. Bitch with a bleeding heart.
Following her conscientious-objector husband Lenny to the rural Eden of Evergreen Valley, California, Evelyn wants to be happy with their new life. Yet she finds herself disillusioned with Lenny's passive ways - and anxious for a saviour. Enter the Reverend Jim Jones, the dynamic leader of a new revolutionary church ...
Meticulously researched and masterfully written, Beautiful Revolutionary explores the allure of the real-life charismatic leader who would destroy so many. It follows Evelyn as she is pulled into Jones's orbit - an orbit it would prove impossible for her to leave.
Publisher: Scribe Publications
ISBN: 9781911617594
Number of pages: 416
Dimensions: 234 x 153 x 29 mm
---
MEDIA REVIEWS
`Woollett has wisely chosen to forgo the fetishism of death and Jim Jones that is so often the focus of this tragedy. With Beautiful Revolutionary, Woollett has created an utterly intoxicating portrait of the lives of those seeking to build something new in a world that seemed to be losing its mind. Although we know what awaits us, Woollett masterfully weaves a suspenseful and complex story about people - of their dreams, beliefs, ideals, and lives all coming to a horrific end - in a way that is uniquely hers. Woollett is electric.'
-- Sarah Schmidt, author of
See What I Have Done
`Laura Woollett's imaginative retelling of the Jonestown tragedy does what only fiction can do - endows Jim Jones and his inner circle with a sense of humanity. She formulates answers to unknowable questions - how could otherwise sane people be pulled into Jones's web of evil? What happened that last, tragic day? A lyrical and sharply rendered tale of innocence lost and ideals betrayed.'
-- Julia Scheeres, author of
A Thousand Lives: The Untold Story of Jonestown
`[D]ramatic and intriguing, the quality of Woollett's prose is the most enjoyable aspect of this novel ... Reading Beautiful Revolutionary, it is easy to imagine how so many people could have been captivated and controlled by a man such as Jones ... [A]n excellent work of literary historical fiction.' 4.5 STARS
* Books+Publishing *
`In this rich and skilled reimagining, Woollett joins the sprawling, doomed, and endlessly fascinating juggernaut of the Peoples Temple as it careens from fraught, idealistic inception in late-sixties California to desperately tragic demise in Guyana a decade later. Equal parts earth and ecstasy, pulsing with life, this book takes us deep within the lives of Jones's followers and the unfurling of their inevitable, dark drama. Climb aboard, and hold on tight.'
-- Peggy Frew, author of
Hope Farm
`Beautiful Revolutionary is some of the most exciting fiction I've encountered. It fearlessly explores the human elements that attracted masses to the Peoples Temple and to Jim Jones - fear, lust, the need to be loved, and the urge to feel a part of something larger than the self. This story cuts close to the bone, unrelenting and irrefutably true, over and over. Laura Elizabeth Woollett is an immense talent, and this is a bracing - and necessary - read.'
-- Kayla Rae Whitaker, author of
The Animators
`Expertly done.'
* Daily Mail *
`She reclaims victims' narratives from sensationalist head-lines and re-educates her readers through sharp, expertly crafted fiction ... Her economy of language is striking; certain chapters are a page in length yet relay a multitude. The "revolutionary suicide" that froze Jonestown in popular culture is injected into every carefully composed sentence in which Woollett conflates violence with joy.'
-- Anna Joyce * Irish Times *
`Meticulously researched ... Woollett's prose is arresting-vivid without being flowery, subtle but still affecting. While the plot is dramatic and intriguing, the quality of Woollett's prose is the most enjoyable aspect of this novel ... This is an excellent work of literary historical fiction.'
* Books+Publishing *
`Woollett's writing makes this story an electricity storm. The clouds are weed smoke and the lightning charging through that haze is pure sexual energy. I'm almost half-way through and feel wholly transported. The world is both real and surreal; these characters alien and freakishly familiar to me. Completely gripping, and dripping with detail never overdone.'
-- Bri Lee, author of
Eggshell Skull
`Beautiful Revolutionary has had me completely mesmerised - it has been so long since I've been so utterly engrossed and absorbed in a novel. The shifts in perspective are masterfully handled and offer a fascinating and nuanced portrait of Jim Jones' Peoples Temple. I do love cult novels and this is one of the best of them. The tension build to the inevitable conclusion is incredibly well done. I have nothing but love for this book, five beautiful stars. It's my number one Australian novel of the year.'
-- Jaclyn Crupi, Bookseller at Hill of Content Bookstore
`She has taken years of extensive research, including interviews with surviving members of the Jones cult, then bent these facts into fictional shape ... She follows Joan Didion, another sharp-eyed observer of the Californian scene in the '60s and '70s - another writer who appreciated how genuine human impulses could be harnessed and warped by the wrong kind of leader.'
* The Saturday Paper *
`In order to write Beautiful Revolutionary, Laura Elizabeth Woollett spent years researching the Jonestown massacre. She interviewed surviving members of the People's Temple and the families of those who died, creating an in-depth portrait of an era and one of its most extreme manifestations ... perfect for fans of Emma Cline's The Girls and The Family by Chris Johnston and Rosie Jones.'
`It's easy to see why Woollett is one of Australia's leading young writers. The characters and observations are incisive and gripping, and prose masterful and electric.'
* Good Reading *
`[The] highlight of this book is Woollett's prose style, which beautifully conveys the details of what is going on while at the same time wielding a less is more touch and power of suggestion, to maximise the psychological and physical tension of the story ... Beautiful Revolutionary is part twisted love story, part dark, noirish, crime novel. I recommend it.'
* Pulp Curry *
`Laura Elizabeth Woollett has embarked on a brave quest with Beautiful Revolutionary - and the risk has paid off, with her historically rich and breathtakingly entertaining story about one female hippie searching for life's meaning in all the wrong places.'
* Better Reading *
`A beautifully-written and certainly compelling novel.'
* The Lifted Brow *
`The book is the author's interpretive fictional account, overlaid on a well-researched framework of fact and first-person description ... Her writing is thought-provoking and at times luminous.'
-- Rosa Shiels *
Stuff
, 'Books of the week September 1, 2018' *
`Absolutely mesmerising. I didn't want this to end ... This story is meticulously researched and gets into your heart and mind and remains there for quite some time ...[Woollett's] a master of character and atmosphere.'
*
Sam Still Reading
*
`Laura Elizabeth Woollett's Beautiful Revolutionary grabs attention from the beginning, not with narrative hooks but with the sheer penetration of its prose. Woollett's debut novel is an imaginative refiguring of the Jonestown massacre story ... a truly exciting writer.'
-- Ed Wright *
Weekend Australian
*
`Woollett's novel is brimming with historical detail and her depiction of Jonestown is impressive ... A well-written account, it raises important questions about the desire for faith, especially in a time of crisis, and the dangerous appeal of a powerful personality dressed up as a revolutionary.'
-- Anna MacDonald *
Australian Book Review
*
`A deeply intelligent telling of a deeply disturbing sideshow of history.'
-- John Purcell * Booktopia *
`It's a novel that benefits from deep research worn lightly, and from Laura Elizabeth Woollett's sensitivity to the perversity of human character and behaviour.'
*
The Saturday Age
*
`Woollett is considered Australia's foremost expert on Jonestown, and her novel is a riveting tale of love, obsession and devotion. If you loved The Girls or Netflix's Wild Wild Country, this one's for you.'
* Elle *
`A rich portrait of a highly mythologised historical incident. The passion that the author has had for her research shines through ... for readers who appreciate a well-written, well-researched novel that approaches things from different angles.'
-- Emily Paull * The AU Review *
`Beautiful Revolutionary suggests that the cult members are victims of Jones because they are victims of the time, swept up in the moment, fired by the rhetoric of revolution.'
-- Xan Brooks * The Guardian *
`[T]raverses the uneasy terrain between historical fiction and all that cannot be known about the inner lives of real people. History blends with mythology ... [D]evastating ... Weighty and disquieting.'
* Kirkus *
`Woollett turns a dark chapter in U.S. history into a deeply human, satisfying read for fans of Emma Cline's The Girls.'
* Booklist *
`Woollett reclaims victims' narratives from sensationalist headlines and re-educates her readers through sharp, expertly crafted fiction.'
-- Anne Joyce * Irish Times *
You may also be interested in...
Simply reserve online and pay at the counter when you collect. Available in shop from just two hours, subject to availability.
Thank you for your reservation
Your order is now being processed and we have sent a confirmation email to you at
When will my order be ready to collect?
Following the initial email, you will be contacted by the shop to confirm that your item is available for collection.
Call us on or send us an email at
Unfortunately there has been a problem with your order
Please try again or alternatively you can contact your chosen shop on or send us an email at