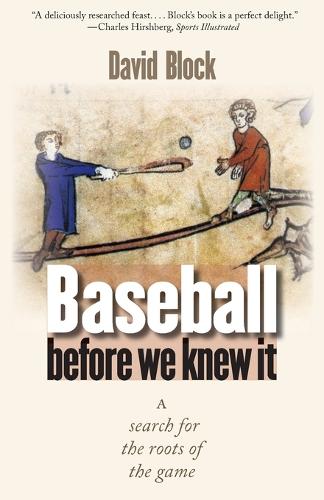 Baseball before We Knew It: A Search for the Roots of the Game (Paperback)
David Block

(author)

,

Tim Wiles

(foreword)
Paperback
352

Pages / Published: 01/03/2006
It may be America's game, but no one seems to know how or when baseball really started. Theories abound, myths proliferate, but reliable information has been in short supply-until now, when Baseball before We Knew It brings fresh new evidence of baseball's origins into play. David Block looks into the early history of the game and of the 150-year-old debate about its beginnings. He tackles one stubborn misconception after another, debunking the enduring belief that baseball descended from the English game of rounders and revealing a surprising new explanation for the most notorious myth of all-the Abner Doubleday-Cooperstown story. Block's book takes readers on an exhilarating journey through the centuries in search of clues to the evolution of our modern National Pastime. Among his startling discoveries is a set of long-forgotten baseball rules from the 1700s. Block evaluates the originality and historical significance of the Knickerbocker rules of 1845, revisits European studies on the ancestry of baseball which indicate that the game dates back hundreds, if not thousands of years, and assembles a detailed history of games and pastimes from the Middle Ages onward that contributed to baseball's development. In its thoroughness and reach, and its extensive descriptive bibliography of early baseball sources, this book is a unique and invaluable resource-a comprehensive, reliable, and readable account of baseball before it was America's game.
Publisher: University of Nebraska Press
ISBN: 9780803262553
Number of pages: 352
Weight: 431 g
Dimensions: 229 x 152 x 20 mm
---
MEDIA REVIEWS
"Given North American baseball fans' nearly inexhaustible appetite for the arcana of their favourite sport, astonishingly few scholars have ever undertaken the detailed historical and anthropological research to find out where the game actually began. . . . Now, through painstaking bibliographic and archival research, on display in his extensive appendices, Block has established . . . the true forerunner of American baseball. . . . By pushing beyond baseball's reputed origins in an English children's game, David Block has discovered the game's true origins in an even older English game."-Warren Goldstein, Times Literary Supplement -- Warren Goldstein * Times Literary Supplement *
"The suggestion that America's Game might have originated somewhere besides America so 'inflamed passions and patriotism,' writes David Block, that the idea still burns us. . . . Block has produced a deliciously researched feast that lays this controversy to rest. . . . Block has assembled such a rich pile of evidence for the game's European origins that one might wonder why there ever was a controversy. . . . Once an American reader gets past the disappointment of discovering baseball's deep European roots, Block's book is a perfect delight. He has unearthed magnificent medieval manuscripts . . . That show that baseball is just the latest in a very long line of stick-and-ball games."-Charles Hirshberg, Sports Illustrated -- Charles Hirshberg * Sports Illustrated *
"As if this country doesn't have enough to worry about, it turns out America's national pastime may not even be American. At least according to Baseball before We Knew It, a new book by David Block. Block contends the origins of the game date to the mid-14th century and can be traced to northern Europe and parts of Africa. Hold on there, pal. What about good old Abner Doubleday? 'There's no evidence he even played baseball,' Block says. 'It's simply a case of people passing down stories that have never been substantiated.' Now, there's something we seem to be very good at." -Morty Ain, ESPN: The Magazine -- Morty Ain * ESPN: The Magazine *
"Baseball, Block convincingly argues, was not a product of rounders, and its essential form had already been established by the late 18th century. Where, then, did baseball come from? In search of an answer, Block, a retired systems analyst and an antiquarian book collector, has attacked baseball's literary record with methodical zeal. The result is a joyfully discursive romp through the history of ball sports and a compelling new theory of the game's origins."-New York Times Book Review * New York Times Book Review *
"Block is so thorough in his research, so meticulous in documenting his sources, and so generous in acknowledging his predecessors that it's hard to imagine anyone having done more impressive work on this subject--ever."-David Shiner, Elysian Fields Quarterly -- David Shiner * Elysian Fields Quarterly *
"Baseball before We Knew It is a rare piece of historical research that transforms the historical landscape. It is also elegantly written and lightened with a subtle humor. No one who makes any claim to being a baseball historian or a student of the game can go forward without Block's stunning work."-Sports Literature Association * Sports Literature Association *
"Block's book obviates the need for any other analysis of baseball's origins and roots. Including the illustrations that go back to the 14th-century manuscripts in the Bodleian Library emphasizing pre-Civil War sources, this one volume contains everythingregarding the history of the origin of the American national pastime. Myths are debunked, fables are demystified, and in the end one is left with a comprehensive and convincing historical record."-Choice * Choice *
"This is without question the book for anyone at all interested in the history of the world's greatest game or, for that matter, in the manufacture of history."-Boston Globe * Boston Globe *
"To quote from no less an expert than John Thorn, Block has created a knowledge base for the origins of baseball on which all future research will rely. That's a big claim, but if you read Baseball Before We Knew It, you'll know it's correct."- John Shiffert, www.baseball19to21.com -- John Shiffert * www.baseball19to21.com *
"Baseball before We Knew It is a magnificent piece of work that puts an end to the myths and errors that have clouded our understanding of where and how our national game began and developed. This definitely settled, we are now also clear about the source and cause of the previous notions-altogether a masterpiece of research agreeably presented."-Jacques Barzun, author of From Dawn to Decadence: 500 Years of Western Cultural Life-1500 to the Present -- Jacques Barzun
"Baseball before We Knew It is an important book, erudite, entertaining and truly groundbreaking. David Block goes beyond debunking the game's creation myths to creating a knowledge base upon which all future research will rely. This brilliant book takes a place on my shelf alongside Seymour, Voigt, and Henderson."-John Thorn, editor of Total Baseball -- John Thorn
"A well-researched, fascinating book that examines the history of our national pastime from its earliest origins through its evolution into the modern game."-Tom Tarapacki, Polish American Journal -- Tom Tarapacki * Polish American Journal *
"An amusing and comprehensive look at the surprisingly long and complex lineage of our national pastime. The book is dizzyingly detailed in spots, with exhaustive descriptions of dozens of old English ballgames, but as the author plumbs the murky depths of the game's origins, he turns up bizarre footnotes and conspiracies and unravels the agendas of earlier baseball historians."-American Heritage * American Heritage *
"Not content with merely demolishing the credibility of Abner Doubleday and Cooperstown once again, Block discerns baseball's true origins in a British children's game of the early 18th century. Masterfully researched and extraordinarily well-documented, this book includes and invaluable 60-page, chronological bibliography of baseball mentions from 1450 to 1861."-College & Research Libraries News * College & Research Libraries News *
"A well researched, expertly written, inherently interesting, reader engaging, in-depth study of baseball and its historical roots. . . . No personal, academic or community library Sports History collection can be considered complete or comprehensive without the inclusion of David Block's Baseball Before We Knew It!"-Midwest Book Review * Midwest Book Review *
http://nebraskapress.typepad.com/university_of_nebraska_pr/2011/03/unp-author-to-help-major-league-baseball-trace-its-roots-.html -- Cara Pesek * UNP blog *
You may also be interested in...
Simply reserve online and pay at the counter when you collect. Available in shop from just two hours, subject to availability.
Thank you for your reservation
Your order is now being processed and we have sent a confirmation email to you at
When will my order be ready to collect?
Following the initial email, you will be contacted by the shop to confirm that your item is available for collection.
Call us on or send us an email at
Unfortunately there has been a problem with your order
Please try again or alternatively you can contact your chosen shop on or send us an email at