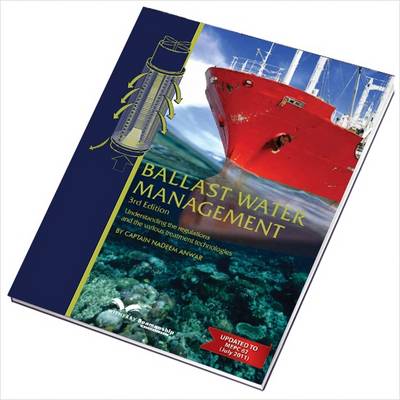 Paperback
Published: 02/11/2011
The importance of having Ballast Water Treatment (BWT) on board cannot be overstated. A major concern arising from the discharge of untreated ballast water is the influx of non-indigenous species in various parts of the world and the damage that they can cause to the local environment e.g., Zebra Mussels which originate from Poland and Russia are now being found in Canadian waters where they have no natural predators. This upsets the local ecosystem and threatens native wildlife. At present (30.09.2011), 30 member states of the IMO Marine Environment Protection Committee (MEPC) have signed up to the Ballast Water Convention bringing the number of contracting parties to 30 (out of the 30 needed for entry into force). To enter into force a tonnage criteria also has to be met. Currently, the contracting parties represent 26.44 per cent of the world tonnage, whereas 35 per cent will be needed for the Convention to enter into force. The implementation of a protocol covering BWT has been fragmented. In 2008, a postponement was granted to ships being built in 2009 with a ballast capacity of less than 5,000 m3. This was however not extended as had been expected to cover ships due to be built by 2012 with a ballast capacity of more than 5,000 m3. Accordingly, all ships that are built in 2012 must have an appropriate ballast water system installed. Ships built before this date must have a system installed by their first dry docking after 1 January 2012. In any event, all ships must have a system installed by 2016. It is possible that there may be a one year extensions to this and this may explain why so many operators are biding their time and not taking the necessary steps to install the required Ballast Water Treatment System (BWTS). The convention will come into effect 12 months after ratification. However, this has left some shipowners and operators believing that there is still ample time to choose and install a system from the wide choice that is available. While taking this stance they may not necessarily be acknowledging the complexity of installing these systems. Others may be waiting to see what pitfalls arise from approved but, as yet, unused systems. One problem is that at present there are more than 45 different types of system available on the market, 19 of which are fully Type Approved for use onboard ships. Some of the methods used by these systems include ultraviolet rays, filtration, centrifugal force and chemical treatments that use both oxidising and non-oxidising agents. It is claimed that most of these systems will eliminate 99 per cent of any unwanted organisms in the ballast water. Section 19 of this book provides details of the various systems that are currently available and approved as well as those undergoing testing for approval. With so many systems on the market all claiming to meet the requirements of the convention, it is understandable that there is an element of confusion. Owners will want to be sure that they system they install will work. In addition, if chemicals are involved in a process, they must be readily available worldwide and not adversely affect the coating systems of ballast tanks. Some certain owners may well hold back from the expenditure until it is absolutely necessary as they may take the view that the convention will either not be brought into force or will be brought in at a later date. Currently many operators feel that a good interim option is to leave a blank space in the engine room, meaning they can consider what is available and most suitable when it becomes absolutely necessary to comply. This is very frustrating for the manufacturers of these systems as they have spent a great deal of time and money creating these systems and to date only a fraction of the anticipated number of systems has been installed. This will in time have a knock-on effect as it is likely that, once the convention is brought into force, the shipowners and operators will require these systems to be installed at short notice. This may well drive up the cost of BWTS installations. In the US, regulations regarding BWT are moving faster. The US Coast Guard have recently announced that from 2012 launched vessels, of any size, wishing to distribute ballast in US waters must have a BWTS onboard. These rules were expected to be finalized by December 2012 but the date was moved back to the summer of 2011, and they are currently in review. While they follow the convention in most respects, a major difference is that the rules apply to all newbuilds. The rules proposed by the US Coast Guard are in two phases and, while the first phase demands similar standards to the IMO Ballast Water Convention 2004, the second phase is more stringent. There is provision for a delay in the timeline planned for phase two if there are insufficient systems providing a high enough standard. An example of recent notable installation was when Techcross, in liaison with Hyundai Hl and Oman Shipping Company, were requested to provide a system that could treat ballast water on the VLCC 'Sifa' (317,000dwt). Techcross installed an Electro-Cleen System (ECS) on board when the vessel was being built. The capacity that was required was obtained by combining several ECS units forming a BWTS. This allowed the BWTS to be located on deck. As the equipment was designed as one unit, this meant that it was faster and easier to both install and maintain. This BWTS on 'Sifa' has the capacity to disinfect in excess of 90,000 tones of ballast water taken on board during cargo discharge. It must be noted that manufacturers are concerned about the amount of work they will have to undertake and that they may not be able to meet the huge demands for these systems. As matters stand today, there are in the region of 75,000 ships requiring ballast water treatment systems. While there is a little leeway provided as the BWTS does not need to be in place until a ship's next annual service, this will mean that, if the industry started at the time of publication of this book, there would have to be system installed on 20 ships every day in order to meet the demand and timescale.
Publisher: Witherby Seamanship International Ltd
ISBN: 9781856095228
Dimensions: 276 x 216 x 11 mm
Edition: 3rd Revised edition
You may also be interested in...
Simply reserve online and pay at the counter when you collect. Available in shop from just two hours, subject to availability.
Thank you for your reservation
Your order is now being processed and we have sent a confirmation email to you at
When will my order be ready to collect?
Following the initial email, you will be contacted by the shop to confirm that your item is available for collection.
Call us on or send us an email at
Unfortunately there has been a problem with your order
Please try again or alternatively you can contact your chosen shop on or send us an email at