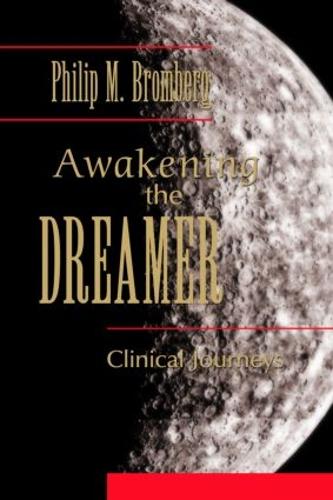 Paperback
230

Pages / Published: 12/11/2010
In Awakening the Dreamer: Clinical Journeys, Philip Bromberg continues the illuminating explorations into dissociation and clinical process begun in Standing in the Spaces (1998). Bromberg is among our most gifted clinical writers, especially in his unique ability to record peripheral variations in relatedness - those subtle, split-second changes that capture the powerful workings of dissociation and chart the changing self-states that analyst and patient bring to the moment.

For Bromberg, a model of mind premised on the centrality of self-states and dissociation not only offers the optimal lens for comprehending and interpreting clinical data; it also provides maximum leverage for achieving true intersubjective relatedness. And this manner of looking at clinical data offers the best vantage point for integrating psychoanalytic experience with the burgeoning findings of contemporary neuroscience, cognitive and developmental psychology, and attachment research.

Dreams are approached not as texts in need of deciphering but as means of contacting genuine but not yet fully conscious self-states. From here, he explores how the patient's "dreamer" and the analyst's "dreamer" can come together to turn the "real" into the "really real" of mutative therapeutic dialogue. The "difficult," frequently traumatized patient is newly appraised in terms of tensions within the therapeutic dyad. And then there is the "haunted" patient who carries a sense of preordained doom through years of otherwise productive work - until the analyst can finally feel the patient's doom as his or her own.

Laced with Bromberg's characteristic honesty, humor, and thoughtfulness, these essays elegantly attest to the mind's reliance on dissociation, in both normal and pathological variants, in the ongoing effort to maintain self-organization. Awakening the Dreamer, no less than Standing in the Spaces, is destined to become a permanent part of the literature on therapeutic process and change.
Publisher: Taylor & Francis Ltd
ISBN: 9780415888080
Number of pages: 230
Weight: 336 g
Dimensions: 229 x 152 x 15 mm
---
MEDIA REVIEWS
"Whether the wish is to know oneself more deeply, to understand better the psychoanalytic process, or simply to immerse oneself in seamless, elegant prose, Philip Bromberg's Awakening the Dreamer is enormously satisfying. Besides showing that the analyst's thoughtful self-revelation is not simply permissible, but actually necessary in the analytic process, Bromberg makes salient connections between leading-edge work in affective neuroscience and the relational psychoanalytic tradition he helped create. A nearly effortless read, Dreamer places the reader inside the minds both of a master clinician and of his patients." - Richard A. Chefetz, M.D., Past President, International Society for the Study of Dissociation
"Philip Bromberg's gift is to put himself right 'out there' in the therapeutic encounter without the standard `technical' body armor of psychoanalysis. He emphasizes instead the analyst's genuine involvement both as a source of insight and as a guiding frame for the clinical work. His core ideas relating to dissociation, self disclosure, and enactment are compatible with current research in neuroscience and in the psychology of emotion; indeed they help bridge the gap between psychoanalysis and these fields. In Awakening the Dreamer, Bromberg's gift of emotional connection extends to his brilliant series of clinical illustrations; they engage readers in a way that enables them to participate in the process and not merely to observe it." - Wilma Bucci, Ph.D., Professor of Psychology, Derner Institute, Adelphi University
"This extraordinary and beautiful book explicates how one mind reads another and why the mind-brain is intrinsically relational." - Leston Havens, M.D., Harvard Medical School
"Bromberg is a gifted clinical writer with a vivid style that conveys with immediacy the analytic encounter. His theoretical exposition is poetical, drawing liberally from literary sources and from his own autobiographical recollections." - Melvin Lansky, Ph.D., International Journal of Psychoanalysis
"Bromberg's book assembles a whole new way of thinking about what we are doing within the therapeutic relationship - a way that accounts for moment-to-moment affective contact in our attempts to interpret transference and countertransference. It might be even more fun to read Awakening the Dreamer with some colleagues and talk about how it impacts all of you in your clinical work. I guarantee it will be a lively and revealing conversation." - Polly Young-Eisendrath, Ph.D., Psychologist-Psychoanalyst
"Awakening the Dreamer is a stimulating and important book that is fascinating to read. To classically trained clinicians who are open to having their basic assumptions challenged, and who want to learn about the current thinking of a highly experienced relational psychoanalyst, I strongly recommend it." - John L. Frank, Ph.D., Psychoanalytic Quarterly
"Every chapter in the book, each of which stands out on its own as a well-crafted and valuable contribution to the literature, holds the prism of dissociation to the light, reflecting its many facets as they pertain to development, psychopathology, and psychoanalytic treatment. The appeal of this book to clinicians from a multiplicity of theories also lies in Bromberg's encompassing grasp of ideals embraced by stances ranging from interpersonal psychology, self psychology, object relations, intersubjective systems theory, complexity theory, cognitive psychology, and relational perspectives, to theories of trauma and dissociation. It would appear that Bromberg has created a work as multifaceted as the patients he writes about the clinicians for whom he writes. - Nancy VanDerHeide, Ph.D., International Journal of Psychoanalytic Self Psychology, 3(4), 2008
"The import and real pleasure of this volume are threefold: First, it constitutes a truly substantial contribution to both theory of mind and clinical practice in offering a paradigm shift away from the orthodoxy of classical thought without throwing the baby out with the bathwater. Second, Bromberg is one of those rare writers whose expression, wonderfully clear, has something aesthetically magical about it. Third, therefore, is the interest he stimulates in the reader by his own enthusiasm for the creative imagination, whatever the arena. This book consistently attests to "awakening" as a phenomenon as mutually significant to reader and writer as to analysand and analyst." - Lois Oppenhein, Ph.D., Journal of the American Psychoanalytic Association, 57(2), 2009
"Bromberg approaches psychoanalytic work in a deeply personal manner that enables him to articulate so compellingly the reasons why it is not only acceptable but also entirely necessary for the analyst to engage personally with the patient. He also creates a personally impactful psychoanalytic reading experience for his readers...Bromberg's enormously influential Standing in the spaces:Essays on clinical process, trauma and dissociation (1996) introduced the psychoanalytic community to the development of his theory that wove together interpersonal psychoanalysis, dissociation and the growing literature on trauma. This volume represents a rich expansion of his approach, drawing on contemporary develpopments in psychoanalysis, attachment theory, neuropsychology, child development, and Bromberg's abiding faith in literature, poetry, and the imagination. Awakening the Dreamer presents a thorough and fully formed statement of Bromberg's original and unique body of work." - Robert Grossmark, Ph.D., Psychoanalytic Psychology, 27 (1), 2010
You may also be interested in...
Simply reserve online and pay at the counter when you collect. Available in shop from just two hours, subject to availability.
Thank you for your reservation
Your order is now being processed and we have sent a confirmation email to you at
When will my order be ready to collect?
Following the initial email, you will be contacted by the shop to confirm that your item is available for collection.
Call us on or send us an email at
Unfortunately there has been a problem with your order
Please try again or alternatively you can contact your chosen shop on or send us an email at