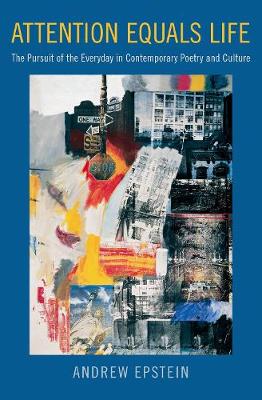 Attention Equals Life: The Pursuit of the Everyday in Contemporary Poetry and Culture (Paperback)
Andrew Epstein
(author)
Paperback
384

Pages / Published: 04/10/2018
Poetry has long been thought of as a genre devoted to grand subjects, timeless themes, and sublime beauty. Why, then, have contemporary poets turned with such intensity to documenting and capturing the everyday and mundane? Drawing on insights about the nature of everyday life from philosophy, history, and critical theory, Andrew Epstein traces the modern history of this preoccupation and considers why it is so much with us today. Attention Equals Life argues that a potent hunger for everyday life explodes in the post-1945 period as a reaction to the rapid, unsettling transformations of this epoch, which have resulted in a culture of perilous distraction. Epstein demonstrates that poetry is an important, and perhaps unlikely, cultural form that has mounted a response, and even a mode of resistance, to a culture suffering from an acute crisis of attention. In this timely and engaging study, Epstein examines why a compulsion to represent the everyday becomes predominant in the decades after modernism and why it has so often sparked genre-bending formal experimentation. With chapters devoted to illuminating readings of a diverse group of writers-including poets associated with influential movements like the New York School, language poetry, and conceptual writing-the book considers the variety of forms contemporary poetry of everyday life has taken, and analyzes how gender, race, and political forces all profoundly inflect the experience and the representation of the quotidian. By exploring the rise of experimental realism as a poetic mode and the turn to rule-governed "everyday-life projects," Attention Equals Life offers a new way of understanding a vital strain at the heart of twentieth- and twenty-first century literature. It not only charts the evolution of a significant concept in cultural theory and poetry, but also reminds readers that the quest to pay attention to the everyday within today's frenetic world of and social media is an urgent and unending task.
Publisher: Oxford University Press Inc
ISBN: 9780190887407
Number of pages: 384
Weight: 562 g
Dimensions: 235 x 163 x 23 mm
---
MEDIA REVIEWS
Attention Equals Life contributes meaningfully to a growing body of critical work on avant-garde literary conceptualism and its precursors and will be of interest to a wide range of readers with and without specifically academic interests in contemporary poetry; the book is accessibly written and makes a propitious introduction to twentieth-century theories and poetries of everyday life. Like the extravagantly inclusive long poems Epstein favors in his study, poems that awaken us to the elusive textures of habitual experience, Attention Equals Life will awaken its audience to the exhilarating formal experiments that the everyday, fraught with inexhaustible paradoxes, has lately inspired. * Nikki Skillman, Modern Philology *
Epstein's Attention Equals Life (2016) offers a powerful account of the preoccupation with the everyday and the construction of what he calls a "skeptical realism" in postwar US poetry. ... Epstein's argument is not only original but persuasive too. It has that quality that only the best arguments do of cutting through an already well-plowed field in order to reveal similarities and affinities between otherwise aesthetically disparate materials. * Christopher Breu, American Literary History *
The book is extremely readable for broad audiences and makes a compelling extension of discussions of the everyday, both from an American standpoint and with a focus on mid-century literary production. The nuanced attention to poetic language is convincing and the theoretical and philosophical argumentation is bested only by detailed analyses of poems, which are frequent and efficient. Close attention to the text itself is always diligently related to the American philosophical tradition so that textual analyses do not operate as mere illustrations but signal a new step in scholarship. This study challenges our perception of poetry as a genre and as a form - it raises new questions in terms of poetics, aesthetics, and ethics, and particularly how poetry works as a form of cultural and political action. Attention Equals Life is a completely convincing work. * citation for Modernist Studies Association Book Prize shortlist *
As Andrew Epstein deftly explains in 'Attention Equals Life,' the preoccupation with everyday life is a relatively new impulse in American poetry, especially as practiced in more deliberate, persistent, and extreme forms ... Epstein delivers essays on the intentions and works of representative poets - James Schuyler, A.R. Ammons, Bernadette Mayer, and Ron Silliman. His astute readings of their work relative to the ordinary provide timely insights into why, how, and where this immersion in the everyday gained speed, depth and variety after 1945... Epstein's study clears a path to the recent past that helps us understand why genre- and syntax-busting techniques are now much more visible in American poetry. The ordinary is as wild and provocative as ever. * Ron Slate, On the Seawall *
Attention Equals Life provides an innovative, eloquent account of how 20th- and 21st-century poets' conceptions (and/or representations, and/or performative embodiments) of attention have overlapped with a philosophically inflected form of everyday-life theory as developed by figures like Michel de Certeau and Henri Lefebvre. Epstein's expansive scope stretches from the psychological formulations of William James, to the cinematic essays of Jean-Luc Godard and Agnes Varda, to contemporary everyday-life poetic experiments by Brenda Coultas, Claudia Rankine, and Harryette Mullen. Perhaps most importantly, Attention Equals Life offers the galvanizing example of an omnivorous yet meticulous scholarly study that poses direct questions to readers about how best to live out one's own everyday. * Andy Fitch, Los Angeles Review of Books *
Attention Equals Life is a significant contribution to the study of how this modern contradiction continues to play out in contemporary culture, and offers a clear way of talking about how a "redistribution of the sensible" might be achieved through a recognition of the inherently mediated nature of perception. In seeking to situate its subject within the widest possible context, though, it offers a choice to the reader, between attending to what unites a disparate set of poets, and focusing on particular work and ideas to the exclusion of others. * Nick Lavery, Roundtable *
The erudition Epstein brings to Attention Equals Life makes the book a worthwhile, if sometimes complicated, read. It provides an introduction to a number of contemporary poets and poetic schools. The fact that this reader disagrees with the author's basic premise does not preclude an enthusiastic recommendation to anyone interested in placing poetry since 1945 in a broader philosophical and aesthetic context. * Marc Jampole, American Book Review *
A book of enormous breadth and ambition, Attention Equals Life is at once astonishing and reaffirming, challenging and clarifying. It engages more broadly than its scholarly focus would suggest. Epstein (Florida State Univ.) explores contemporary poetry's obsession with the quotidian, setting that obsession in literary context (both historical and current) and identifying it as contemporaneous with cultural interest in the ordinary, the commonplace, the "real." His argument is persuasive, the information is abundant and compelling, the endnotes and bibliography are extensive if not exhaustive, and the style is accessible. This book has something for everyone-poets, critics, teachers of literature and contemporary culture, fans of contemporary poetry, and even those who think that no poetry of value has emerged in the US since Robert Frost...Summing Up: Essential. Upper-division undergraduates through faculty. * J. A. Zoller, Choice *
Theoretically adept, poetically alert, and socially perceptive * serious about ethics as about aesthetics *
Andrew Epstein has written a wonderful book that sensitizes us to the way that a strain of experimental poetry has sought to attend to daily life in all its complexity and obscurity without desiring to transcend it. Theoretically nuanced, historically compelling, and politically astute, Epstein writes about the skeptical realism of everyday life poetry with energy, wit, and perspicacity. * Ben Highmore, author of Cultural Feelings: Mood, Mediation and Cultural Politics *
Is poetry the most potent remedy for our Age of Distraction? If so, Andrew Epstein argues, then it works most effectively not through escaping into transcendence or imaginative transfiguration but through a rigorous attention to the everyday. In Attention Equals Life, he demonstrates brilliantly how several generations of American poets (from James Schuyler and A.R. Ammons to Bernadette Mayer, Ron Silliman, Kenneth Goldsmith, and Claudia Rankine) join together with theorists of the everyday (the American Pragmatists and continental thinkers such as Benjamin, Wittgenstein, Lefebvre, Debord, and de Certeau) to probe the promise and limits of the quotidian. By inventing a variety of constraints, techniques, and projects, the poets succeed in revealing directly what the theorists can only assert: that the ordinary is extraordinary. * Stephen Fredman, author of Contextual Practice: Assemblage and the Erotic in Postwar Poetry and Art *
[An] expansive new book..."A significant contribution to the study of post-World War II literature and western thinking. * Journal of Poetics Research *
You may also be interested in...
Simply reserve online and pay at the counter when you collect. Available in shop from just two hours, subject to availability.
Thank you for your reservation
Your order is now being processed and we have sent a confirmation email to you at
When will my order be ready to collect?
Following the initial email, you will be contacted by the shop to confirm that your item is available for collection.
Call us on or send us an email at
Unfortunately there has been a problem with your order
Please try again or alternatively you can contact your chosen shop on or send us an email at