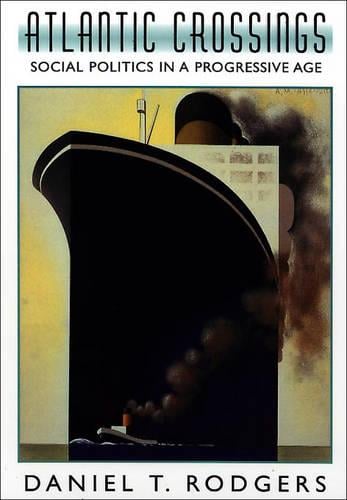 Atlantic Crossings: Social Politics in a Progressive Age (Paperback)
Daniel T. Rodgers
(author)
Paperback
648

Pages / Published: 18/06/2000
We can order this from the publisher
"The most belated of nations," Theodore Roosevelt called his country during the workmen's compensation fight in 1907. Earlier reformers, progressives of his day, and later New Dealers lamented the nation's resistance to models abroad for correctives to the backwardness of American social politics. Atlantic Crossings is the first major account of the vibrant international network that they constructed--so often obscured by notions of American exceptionalism--and of its profound impact on the United States from the 1870s through 1945.

On a narrative canvas that sweeps across Europe and the United States, Daniel Rodgers retells the story of the classic era of efforts to repair the damages of unbridled capitalism. He reveals the forgotten international roots of such innovations as city planning, rural cooperatives, modernist architecture for public housing, and social insurance, among other reforms. From small beginnings to reconstructions of the new great cities and rural life, and to the wide-ranging mechanics of social security for working people, Rodgers finds the interconnections, adaptations, exchanges, and even rivalries in the Atlantic region's social planning. He uncovers the immense diffusion of talent, ideas, and action that were breathtaking in their range and impact.

The scope of Atlantic Crossings is vast and peopled with the reformers, university men and women, new experts, bureaucrats, politicians, and gifted amateurs. This long duree of contemporary social policy encompassed fierce debate, new conceptions of the role of the state, an acceptance of the importance of expertise in making government policy, and a recognition of a shared destiny in a newly created world.
Publisher: Harvard University Press
ISBN: 9780674002012
Number of pages: 648
Weight: 844 g
Dimensions: 235 x 162 x 33 mm
---
MEDIA REVIEWS
Rodger's title, Atlantic Crossings, suggests his purpose, which is to argue that reform efforts in the United States were part of a broader and connected attempt in France, Germany, Denmark, and Britain to respond to the intertwined dilemmas of explosive urban growth, growing poverty, and mass migration...Rodgers demonstrates more clearly than any previous historian how literally hundreds of American activists pounced upon the pilot projects and settlement houses of the suddenly innovative Old World and attempted to transplant them to native grounds. The depth of research, in three languages, conclusively establishes the shared response to what contemporaries called the "social question." -- John T. McGreevy * Commonweal *
Atlantic Crossings makes a significant contribution to our understanding of the complex traffic of social policy and design solutions during the period [of the 1930s]. It counters the notion of American isolation, and shows that there was an active transatlantic exchange of ideas and models generated, borrowed, tested and modified. -- Nicolas Maffei * Journal of Design History *
Americans are so imbued with the sense of living in a 'city upon a hill' which is a model to the world that a book depicting American leaders enmeshed in a North Atlantic web jars. Daniel Rodgers places such a network at the heart of Progressive social reform, informing and shaping policy agendas from the 1890s to the New Deal...this is an impressive and informative work that will sensitize any reader to the international influences in the Progressive tradition. In particular, Rodgers deftly depicts the misunderstandings and dangers inherent in adopting social policies outside of their cultural context. -- Bruce Leslie * American Studies in Scandinavia *
[Atlantic Crossings] reconstructs a distinctive era in American history during which American social politics were tied, through rivalry and intellectual exchange, to social political debates and endeavors in Europe. * Journal of Economic Literature *
Atlantic Crossings is a stunning intellectual achievement. By exploring the trans Atlantic context of reform ideas, as well as the connection between those ideas and the nitty gritty of political practice, Daniel Rodgers forces us to re-think the entire Progressive era and all its tangled legacies. This is a deeply researched, passionately argued, and beautifully written work of comparative history. Anyone interested in the history--and future--of the American reform tradition, the welfare state, or social democracy needs to read and learn from this magnificent book. -- Daniel Czitrom, Mount Holyoke College
This is a large and important book on a large and important subject. For all the current talk of globalization and interdependence, the United Sates is probably a more self-absorbed and inward-looking country today than it has ever been. As Daniel Rodgers clearly demonstrates, many Americans in the late nineteenth and early twentieth centuries looked to Europe for ideas and models as they sought to confront the problems created by industrialization and urbanization. This massively researched and beautifully written study not only provides authoritative and careful analyses of the influence of German economists upon American progressives and the complexities of social insurance but also broadens the scope of 'reform' by telling the story of the movements for city planning, rural cooperatives and modernist architecture. Throughout, Rodgers deftly points out the particular ways in which the peculiarities of the American environment shaped the fate of the various ideas and institutions that were brought across the Atlantic. In its scope and originality, this work brilliantly illuminates a lost dimension of recent American history and will confirm Daniel Rodgers' reputation as one of today's leading historians. -- John A. Thompson, St Catharine's College, Cambridge
It will be one of the most widely discussed books among historians of American politics and culture, and it will reach many social scientists in other disciplines as well...Rodgers challenges directly the prevailing wisdom about American insularity and exceptionalism, which pervades discussions of American social science and American political development among both historians and social scientists. His analysis displays the multiple dimensions of social policy formation, from the first presentation of ideas through the implementation of policies...[It] is intricate, detailed, and long, but its richness is inseparable from those characteristics...[A] well crafted, richly informative study. -- James T. Kloppenberg, Brandeis University
This is a genuinely remarkable work of scholarship. Daniel Rodgers has undertaken a project of exceptional ambition and breadth, and he has succeeded magnificently in transforming his vast and wide-ranging research into both a compelling narrative and a historical argument of great and lasting importance. This is a book unlike any other I have ever read, and one of those rare works of scholarship that demands that we think familiar subjects anew. It is beautifully written and will be an enduring masterpiece. -- Alan Brinkley, Columbia University
[A] remarkable book...This is a big book not only in size but significance...It is a brilliant combination of intellectual and political history...It is probably the most important book written on the twentieth century in a decade at least...Because of the international perspective he takes, every subject Rodgers touches--from urban reform, to social insurance, rationalization, and more--is advanced, often significantly recast. -- Thomas Bender, New York University
Atlantic Crossings is an extremely readable book on a subject--American and European social policy during the past century--about which few other academics have written with Daniel Rodgers' skillful blend of scholarship and flair. It is a book to be read from beginning to end for its account of the efforts to humanize the productive, but often brutal, changes imposed by the industrial revolution on what had been a predominantly agricultural world. It is also a book worth keeping on the table next to one's favorite armchair, offering moments of acquaintance with philanthropists, technologists, labor leaders, politicians, idealists and journalists whose personalities and proposals for economic correctives have been explained by the author in the manner of an erudite, witty and affectionate gallery lecturer...Most relevant of all is Mr. Rodgers' ability to convey to the reader an immediacy that is generally thought to be the sole province of great journalists. This reviewer stands in awe of the writer's ability to explain the interconnectedness of the topics he covers. -- Roger Starr * Washington Times *
This book pulls into view another dimension of the Anglo-American relationship and broader Atlantic ties. Conversant in a formidable range of topics across two continents, Rodgers ably puts ideas, not impersonal forces, at the center of this century's great eras of reform. He describes Progressive and New Deal responses to the Industrial Revolution as really Atlantic in origin, not just American--full of borrowings from kindred social thinkers and urban planners watching their transatlantic counterparts. * Foreign Affairs *
It's an ambitious book that attempts to reinterpret even one historical era, let alone two--and to do so across borders at that. "Nations lie enmeshed in each other's history," writes Rodgers, prefacing his argument that our progressive era and the New Deal were chapters in an age of social politics when the United States was open to overseas influence as never before or since...Rodgers [is] a graceful writer and eclectic researcher [and]...the sheer mass of his examples will compel other scholars to assess their own interpretations within his framework. For all academic and larger public libraries. -- Robert F. Nardini * Library Journal *
Atlantic Crossings, Daniel Rodgers's monumental new account of progressive politics in the United States and Europe from 1870 to 1940, could not have been more timely. A spirited challenge to conventional interpretations of American progressive politics, Rodgers's book evokes a forgotten period when big government was respected, and when America borrowed blueprints for building activist governments from Europe. Therein lies Rodgers's central challenge to prevailing interpretations of American progressive politics: his argument that reform was a European import, not a wholly indigenous creation. The book's interpretive innovation is the result of an ambitious methodological departure. Rather than limiting his scope to American-born progressives, Rodgers opens up his study to include the vast network of cosmopolitan intellectuals responsible for the formation of progressive policies in Germany, England, France, Australia, and Sweden. To understand American progressivism, Rodgers boldly insists, one must comprehend the transatlantic world of ideas and political experimentation that helped shape it...The book's thesis itself is a thing of considerable dexterity, a rare combination of clarity and complexity. -- David S. Sampliner, Dissent
Easily the best single-volume history of American progressivism and reform. -- Scott Spillman * n+1 *
You may also be interested in...
×
Download the Waterstones App
Would you like to proceed to the App store to download the Waterstones App?
Reserve online, pay on collection


Thank you for your reservation
Your order is now being processed and we have sent a confirmation email to you at
When will my order be ready to collect?
Following the initial email, you will be contacted by the shop to confirm that your item is available for collection.
Call us on or send us an email at
Unfortunately there has been a problem with your order
Please try again or alternatively you can contact your chosen shop on or send us an email at