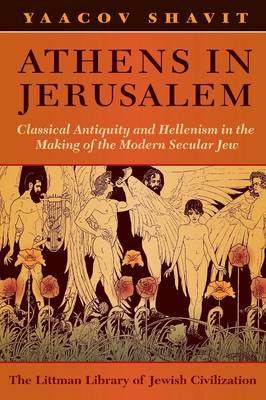 Paperback
Published: 01/09/1999
Can be ordered from our supplier
'Ambitious, elaborately structured and wide-ranging ...Shavit's book will be the fundamental work on Jewish Hellenism for a long time to come.' Tessa Rajak, Times Literary Supplement 'The book is an encyclopedic, if not exhaustive treatment of this subject, which, in its various permutations, is the subject of modern Jewish thought ...the prodigious scope of the book cannot but elicit astonishment and admiration. The range of subjects and fields of citation ...give the book the feel of a magnum opus.' Elliott Rabin, AJS Review 'Shavit's rich and lively study raises fundamental questions and issues that have to be addressed if Jewish and especially Israeli society is to make any sense of its heritage in the coming decades.' Mordechai Beck, Jerusalem Post 'Truly a fascinating and challenging study in Jewish intellectual history...The author has covered a spectrum of a dazzling array of writers and thinkers ...in an extremely lively and readable style.' Louis H. Feldman, Shofar From the eighteenth century on, Jews seeking to acquire a modern identity began to take a new interest in classical antiquity and Hellenistic civilization as a key to the secular Jewish culture they sought to develop. It was of course not the 'real' classical Greece to which they aspired but rather its idealized image as perceived through contemporary eyes, but this image became an important element in the search for a new Jewish self-awareness. For the modernizing Jew, 'Greek' became a metaphor for the secular culture of modern Europe in its various forms. Yaacov Shavit's study also provides an illuminating test-case in the realm of historical consciousness and the history of ideas. Those interested in the growth of secular and national Judaism will find that this wide-ranging book makes a significant contribution to an understanding of its development. Through discussion of many centuries of Jewish literature, the reader is given fresh insight into Jewish culture and shown how its development in the modern period has been influenced by the response to other cultures. Those who are interested in classical antiquity and Hellenism will welcome this book as a unique opportunity to see the worlds of both as Jews have perceived them over many centuries.
Publisher: Taylor & Francis Ltd
ISBN: 9781874774365
You may also be interested in...
We would love to hear what you think of Waterstones. Why not review Waterstones on Trustpilot?