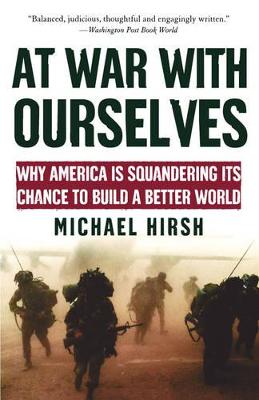 At War with Ourselves: Why America Is Squandering Its Chance to Build a Better World (Paperback)
Michael Hirsh
(author)
Paperback
320

Pages / Published: 02/09/2004
As correspondent for Newsweek, Michael Hirsh has traveled to every continent, reporting on American foreign policy. Now he draws on his experience to offer an original explanation of America's role in the world and the problems facing the nation today and in the future. Using colorful vignettes and up-close reporting from his coverage of the first two post-Cold War presidents, Bill Clinton and George W. Bush, Hirsh argues that America has a new role never before played by any nation: it is the world's Uberpower, overseeing the global system from the air, land, sea and, increasingly, from space as well. And that means America has a unique opportunity do what no great power in history has ever done - to perpetuate indefinitely the global system it has built, to create an international community with American power at its centre that is so secure it may never be challenged. Yet Americans are squandering this chance by failing to realize what is at stake. At the same time that America as a nation possesses powers it barely comprehends, Americans as individuals have vulnerabilities they never before imagined. They desperately need the international community on their side. In an era when democracy and free markets have become the prevailing ideology, Hirsh argues, one of America's biggest problems will be "ideological blowback" - facing up to the flaws and contradictions of its own ideals. Hence, for example, the biggest threat to political stability is not totalitarianism, but the tricky task of instituting democracy in the Arab world without giving Islamic fundamentalists the reigns of power. The only way for Washington to avoid accusations of hypocrisy is to allow the global institutions it has built, like the U.N., to do the hard work of promoting U.S. values.
Publisher: Oxford University Press Inc
ISBN: 9780195176025
Number of pages: 320
Weight: 259 g
Dimensions: 204 x 136 x 15 mm
---
MEDIA REVIEWS
"Balanced, judicious, thoughtful and engagingly written."-Washington Post Book World
"An ideal primer for general readers trying to fathom the promise and peril of global politics."-Booklist
"Hirsh's judgement is sound. His book is well-informed, historically literate, nonidelogical common sense. That may sound like faint praise, but in an America that sometimes seems poised between reckless adventure and helpless inertia, centrist common sense is something to be treasured.... Hirsh outlines a sensible basis for detente between the warring hegemonists and internationalists, an America that leads without bullying. That is an accomplishment to be congratulated."-Bill Keller, The New York Times Book Review
"He puts forward a strong argument in favor of the notion that Americans, with little help from their friends, have already gone a long way towards creating that integrated international society whose existence the arch-realist Hans Morgenthau denied."-The Economist
"A coherent and humane approach to this confusing, war-torn world in which the most dangerous war, the one in Hirsh's title, is the philosophical battle over America's role, holding us back from working for a safer planet."-Boston Globe
"Hirsh not only incorporates historical sources and the work of academics into his narrative, but he also grounds his argument in real-world observations and interviews, drawing on his past experiences as foreign editor and chief diplomatic correspondent for Newsweek.... His analysis of the past decade or so of American policy makes At War With Ourselves a worthy read...a concise and coherent synthesis of the past decade's headlines into a narrative that illuminates our present situation."-Denver Rocky Mountain News
"In this intelligent, sensible, and passionate book, Michael Hirsh blazes a middle path for American foreign policy between the extremes of unilateral bullying and naive meekness. With no trace of mawkishness or squishiness, he is on the side of the angels-and shows how Washington can be too."-Gideon Rose, Foreign Affairs
"A vivid account of today's American foreign policy debate and a powerful vision of what American foreign policy should be."-Michael Lind, author of Made in Texas: George W. Bush and the Southern Takeover of American Politics
"Drawing on personal experience, anecdote and scholarly authority, Mr. Hirsh fashions a persuasive, plausible argument for an American policy of involvement and extensive commitment."-New York Law Journal
"This is the best account of the tensions within American foreign policy today. Hirsh accurately describes America's varying attitudes towards the world and sets forth his own, intelligent ideas on what we should do. He moves easily from the telling detail to the big picture-and does it all in refreshingly lucid prose."-Fareed Zakaria, author of The Future of Freedom: Illiberal Democracy At Home and Abroad
"A masterful account of American foreign policy in the Clinton and George W. Bush years. With compelling narratives of the personalities and policy choices that shaped the country's global relations over the last decade, Michael Hirsh brings into focus the ideas, turning points, and lost opportunities in America's confrontation with the post-Cold War era. Hirsh's book is essential reading for everyone interested in American foreign policy today." -G. John Ikenberry, author of After Victory: Institutions, Strategic Restraint and the Rebuilding of Order after Major War
"A pointed examination, both timely and lively, of the risks and responsibilities attendant in being the world's sole superpower. Since the day of Woodrow Wilson, when America's global power first became apparent, politicians have expressed discomfort at the notion that the US is anything other than a world apart. Yet, as Newsweek writer Hirsh persuasively argues, this kind of isolationist thinking is both deluded and dangerous, for 'today we simply cannot live in the world safely without setting it in order'-without, that is, removing tyrants and terrorists from the scene, but also, and more vexing, improving the lot of the rest of the planet's inhabitants.... 'Washington must get past its now-settled bias that the UN and its sister agencies are hopeless, effete institutions,' he writes, 'recognize where they have value, focus on improving their performance in those areas, and fund them accordingly.'"-Kirkus Reviews
"America's profound ambivalence toward stewardship of the international system will be the 'permanent quagmire' of the 21st century, argues Hirsh in his timely contribution to recent literature on the U.S. role in the post-Cold War world.... Having been a foreign correspondent from Kosovo to Afghanistan, Hirsh reports on the discordant policies of Clinton and Bush, while providing the lay reader with an overview of the conflicts and personalities that have shaped a lackluster U.S.-foreign policy over the past decade."-Publishers Weekly
You may also be interested in...
Simply reserve online and pay at the counter when you collect. Available in shop from just two hours, subject to availability.
Thank you for your reservation
Your order is now being processed and we have sent a confirmation email to you at
When will my order be ready to collect?
Following the initial email, you will be contacted by the shop to confirm that your item is available for collection.
Call us on or send us an email at
Unfortunately there has been a problem with your order
Please try again or alternatively you can contact your chosen shop on or send us an email at