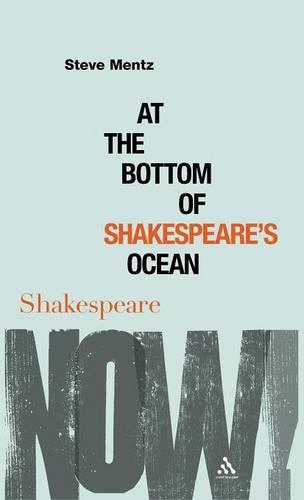 At the Bottom of Shakespeare's Ocean - Shakespeare Now! (Hardback)
Steve Mentz
(author)
Hardback
144

Pages / Published: 10/10/2009
This is a fascinating study revealing Shakespeare's career-long engagement with the sea and his frequent use of maritime imagery. We need a poetic history of the ocean, and Shakespeare can help us find one. There's more real salt in the plays than we first expect. Shakespeare's dramatic ocean spans the God-sea of the ancient world and the immense blue vistas that early modern mariners navigated. Throughout his career, from the opening shipwrecks of "The Comedy of Errors" through "The Tempest", Shakespeare's plays figure the ocean as shocking physical reality and mind-twisting symbol of change and instability. To fathom Shakespeare's ocean - to go down to its bottom - this book's chapters focus on different things that humans do with and in and near the sea: fathoming, keeping watch, swimming, beachcombing, fishing, and drowning. Mentz also sets Shakespeare's sea-poetry against modern literary seascapes, including the vast Pacific of "Moby-Dick", the rocky coast of Charles Olson's "Maximus Poems", and the lyrical waters of the postcolonial "Caribbean". Uncovering the depths of Shakespeare's maritime world, this book draws out the centrality of the sea in our literary culture. "Shakespeare Now!" is a series of short books that engage imaginatively and often provocatively with the possibilities of Shakespeare's plays. It goes back to the source - the most living language imaginable - and recaptures the excitement, audacity and surprise of Shakespeare. It will return you to the plays with opened eyes.
Publisher: Bloomsbury Publishing PLC
ISBN: 9781847064929
Number of pages: 144
Weight: 249 g
Dimensions: 198 x 129 x 15 mm
---
MEDIA REVIEWS
'Mentz explores different ways in which characters engage with the sea - fathoming and keeping watch, swimming, beachcombing, fishing and drowning.... [and] offers many interesting insights' Around the Globe
Reviewed in Routledge ABES
"Steve Mentz's At the Bottom of Shakespeare'sOcean - part of this wonderful new series - launches 'blue cultural studies' with an impressive crew. Setting familiar plays such as The Tempest and Twelfth Night in dialogue with Glissant, Olson, Brathwaite, and Melville, he produces a flood of fresh Shakespearean readings that are always wise and salty." -Professor Peter Hulme, Department of Literature, Film, and Theatre Studies, University of Essex, UK
'Steve Mentz's immensely knowledgeable, exciting exploration of Shakespeare through the underwater perspective of ocean studies doubles as a sweet and salty account of how to think with Shakespeare through to a contemporary ecology that puts the sea back into our central concern. Replete with new interpretations of both canonical and as yet unrecognized Shakespearean accounts of the sea, this book makes a passionate case for Shakespeare as a writer who can allow us to understand the sea from a post-romantic point of view that brings economic, ecological, and existential questions into stronger focus. Mentz puts Shakespeare into the context of other great writing about the sea from Anglo-Saxon poem "The Seafarer" to Derek Walcott, from Homer to Moby Dick while providing a succinct and stimulating introduction to ocean studies as a new field now crucial to the environmental movement, to cultural geography, ecology, histories of exploration, and of course literature. Admired as a scholar of romance, Shakespeare, and early modern piracy, Mentz is himself a sailor and a seaman who never lets the sea disappear from focus in this brilliant, succinct introduction to and plea for a "blue ecology" (as Mentz puts it) in Shakespearean studies that may allow us to recover the chance of a future without "empty seas" and to create a much more contemporary sense of what the sea means to us now politically, poetically, ecologically, and imaginatively.' - Susanne Wofford, Dean of the Gallatin School of Individualized Study and Professor of English, New York University, USA
"At the Bottom of Shakespeare's Ocean is my first encounter with "new thalassology.".. Shakespeare might seem much more of a landlubber than sea-obsessed writers, but as Steve Mentz eagerly points out, "there's more salt in his plays than you might expect.".. This study certainly does a good job of opening up Shakespeare to a new - and welcome - critical discourse" Times Literary Supplement
"Mentz is an eloquent and incisive critic who convincingly demonstrates the degree to which the plays are saturated with oceanic language and terms of reference. He brilliantly matches the tone of his critical prose to that of the plays under discussion, which illustrates his profound comprehension of them... "Shakespeare's sea-poetry presents a bitter ecology," says Mentz, which, as Hurricane Katrina so fiercely confirmed, is constantly and dangerously close. Mentz's important study insists that the bottom of Shakespeare's ocean is, as Clarence's dream in Richard III eerily testifies, dark, disturbing and deadly" Times Higher Education
"Steve Mentz's At the Bottom of Shakespeare's Ocean is a remarkable book about Shakespeare - and much more. In crisp essays that are lucidly reasoned yet strikingly eloquent and evocative, it brings a whole, previously submerged topic into view, the ocean as it functions literally and metaphorically in Shakespeare. Shakespeare's ocean is poised between old world mythology and early modern empiricism, between a classical concept of a fatalistic, destructive, and semi-divine sea and emerging scientific concept of a scientifically measurable, mapable, and navigable water highway, an ocean alternately alluring and threatening. For Shakespeare, Mentz argues, the sea bespeaks both primal reality and unspeakable mystery. The book engages widely with Shakespeare's plays, from its brilliant opening meditation on Ariel's "sea-change" speech and its exploration of sea imagery in King Lear; to its highlighting of Shakespeare's recurrent interest in the Mediterranean, such as in The Comedy of Errors; to its dazzling discussion of sea-born Marina in Pericles. Chapters are self-contained, but they also double-back to refine or extend earlier ideas, as in an ongoing conversation. As part of that conversation, the essays reach out comparatively to other writers such as Homer, the Bible, Lucretius, Defoe, the Caribbean poets Edouard Glissant and Derek Walcott, and, most profoundly, Herman Melville. In doing so, the book manifests the rich possibilities for a cultural history of the sea, and itself constitutes a model for an ecologically-minded literary criticism. As such, it gives sobering and appreciative emphasis to narratives that recognize nature's resistance to human domination. At the Bottom of Shakespeare's Ocean is unusually fresh and original; delightful, even moving, to read; and significant and progressive in its implications."- Kent Cartwright, Professor and Chair, Department of English, University of Maryland USA
"The ambitious project of the Shakespeare NOW series is to bridge the gap between 'scholarly thinking and a public audience' and 'public audience and scholarly thinking'. Scholars are encouraged to write in a way accessible to a general readership and readers to rise to the challenge and not be afraid of new ideas and the adventure they offer. There are other bridges the series is ambitious to cross: 'formal, political or theoretical boundaries' - history and philosophy, theory, and performance." English Vol. 58, 2009
The riches of Mentz's little book are manifold. While selecting some of the most representative plot situations, speeches, dialogues, imagery and allegories involving the sea, on of the most 'versatile symbols' (xii) in Shakespeare, Mentz, in fact, weaves a much bigger critical narrative about the possible meanings of the sea produces in Shakespeare. He offers a new methodology of historicizing the sea. Rooted in both historicism and literary comparativism, at once scholarly and creative, Mentz's book interweaves stylizations of some of the obvious external scenarios involving the sea - such as fishing, pirating, the beach, and sunken treasure - with the analyses of phenomema such as sexuality, gender, language, and psychology, which depend on Shakespeare's use is the sea as a formative element close to the creation of literary men and women... Next time I look for a new book that will introduce Shakespeare to my students, I will most certainly reach for this timely slick volume." Renaissance Quarterly
You may also be interested in...
Simply reserve online and pay at the counter when you collect. Available in shop from just two hours, subject to availability.
Thank you for your reservation
Your order is now being processed and we have sent a confirmation email to you at
When will my order be ready to collect?
Following the initial email, you will be contacted by the shop to confirm that your item is available for collection.
Call us on or send us an email at
Unfortunately there has been a problem with your order
Please try again or alternatively you can contact your chosen shop on or send us an email at