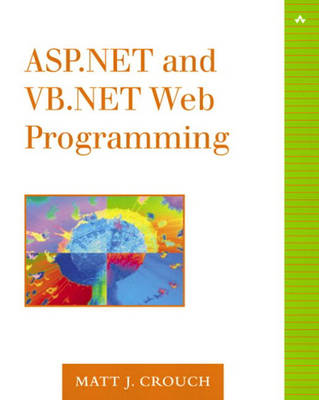 Paperback
Published: 17/05/2002
With ASP.NET, developers can create robust, high-performance Web applications and services in much the same way they've long constructed Windows applications: visually and rapidly. Whether you're an experienced Web developer or not, ASP.NET and VB.NET Web Programming will show you how to make the most of ASP.NET, using Microsoft's most popular development language -- Visual Basic. Matthew Crouch begins by introducing the .NET platform and outlining its advantages for Web development when compared with alternative approaches. Next, he presents a crash course in Visual Basic .NET programming for both new VB developers and those upgrading from earlier versions. Crouch introduces ASP.NET's programming model and key features -- dissecting ASP.NET Web pages, introducing ASP.NET's powerful Web, HTML, and rich controls, and walking step-by-step through the creation of a full ASP.NET application. Next, he demonstrates how to access the .NET Framework Class Library from ASP.NET, leveraging .NET's built-in directory services, message queueing, Internet communication, and XML data manipulation facilities. The book also contains extensive coverage of building .N ET managed components and Web services with Visual Basic .NET; accessing data with ADO.NET; and securing your .NET applications. The accompanying CD contains all the source code from the book. For all Web application developers who are just starting out with .NET.
Publisher: Pearson Education (US)
ISBN: 9780201734409
You may also be interested in...
We would love to hear what you think of Waterstones. Why not review Waterstones on Trustpilot?