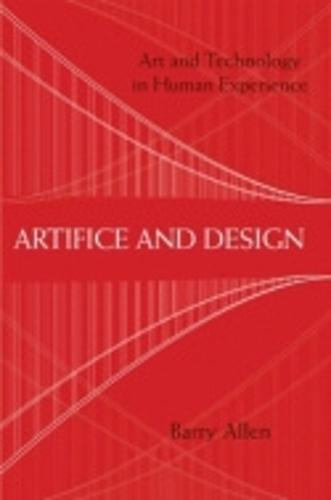 Artifice and Design: Art and Technology in Human Experience (Hardback)
Barry Allen
(author)
Hardback
232

Pages / Published: 26/06/2008
"As familiar and widely appreciated works of modern technology, bridges are a good place to study the relationship between the aesthetic and the technical. Fully engaged technical design is at once aesthetic and structural. In the best work (the best design, the most well made), the look and feel of a device (its aesthetic, perceptual interface) is as important a part of the design problem as its mechanism (the interface of parts and systems). We have no idea how to make something that is merely efficient, a rational instrument blindly indifferent to how it appears. No engineer can design such a thing and none has ever been built."-from Artifice and Design
In an intriguing book about the aesthetics of technological objects and the relationship between technical and artistic accomplishment, Barry Allen develops the philosophical implications of a series of interrelated concepts-knowledge, artifact, design, tool, art, and technology-and uses them to explore parallel questions about artistry in technology and technics in art. This may be seen at the heart of Artifice and Design in Allen's discussion of seven bridges: he focuses at length on two New York bridges-the Hell Gate Bridge and the Bayonne Bridge-and makes use of original sources for insight into the designers' ideas about the aesthetic dimensions of their work. Allen starts from the conviction that art and technology must be treated together, as two aspects of a common, technical human nature.
The topics covered in Artifice and Design are wide-ranging and interdisciplinary, drawing from evolutionary biology, cognitive psychology, and the history and anthropology of art and technology. The book concludes that it is a mistake to think of art as something subjective, or as an arbitrary social representation, and of Technology as an instrumental form of purposive rationality. "By segregating art and technology," Allen writes, "we divide ourselves against ourselves, casting up self-made obstacles to the ingenuity of art and technology."
Publisher: Cornell University Press
ISBN: 9780801446825
Number of pages: 232
Weight: 482 g
Dimensions: 229 x 152 x 23 mm
---
MEDIA REVIEWS
"Situated at the intersection of philosophy of technology and philosophy of art, this book explores the influence of aesthetic considerations on technical design and the impact of technology on art. It is more a philosophical commonplace book than a systematic treatise, but this is its great virtue. Allen displays formidable erudition, drawing on a wide range of natural and social scientific literatures, art history, and both the Continental and analytical philosophical traditions. The book is packed with fascinating and sometimes little-known information about human evolution (particularly the evolution of the human hand, language, and cognition), the design of bridges, the history of technology, the nature of tools (and how they are unique to humans), and a host of other subjects. . . . The book is full of insights into art and technology, and all readers interested in philosophy of technology or philosophy of art can learn something from it."-Choice (March 2009)
"Allen looks at familiar ideas from a fresh and generally passionate angle. . . . He frequently uses bridges as a way of illustrating the convergences and relationships he explores, and Artifice and Design touches on disciplines ranging from cognitive psychology to history and from sociology to evolutionary biology. . . . Allen is as likely to talk, and talk well, about vectors and static equilibrium as about the ideas of Aristotle and the Chinese philosopher Zhuangzi. . . . What results is a compelling and unique work that argues that art and technology, far from needing a conscious effort to be brought together, would require a vigorous effort to be kept apart."-Civil Engineering (October 2008)
"Artifice and Design is a fascinating book in the philosophical anthropology of art and technology. Arguing against the injustice of the dualism of technology and aesthetics, Barry Allen proves that they always go hand in hand and provides numerous examples to overcome the dichotomy. Skeptical of the rationalism that distinguishes art from science, he strongly endorses the cultivation of aesthetic design and ongoing attention to the human perceptual interface with artifice."-Albena Yaneva, Isis (December 2010)
"Barry Allen's Artifice and Design is an engaging and insightful study of the creative endeavors of art and engineering. His chapter on technology should be considered must reading for anyone desiring to understand the nature and challenges of engineering design-and the essential role that aesthetics plays in it."-Henry Petroski, Aleksandar S. Vesic Professor of Civil Engineering and Professor of History, Duke University; author of Success through Failure: The Paradox of Design
"An eloquent student of physical bridges and their design, Barry Allen crafts for us an innovative philosophical bridge, connecting time-tested reflections from articulate engineers with late-breaking news from the paleo-anthropologists by means of head-clearing redefinitions of artifact, design, and technology. Allen's argument is bold and timely, possessing in abundance the functional beauty it is concerned to praise and promote."-David Hills, Department of Philosophy, Stanford University
"The origin of our endangered species is normally identified by its complex social structures, advanced tool-making and 'symbolic' thinking-the last notably as shown in visual art. By presenting a developed, original and philosophical position about tools, craft, and artifice, Artifice and Design in effect argues the mutually illuminating interrelation of these central aspects of being human that are often considered apart. Barry Allen's informed and challenging approach should stimulate thought, discussion, and teaching on these matters at a time when outworn conceptions of our defining characteristics provide poor guidance for the unstoppable technological developments that presently imperil us."-Patrick Maynard, University of Western Ontario, author of Drawing Distinctions
"Artifice and Design is a wonderful book: well informed, well argued, insightful. Barry Allen exhibits an interdisciplinary intelligence and sensibility-philosophy in the best sense of the term. The movement from the presentation of an evolutionary understanding of human nature to an evolutionary appreciation of technics, aesthetics, technology, and art takes place in a gently paced process that exemplifies the argument for a more measured pattern of change in our intensely technological world."-Carl Mitcham, Professor of Liberal Arts and International Studies and Director, Henneback Program in the Humanities, Colorado School of Mines
You may also be interested in...
Simply reserve online and pay at the counter when you collect. Available in shop from just two hours, subject to availability.
Thank you for your reservation
Your order is now being processed and we have sent a confirmation email to you at
When will my order be ready to collect?
Following the initial email, you will be contacted by the shop to confirm that your item is available for collection.
Call us on or send us an email at
Unfortunately there has been a problem with your order
Please try again or alternatively you can contact your chosen shop on or send us an email at