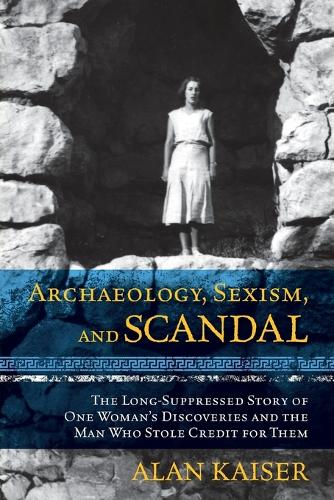 Archaeology, Sexism, and Scandal: The Long-Suppressed Story of One Woman's Discoveries and the Man Who Stole Credit for Them (Paperback)
Alan Kaiser
(author)
Paperback
272

Pages / Published: 29/07/2016
The 1931 excavation season at Olynthus, Greece, ushered a sea change in how archaeologists study material culture-and was the nexus of one of the most egregious (and underreported) cases of plagiarism in the history of classical archaeology. Alan Kaiser draws on the private scrapbook that budding archaeologist Mary Ross Ellingson compiled during that dig, as well as her personal correspondence and materials from major university archives, to paint a fascinating picture of gender, power, and archaeology in the early twentieth century. Using Ellingson's photographs and letters as a guide, Kaiser brings alive the excavations led by David Robinson and recounts how the unearthing of private homes-rather than public spaces-emerged as a means to examine the day-to-day of ancient life in Greece. But as Archaeology, Sexism, and Scandal clearly demonstrates, a darker story lurks beneath the smiling faces and humorous tales: one where Robinson stole Ellingson's words and insights for his own, and where fellow academics were complicit in the theft.
Publisher: Rowman & Littlefield
ISBN: 9781442275249
Number of pages: 272
Weight: 381 g
Dimensions: 225 x 154 x 14 mm
---
MEDIA REVIEWS
The purpose of Kaiser's latest work is twofold. First, the author intends to engage the reader in a dynamic story of changing theoretical and methodological practices in classical archaeology in the 1930s that resulted in a focus on daily life in ancient Greece. Second, he examines the changing climate of classical archaeology by delving into the personal and professional relationship between then-student Mary Ross Ellingson and her academic mentor, classical archaeologist David M. Robinson. Through letters, photographs, scrapbooks, and professional publications of the site of Olynthus, Greece, Kaiser examines the then-held attitudes of intellectual rights of research and data among academic archaeologists and the events that led to Robinson's plagiarism of Ellingson's original research on terracotta figurines from Olynthus. The author succeeds in documenting the evolving roles of women in archaeology in the 20th century and places his discussions broadly within the gender-biased realm of women in academia and science at the same time. VERDICT Kaiser's exciting and timely volume should force readers to openly confront gender-related biases in science and academia. Of interest to those concerned with gender-related studies as well as the history of science or archaeology. * Library Journal, Starred Review *
A chance discovery of the letters and journals of Mary Ross Ellingson, a John Hopkins graduate student in the early 1930s, plunged archeologist Kaiser into the world of 1930s classical archeology. Ellingson's words revealed little known information about one of the most important excavations in classical archeology: the 1931 season at Olynthus, Greece. Kaiser guides readers through his discovery, uncovering details about the daily lives of people on the dig-and sexism in the field at the time. . . .Ellingson's story is an important one. * Publishers Weekly *
Archaeologist Kaiser brings to life the story of Mary Ross Ellingson, a female practitioner of archaeology, and her scholarship-scholarship that was co-opted by renowned classical archaeologist David Robinson. The author highlights the scandalous plagiarism of the work stemming from Ellingson's dissertation. More important, however, Kaiser reveals how gender biases against women in many fields of science (hard and soft) rear their ugly heads time and again in insidious ways. This can be seen in the text from the narrative on Ellingson to the contextual summary of women in the sciences and their experiences and to Kaiser's own experiences of rejection when attempting to publish an article on the plagiarism scandal. Kaiser adeptly reflects upon the norms of the time but also suggests that scholars should rethink the history of archaeology, including women in the narrative, such as Ellingson, who represent the 'feminine footprint.' As an archaeologist herself, this reviewer found much here to use in discussing gender and professionalization in science. Summing Up: Highly recommended. For classroom and personal reading, all levels. * CHOICE *
A welcome addition to the historiography of women archaeologists, it also speaks eloquently to the ongoing debate on gender imbalance in academia and the workplace. Rigorous and informed, yet engaging and accessible, Kaiser's book will appeal to specialists and lay readers alike.... Archaeology, Sexism, and Scandal chronicles Kaiser's sobering discovery, his painstaking research to verify and contextualize it and the arduous process of its publication. Narrated largely in the first person and richly illustrated with photographs from Ellingson's and Robinson's archives, the story has the arresting immediacy of investigative journalism, touched by the special bond the author feels towards his `unsung heroine' (sic). Kaiser plays to the popular stereotype of the archaeologist- as-sleuth, in order to maintain the suspense of a true story that matches any tale of archaeofiction.... Gender-sensitive historical accounts of American classical scholarship and Anglo- American archaeology anchor Ellingson's case to a larger reality riddled with epistemological, social and ethical problems emanating from long-lasting bias. Four statistical graphs (figs 4.1-4) and a map of Greece (fig. 1.3) helpfully plot the observations. In addition to an excellent collective bibliography, each chapter is extensively annotated.... Repeatedly rejected by scholarly journals, Kaiser condemns the silent complicity of academics to wrong-doing, past or present. His validation came in the enthusiastic response from colleagues and community, including Ellingson's daughter, and ultimately the publication of this fine book. * The Journal of Hellenic Studies *
In addition to serving the cause of justice, Kaiser also has written a captivating book that shows us how to write archaeological biographies that are not boring. This is not just a book about ethics in archaeology in the 1930s; it is also about academia and intellectual barriers in the 2010s that still consider 'biography' to be scholarship 'light'. . . Kaiser, to his credit, has given us a compelling and eminently readable book. It is also the sort of book that you keep thinking about long after you have finished it. * From the Archivist's Notebook: Essays Inspired by Archival Research *
What difference do prominent thesis and dissertation advisors make as gatekeepers of social equity in their respective academic fields? Back in the 1920s and 1930s, the cultural anthropologist Franz Boas, a somewhat older contemporary of the classical archaeologist David M. Robinson, understood that master's thesis and doctoral dissertation advisors should nurture and empower their graduate students to produce and publish their own research. . . . Kaiser demonstrates that Robinson-professor of classical archaeology at Johns Hopkins University, ambitious excavation director at Olynthus from 1928 to 1938, and advisor of numerous master's theses and doctoral dissertations-stole the intellectual property of his advisee Mary Ross Ellingson on two separate occasions, once in 1933 and again in 1952. . . . Archaeology, Sexism, and Scandal should help give classical archaeology, and directed graduate fieldwork more generally, an even stronger impetus to make sure that graduate students, female and male alike, are empowered to realize their potential as the published and recognized authors of their research, not to have their intellectual property taken over by advisors and feel constrained to remain deferential about it. The experience of Mary Ross Ellingson is one life story that shows us why. * Bryn Mawr Classical Review *
His book represents, for me, a remarkable example of detective work, a form of modern archaeology. . . .Such prejudices about a woman's role in a research project no doubt remind you of the lot of the 'computers' at the Harvard College Observatory in the early 20th century. . . .Or perhaps they remind you of the fact that, in mid-century, women couldn't get time on certain large telescopes. . . .Or perhaps they remind you of the prejudices that still persist today but which seem to be losing their power. . . .In this review, I can only scratch the surface of Kaiser's marvelous dig into the past. Astronomers will surely enjoy reading it, especially those who may have to deal with stereotypes that still lurk to derail the unwary on the path to a full and rewarding career. * Status: A Report on Women in Astronomy *
[Archaeology, Sexism, and Scandal] offers a wealth of information on both the experience of archaeological excavation in Greece in the 1930s and on the experience of women entering academia in that period. Ellingson's letters and observations are enjoyable enough on their own, but Kaiser has brought considerable scholarship to drawing together the context needed to understand her writing. The book is at its most entertaining when going into ethnographic detail of a young woman's first dig; and most informative when bringing together the stories of many lives to draw a picture of the academic environment Ellingson would have encountered. * TrowelBlazers *
Ultimately, this is what makes Kaiser's book so important. In exposing one particular case where a woman's work was wrongly appropriated, Kaiser has drawn attention to a much more pervasive and everyday phenomenon: the comparative invisibility of women's contribution to academic, investigative, and creative achievements. All of us part-time, intermittent, casual, paid or unpaid participants in academic research owe Kaiser a debt of gratitude. The initial reception accorded to his detective work is not encouraging, but now that Archaeology, Sexism, and Scandal has broken the ice, it is to be hoped that other previously invisible women contributors will be recognized for work which has, until now, largely been ignored. * Australasian Women in Ancient World Studies *
The book has various strengths. The first one is the chronological arrangement of chapters, such that, we are first introduced to the life histories of the main characters, including the obstacles they faced in their career journeys. Second, the book is meant to motivate women to work even harder even where their efforts are not recognized. Even though Robinson did not acknowledge Ellingson, her works received very positive reviews. She contributed immensely in the field of archeology. The book is relevant to feminist scholars and practitioners in the sense that it acts as a source of encouragement. What is required in unveiling one's potential is to stand by your ambitions despite external forces that discourage them. * Association for Feminist Anthropology *
Kaiser presents us with a book-length treatment, one that he hopes will encourage Classical archaeology to confront its past complicity with sexist attitudes, its conservatism inculcated through patronage, and its tacit acceptance of plagiarism. Kaiser's blend of biography, critique and autobiography, all wrapped up in a detective novel, flows well. The volume is richly illustrated throughout with black and white photographs of the people, places, documents and events narrated. * Antiquity *
Kaiser is a good storyteller who touches on several important themes as he spins his tale.... Read it and see for yourself. You may not be able to put it down. * The Mercury *
Kaiser's book is an incredibly valuable and important contribution to the history of archaeology for several reasons. First, Ellingson's letters vividly describe not only the daily lives of an archaeological team in the 1930s, but an important time in classical archaeology that saw a dramatic shift in excavation and recording methodologies. Ellingson's account of the Olynthus excavations and her personal experiences in Greece provide the reader with a front row seat to observe archaeology's history unlike any other. Second, Ellingson's story reminds us of how far archaeology and science in general have come in terms of gender equality and acknowledging women's contributions to their field. Ellingson's passive acceptance of Robinson's blatant plagiarism of her work might be casually dismissed as 'the way things were back then' by older generations, but would be utterly shocking to today's younger generation of archaeologists. It is this shift in attitude away from a woman's expected acquiescence and toward a unified condemnation that is most striking when examining the history of women in science. It is equally remarkable and evidence of how far the pendulum has swung toward gender equality in archaeology when it is a man who fought so tenaciously to give voice to Ellingson's experiences. As a female archaeologist removed from Ellingson by two generations, Kaiser's selfless determination is inspiring and greatly appreciated. * Historical Archaeology *
This fascinating book is partly a detective story in which Alan Kaiser relentlessly tracks down the appropriation of Mary Ross Ellingson's intellectual property by David Robinson, her major professor, partly a recounting of the ways classical archaeology was practiced in the academic world of the 1930s, and partly an examination of Ellingson's career, including the consequences of the theft of her work. The book is a good read as well as a mine of information about the history of classical archaeology, told in an engaging way. Probing the past of archaeological practice is priceless, especially examining the sexism which allowed the facile and guiltless stealing of the work of students, especially women, as if students in general and women in particular had no rights to their own intellectual property. The tale of a major archaeologist who published a woman student's work under his own name should be more shocking than it is because women archaeologists have known variations of this practice (such as simply appropriating ideas) throughout our careers. But it says something important about the present that Kaiser found the incident appalling, and was courageous enough to follow the story from beginning to end in spite of road blocks set in his way, discussed in the final chapter. Few such thefts of intellectual property could be documented so completely. Thus this excellent and detailed work of investigation must stand for the experience of other students in an imperfect world of scholarship, not exclusively women.... We archaeological rogues who (with some trepidation) created the subfield of `gender in archaeology' were perhaps successful in opening the field to the kind of detailed exploration of a single example of sexism and scandal exposed so cogently in all its facets in this excellent book. * Journal of Eastern Mediterranean Archaeology and Heritage Studies *
Kaiser presents an intimate portrait of prominent and aspiring practitioners in the field of Classical Archaeology. Celebratory and tragic, this candid account writes, and rights, a chapter in the unwritten history of Greek archaeology. It is a story deserving to be told-however uncomfortable aspects of the tale may make us, however unsavory some of its episodes. In the end, it is perhaps not so surprising the degree to which elements of this culture resonate still today. -- Bradley A. Ault, University at Buffalo, State University of New York
This is a thoroughly researched and fully documented tale-well worth the read! Writing with style and substance, Kaiser takes the reader to Greece and the excavation of a site well-known to modern archaeologists. Through his narrative, he examines the culture of classical archeology before and after World War II and demonstrates the disadvantages of being a woman in classical archaeology at that time. -- Sarah Milledge Nelson, University of Denver
An intriguing and important account from the recent history of Classical Archaeology which tells an (alas) all-too-common tale of graduate students having their ideas and work purloined by an unscrupulous professor. Unfortunately, dishonesty in archaeological research and publication continues to reap rewards even today... -- Paul Bahn, author of The Archaeology of Hollywood
A must-read for anyone concerned with the often-untold history of women in academia. Like a detective, Kaiser carefully analyzes archival material to present a fully contextualized narrative of the excavations at Olynthus, Greece during the 1930s, and in so doing, reveals overt sexism and plagiarism, shocking to today's sensibilities. Archaeology, Sexism, and Scandal is a major contribution to the history of archaeology and to Greek ethnography. -- Pamela J. Russell, Mead Art Museum, Amherst College
An engaging and compelling first person narrative that begins with the discovery of a long-forgotten archive, expands using perspective from disciplinary history and biography, gels through thoughtful analysis, and ends with a provocative discussion of what happens when we scrutinize archaeology's past. While fascinating for its historical insights, this work remains relevant to academia and archaeology today as we continue to grapple with issues of labor exploitation, sexual harassment, and structural inequality. -- Jane Eva Baxter, DePaul University
With a keen eye for gender justice and academic integrity, Kaiser offers an intriguing and must-read account of plagiarism, gender politics and archaeology. Unraveling a mystery, he gives archaeologist Mary Ross Ellingson back her voice by recognizing her as the true author of the groundbreaking work on Olynthus' Terra-cottas. In a field where women still struggle for recognition, Kaiser's work is vital. Scholars and laypersons alike will find this archaeological adventure an engaging read. -- Deborah Ann Appler, Moravian Theological Seminary
You may also be interested in...
Simply reserve online and pay at the counter when you collect. Available in shop from just two hours, subject to availability.
Thank you for your reservation
Your order is now being processed and we have sent a confirmation email to you at
When will my order be ready to collect?
Following the initial email, you will be contacted by the shop to confirm that your item is available for collection.
Call us on or send us an email at
Unfortunately there has been a problem with your order
Please try again or alternatively you can contact your chosen shop on or send us an email at