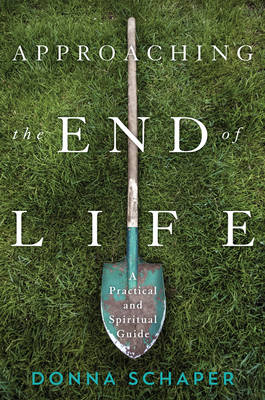 Approaching the End of Life: A Practical and Spiritual Guide (Hardback)
Donna Schaper
(author)
Hardback
206

Pages / Published: 21/07/2015
In her more than forty years as a minister, Rev. Donna Schaper has been approached hundreds of times by people wanting to know how to prepare for the end of life in both practical and spiritual matters. Countless others have turned to her for guidance on how to handle the death of a loved one. From making a will and planning a memorial service to finding peace in the toughest circumstances, Approaching the End of Life offers practical and spiritual guidance to anyone wrestling with the end of a life. With sensitivity and humor Rev. Schaper helps readers face aging and mortality with freedom rather than fear. She encourages readers to find a spiritual home of some kind-even if it is far from the doors of a church-and offers helpful suggestions on memorials and funeral services that will be well suited to the departed while serving the loved ones in their grief and celebration. The book also includes practical resources such as a service planning checklist, a template for a funeral or memorial service, and more.
Publisher: Rowman & Littlefield
ISBN: 9781442238244
Number of pages: 206
Weight: 454 g
Dimensions: 236 x 157 x 21 mm
---
MEDIA REVIEWS
Senior minister Schaper's comprehensive book on death is based on her 40 years of counseling the dying and their families. She covers everything from the realization that one's illness is incurable to the memorial service and presents positive suggestions for disclosing the imminent death to loved ones and how to prepare spiritually (not necessarily espousing religion) for the end. . . . VERDICT [The book is] . . . superb in discussing preparation for death. Approaching the End of Life supplies a blueprint [to prepare for death]. * Library Journal, Starred Review *
Over the course of her long ministry, Schaper has comforted the sick and dying, presided over many funerals and memorials, and counseled the bereaved. Drawing upon these many years of experience, her book offers sensitive advice about planning one's own funeral or the funeral for a loved one. More important, her book encourages us to plan for a good death, which means living a good life. Everyone will die, and immortality remains an unresolved issue. Therefore, we need to find a place from which to die. Schaper argues that place is a spiritual home, one that gives our life meaning, joy, and purpose. Whether in a faith community, sacred space, or ritual, a spiritual home is a place where our faults and achievements are both recognized and affirmed. It is a place where we are comforted, challenged, and connected. It is a community of individuals, not an institution, amid whom we can die after having lived well. Reflecting upon one's mortality is scary. Schaper's thoughtful and helpful book eases the fear. * Booklist *
The Rev. Dr. Donna Schaper is the senior minister at Judson Memorial Church in New York City. This book is written to provide a spiritual and practical guide for lay people (both the dying person and/or their loved ones) about planning and organizing things to do with the end of life, and the funeral or memorial services that come afterwards. I liked her straightforward, conversational style, and the language was simple and understandable to the average person. Above all, whilst giving what is probably very good advice, I liked her celebration of individuality - no two patients (or two families) will have identical wishes and needs, and she gives permission for you to do exactly what you want or what you think is best. For those of us who work in palliative care, it is useful to know about books like this that you can recommend or loan to appropriate patients and/or their families. * IAHPC Newsletter *
Donna Schaper continually urges us to think long and broad about our life and death. From her expansive revision of the traditional funeral phrase, `Ashes to ashes, stardust to stardust,' to her encouragement that we think of our lives as ceramic vessels for the Spirit and not throwaway plastic, she urges us to consider our life, death, and afterlife in the context of the `great awesome.' Her mixture of practical advice on dying and funerals, as well as her theological reflections on the context of aging, death, and the afterlife, gives us much to chew on and live toward. -- The Rev. Dr. Rochelle A. Stackhouse, senior pastor, The Church of the Redeemer, United Church of Christ, New Haven
With fresh language and a helpful breadth of perspective, Rev. Donna Schaper has provided an invaluable tool for approaching the end of life, a must-read for clergy and highly accessible for laity. I will be looking forward to using Approaching the End of Life as a solid text on practical spirituality with adults in my parish. -- Rev. Dr. Jill R. Edens, senior co-pastor, United Church of Chapel Hill
Rev. Schaper does an excellent job of discussing a potentially difficult or challenging matter in an upfront, logical, and very caring way. I think everyone needs to read this book. -- Scott Jurica, MS, DC, PAK, ACN; holistic doctor
Approaching the end of life, complex emotion and mundane decisions collide. Grief mixes with mystery. Donna Schaper is a wise, experienced guide through the colliding, the grief, the mystery, and the intimacy of that tender time. She writes with the power of long experience and careful observation, sharing stories of approaching death well by living well. She writes with deep appreciation for people in and out of faith communities, giving all of us generous ways to honor the momentousness of dying. And she writes convincingly that the best moment to begin preparing for our inevitable end is right now, with close attention to the troubles and grace that make up both a good life and a holy death. -- The Rev. Dr. John A. Nelson, pastor and teacher, Niantic Community Church
Donna Schaper's new book is the ideal vehicle for tackling an urgently essential teaching for our times. Who should read it? Pastors, old and new, who need new tools to help those knocking at their door without the culture of a congregation. Individuals who have managed to avoid the topic of mortality until an embarrassingly mature age who now must create something for themselves or a loved one. And even those of us professionals who have failed in our own lives to begin important processes like retirement planning or life review. She shows us that preparation for death can be a fulfilling and often joyful exercise of discovering value in our unique and communal identity. Read it. -- Rev. Carrie Bail, interim pastor, First Congregational Church of East Longmeadow, MA
This is a book for those who wish to embrace the end of life with open arms. May all our inevitable passings be filled with such powerful ministry! -- Caroline Woolard, cofounder, OurGoods.org and TradeSchool.coop
A litany of stories into the heart of grief and life. Schaper masterfully shapes the silences and mystery of a good death. She fingers the beats of scars, emptiness, the questions that all of us live with as we miss, celebrate, and are heartbroken and changed by the pregnant absences of our loved ones. A must-read for all who want to ritualized and face the death that comes to us all. -- Juan Carlos Ruiz, Episcopal Diocese of Long Island
Rev. Schaper has produced a book that is thoughtful and helpful for those who will open themselves to considering the part that death and dying play in living and life. Written mostly from a Christian perspective, it nevertheless has insights and refreshing, light, and honest views on approaching these issues that are applicable to all persons in every faith, and none. It removes a good deal of both the "ick" factor and the fear aspect, and is quite accessible. I recommend it to clergy, laity, students, chaplains, doctors, nurses, hospice workers, caregivers, thanatology professionals, and all who will allow themselves to engage with this important and meaningful aspect of the human condition. -- Rabbi Joe Blair, Gamliel Institute of Kavod v'Nichum; Jewish Values Online; Bridgewater College
Reading this book made me excited to live and die well! I am in my thirties and, technically, not approaching the end of life. However, Donna's perspective on ending life at a place of peace and composure makes the hard topic of death totally comfortable, accessible-and inspiring! I am already planning the best funeral ever and living life to the fullest so that when that funeral happens, it can truly be a celebration for all in attendance! -- Carissa Reiniger, founder and CEO, Silver Lining, Ltd.
While Schaper says this book is about `dying,' it is just as much about living. The reader is encouraged to embrace death (and life!) with `spiritual honesty' in the context of a postmodern, pluralistic twenty-first century. Her words have caused me to take pause and reflect upon how I am choosing to live each day in preparation for a wonder-full end, instead of an inevitable conclusion. I am filled with a profound sense of hope. I want all the people I love to read this book. -- David R. Gaewski, conference minister, New York United Church of Christ
Every time I thought I knew what was coming next in this book, something different happened. Something creative, attractive, disturbing, and delicious. The 'end' of life? Whether you are thinking 'purpose' or 'stop,' it's a joyful education, like a dance, to not know what's next. Like the substance of the book, so is its style. -- Rabbi Arthur Waskow, author of The Tent of Abraham; director, The Shalom Center
Approaching the End of Life is an indispensable guide on how to understand death and ritualized dying in our congregations, in our families, and as we approach our own mortality. Blending the pastoral and the practical, Rev. Dr. Schaper offers herself as a clear-eyed shepherd through the faith and folk traditions that surround death and dying in the twenty-first century. -- The Rev. Dr. William Lupfer, rector, Trinity Wall Street
In our death-defying culture, how welcome to have this new book that teaches us not only how to have a good death and playfully imagine the great mystery beyond, but also how to live the fullest life. Part Garrison Keillor, part Anne Lamott, Schaper leans into a decades-long ministry to share with us stories and deep truths that will make readers laugh and cry and think and feel their way to healing and wholeness. -- The Rev. Dr. Katharine R. Henderson, president, Auburn Theological Seminary
Donna Schaper writes about how we respond to death-our own and others-in ways that are both wise and practical. In so doing, she helps us engage the most important realities we will ever face and equips us to talk about them with those we love. -- Martin B. Copenhaver, president, Andover Newton Theological School
Donna Schaper looks squarely at the rich fullness of life without flinching-even when life's last event inevitably arrives. This candid assessment of death and its leading days is an exercise of the deepest core values, she says. This courageous book, with its lively and intelligent tone, ingeniously loops back to how we live our lives now. What a freedom in that. -- George E. Packard, retired bishop of the Episcopal Church
In our life-obsessed culture where extending life at all costs-ethical or otherwise-is the norm, this book asks questions which take the reader against the tide: How to age gracefully? How to live a `death-aware life'? How to see our end as `stardust'? And how to reinterpret biblical metaphors for our time-a time which the author insists is scarce? -- Adeel Khan, editor, Religions
You may also be interested in...
Simply reserve online and pay at the counter when you collect. Available in shop from just two hours, subject to availability.
Thank you for your reservation
Your order is now being processed and we have sent a confirmation email to you at
When will my order be ready to collect?
Following the initial email, you will be contacted by the shop to confirm that your item is available for collection.
Call us on or send us an email at
Unfortunately there has been a problem with your order
Please try again or alternatively you can contact your chosen shop on or send us an email at