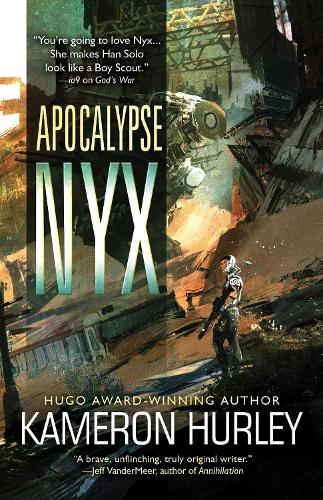 Paperback
Published: 02/08/2018
"You're going to love Nyx . . . she makes Han Solo look like a Boy Scout."--io9
Ex-government assassin turned bounty-hunter, Nyx, is good at solving other people's problems. Her favorite problem-solving solution is punching people in the face. Then maybe chopping off some heads. Hey--it's a living.
Nyx's disreputable reputation has been well earned. After all, she's trying to navigate an apocalyptic world full of giant bugs, contaminated deserts, scheming magicians, and a centuries-long war that's consuming her future. Managing her ragtag squad of misfits has required a lot of morally-gray choices. Every new job is another day alive. Every new mission is another step toward changing a hellish future--but only if she can survive.
Publisher: Tachyon Publications
ISBN: 9781616962944
Dimensions: 216 x 140 mm
---
MEDIA REVIEWS
Praise for Apocalypse Nyx
A Fantasy Hotlist Top 5 Speculative Fiction of 2018 pick
A B&N Favorite Science Fiction and Fantasy Books of 2018
A Grimdark Top Science Fiction/Fantasy Book of 2018
"The plots are taut, thrilling, gritty, violent, profane, magical--everything Hurley's readers expect . . . Hurley has created one of the most engrossing environments in modern sf."
--Booklist
"Series fans will savor original episodes featuring the battle-worn Nyx, which also serve as an introduction to new readers."
--Library Journal
"An excellent introduction for those wondering whether to pick up the original trilogy or a great way for those who have already read the previous books chronicling Nyx's adventures to spend a bit more time in Nyx's violent world."
--SF Revu
"This collection recaptures everything that made the Bel Dame Apocrypha such a memorable read and is a must for anyone who's a fan of the original series. Apocalypse Nyx is also the perfect opportunity for newcomers to get a feel for the universe and its protagonists for the first time."
--Fantasy Hotlist
"Highly recommended as a fun adult action-packed scifi with a scoundrel protagonist."
--Read Well
"If you're new to Nyx, this may be a good place to start, taking place before the current series of which she's the star. If you're already a fan, this adds some wonderfully bloody, emotionally sharp texture to an already intriguing world and characters--get on it."
--Sci-Fi and Fantasy Reviews
"Apocalypse Nyx is grim, unapologetic science fiction at its best . . . gripping."
--New York Journal of Books
"This is a dystopia that revels in it in a big, joyous way with cracking one-liners and tight squeezes to escape. Apocalypse Nyx is definitely not for the squeamish, but if you like your heroines as kickass as Dutch from the TV series Killjoys you'll love Nyxnissa. Good, honest science fiction fun with a feminist twist."
--Starburst
"The five novellas that make up Apocalypse Nyx are packed with more glare, grit, and snarl than a junkyard full of mutated jackals, landing their punches with all the tooth-loosening, hardhat-launching, lunchbox-swinging frankness of a noontime construction worker brawl. Hurley's world of mercenaries, magicians, blood, and bug guts is dusty enough that you can feel it grinding between your molars and insistent enough that it'll yank you by the collar and not let go, a no-frills hang-the-hell-on death-rattle-and-roll Keith Moon drum solo of staccato narrative bursts."
--Bo Bolander, author of The Only Harmless Great Thing
"Nyx is back and just as good as ever. In this new collection of five novellas, Kameron Hurley serves up courses of crunchy action and intrigue, layered with tender character moments that bring real depth to this intense, unique world."
--JY Yang, author of The Black Tides of Heaven and The Red Threads of Fortune
"Incorrigible and unapologetically heartless, Nyx is the bounty hunter to call when the stakes are high, the payouts are iffy, and the morality is optional."
--Nicky Drayden, author of The Prey of Gods
"Great for all you hard-drinking, hard punching, embittered readers who like a lot of grit in their post-apocalyptic hard-SF Biopunk . . . Nyx really shines darkly."
--Bradley Horner, author of Darkside Earther
"With Nyx, Hurley masterfully writes about a strong woman who is also a very broken human being--something women are rarely allowed to be."
--Stina Leicht, author of And Blue Skies from Pain and Cold Iron
"There are no limits to the universe Ms. Hurley creates."
--Virdea
"Gritty with a capital grit . . . In all--I love this world, I love these stories."
--Fangs for the Fantasy
"If your favourite action TV series were distilled in book form, this would be it."
--British Fantasy Society
"Compelling and fast-paced, gruesome and titillating at turns, presenting an approach to gender and sexuality that is appalling but fascinating."
-- Tor.com
"Kameron Hurley's Apocalypse Nyx (Tachyon) is a welcome return to the adventures of the author's iconic hard-fisted anti-heroine."
-- Seattle Review of Books
"For all that God's War was nominated for every award under the sun, I enjoyed this more: Nyx's tempestuous life lends itself perfectly to discrete, action-packed episodes."
-- Interzone
"Fans show up for the fatalistic prose, acid-tongued banter between hard-bitten mercenaries, over the top violence and female-centered action storytelling--Apocalypse Nyx delivers on all those fronts."
--Thousand Year Plan
"Nyx is a brilliantly imagined character."
--Strange Alliances
"Those already familiar with Nyx and crew should enjoy these delightfully grimy and sweaty slices of their world. The newbies will have titles to add to their reading lists."
--Locus
"Apocalypse Nyx, like its title character, is swaggering and brash, bristling with guns and spitting quips."
--Strange Horizons
"As always, Hurley's worldbuilding is bonkers fun . . . a great read with [its] brisk prose and strange world. Give it go, you won't regret it."
--Elitist Book Reviews
"Apocalypse Nyx takes us into the world of Hurley's Bel Dame Apocryphaseries, giving us glimpses of the hardened, masterful character across five equally impressive novellas . . . I strongly recommend the collection, both for newbies and for existing fans."
--Reviews and Robots
Praise for the Bel Dame Apocrypha
On God's War
"Nyxnissa would quite clearly kick Conan's ass . . . Just what the genre ordered."--Strange Horizons
"Are you frustrated with Mary Sue heroines? Well, here comes God's War to rock your face off . . . If you like rough, battle-scarred women who know how to regulate, you're going to love Nyx . . . she makes Han Solo look like a boy scout."--io9
"God's War is one of the most thought-provoking debuts I've read so far this year."--Locus
On Infidel
"It's a pleasure to return to the fascinating and messed-up world [Hirley] created--one especially enjoyable for its ethnically diverse cast and freewheeling remixes of traditional gender roles."--Tor.com
"A fast-paced book with a lot of action and smart character moments."--Strange Horizons
On Rapture
"Kameron Hurley is ferociously imaginative--with an emphasis on ferocious."--Lauren Beukes, author of The Shining Girls
"Edge-of-the-seat action set within a strange and alien world that's the mutant child of Frank Herbert and Roger Zelazny."--David J. Williams, author of The Mirrored Heavens
"[Nyxnissa] is gloriously self-possessed, repellently amoral, and thoroughly original. She is a woman in a man's grimdark world.--Strange Horizons
Praise for The Geek Feminist Revolution
"A call to arms for those who care about the future of science fiction and fantasy."--John Scalzi, author of Redshirts
"Kameron Hurley writes essays that piss people off, make them think, make them act. This is good stuff. Read it."--Kate Elliott, author of the Crown of Stars series
"Filled me with blistering hope and rage. Amazing collection."--Annalee Newitz, author of Autonomous
You may also be interested in...
Simply reserve online and pay at the counter when you collect. Available in shop from just two hours, subject to availability.
Thank you for your reservation
Your order is now being processed and we have sent a confirmation email to you at
When will my order be ready to collect?
Following the initial email, you will be contacted by the shop to confirm that your item is available for collection.
Call us on or send us an email at
Unfortunately there has been a problem with your order
Please try again or alternatively you can contact your chosen shop on or send us an email at