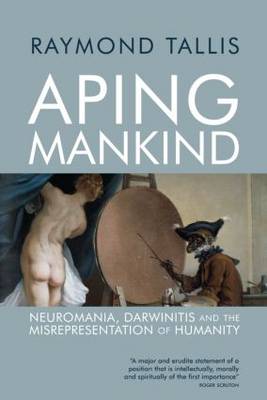 Aping Mankind: Neuromania, Darwinitis and the Misrepresentation of Humanity (Paperback)
Raymond Tallis
(author)
Paperback
400

Pages / Published: 20/06/2014
In a devastating critique Raymond Tallis exposes the exaggerated claims made for the ability of neuroscience and evolutionary theory to explain human consciousness, behaviour, culture and society.

While readily acknowledging the astounding progress neuroscience has made in helping us understand how the brain works, Tallis directs his guns at neuroscience's dark companion - "Neuromania" as he describes it - the belief that brain activity is not merely a necessary but a sufficient condition for human consciousness and that consequently our everyday behaviour can be entirely understood in neural terms.

With the formidable acuity and precision of both clinician and philosopher, Tallis dismantles the idea that "we are our brains", which has given rise to a plethora of neuro-prefixed pseudo-disciplines laying claim to explain everything from art and literature to criminality and religious belief, and shows it to be confused and fallacious, and an abuse of the prestige of science, one that sidesteps a whole range of mind-body problems.

The belief that human beings can be understood essentially in biological terms is a serious obstacle, argues Tallis, to clear thinking about what human beings are and what they might become. To explain everyday behaviour in Darwinian terms and to identify human consciousness with the activity of the evolved brain denies human uniqueness, and by minimising the differences between us and our nearest animal kin, misrepresents what we are, offering a grotesquely simplified and degrading account of humanity. We are, shows Tallis, infinitely more interesting and complex than we appear in the mirror of biologism.

Combative, fearless and always thought-provoking, Aping Mankind is an important book, one that scientists, cultural commentators and policy-makers cannot ignore.
Publisher: Taylor & Francis Ltd
ISBN: 9781844652730
Number of pages: 400
Weight: 635 g
Dimensions: 235 x 159 x 30 mm
---
MEDIA REVIEWS
"Despite its mischievous title, Aping Mankind is a very serious book, and represents the author's current location in his decades-long stream of multifaceted thinking. Tallis has been called a polymath - he is a physician, philosopher, public speaker, and a prolific writer ... Much of his speaking and writing over the past several decades has been deliberately controversial and engagingly argumentative, and Aping Mankind is no exception ... The breadth of Tallis's familiarity and facility with the positions of others both in his own field and in others (such as the arts) is impressive throughout the book ... The reader will find it richly rewarding, packed with thoughts worth sharing and ideas worth considering, and quite a lot of fun. For what more could we reasonably ask?" - Metapsychology Online

"This is an immensely valuable book because it makes us think hard about what we are and 'if any ideas are important, then ideas about the kind of creatures we are must be of supreme importance'. My bottom line is buy it and read it and then read it again and again and again ... A landmark book." -ã Network Review

"A triumph of rational thought over the Darwinian afflictions that the author argues against in such an eloquent fashion" - The Quarterly Review of Biology

"A terrific book, though readers must be prepared to read it at least twice, not because it is in any sense obscure, but fully to appreciate the richness and subtlety of Tallis's novel insights, with all their implications for our understanding of humanity's precious attributes of freedom, intentionality and moral responsibility." - James Le Fanu, The Tablet

"A trenchant, lucid and witty attack on the reductive materialism of many scientific accounts of consciousness - not from a religious point of view, but that of an atheist humanist with a distinguished record in medicine and neuroscience." - David Lodge, The Guardian's Books of the Year 2011

"Neuroscience, we are implausibly informed by white-coated Simon Baron-Cohen, will help dispense with evil. Who better to debunk its pretensions while instructing us in its uses than wise, literate Raymond Tallis, a neuroscientist himself, in his entertaining Aping Mankind." - George Walden, Evening Standard's Best Books of the Year

"With erudition, wit and rigour, Tallis reveals that much of our current wisdom is as silly as bumps-on-the-head phrenology." - Jane O'Grady, The Observer

"Impassioned and intensely erudite." - Dominic Lawson, Sunday Times

"Brilliantly written . . . renowned polymath Raymond Tallis puts the picture back into much clearer perspective in his scathing expose of neuroscientific narcissism." - Human Givens

"A pleasure to read. . . Tallis is fighting for a good cause." - Willem B. Drees, Times Higher

"This kind of personhood - the capacity, in fact the compulsion, to bring things together into some kind of coherent narrative, without which experience is not just senseless, but almost impossible, is what Tallis believes science cannot now explain. Anyone tempted to suppose that science has explained it even in principle - and that means almost all of us - should read him, and realise we're wrong." - Andrew Brown, The Guardian

"an all-out assault on the exaggerated claims made on behalf of the biological sciences . . . an important work. Tallis is right to point out that a fundamental shift in our self-perception is under way and frequently going too far." - Stephen Cave, Financial Times

". . . a relentless assertion of common sense against a delusive but entrenched academic orthodoxy. Few books evince their authors' complete mastery of his subject like Aping Mankind." - The New English Review

"A provocative, fascinating, and deeply paradoxical book. . . Tallis displays a wit and a turn of phrase which often made me howl with laughter." - Allan Chapman, Church Times

"A major and erudite statement of a position that is intellectually, morally and spiritually of the first importance to us living now." - Roger Scruton

"A splendid book. Tallis is right to say that current attempts to explain major elements of human life by brain-talk are fearfully misguided. He is exceptional in having both the philosophical grasp to understand what is wrong here and the scientific knowledge to expose it fully. He documents the gravity of this menace with real fire, venom and humour." - Mary Midgley

"A wonderful book and an important book, one that all neuroscientists should read. Tallis's fearless criticism of the work of some distinguished contemporary academics and scientists and the rather ludicrous experimental paradigms of fMRI work needs to be made." - Simon Shorvon, UCL Institute of Neurology

"I strongly recommend this work to existential therapists and indeed to anyone who has ever asked the question of what it is to be human...Tallis writes eloquently and argues brilliantly" - Existential Analysis
You may also be interested in...
Simply reserve online and pay at the counter when you collect. Available in shop from just two hours, subject to availability.
Thank you for your reservation
Your order is now being processed and we have sent a confirmation email to you at
When will my order be ready to collect?
Following the initial email, you will be contacted by the shop to confirm that your item is available for collection.
Call us on or send us an email at
Unfortunately there has been a problem with your order
Please try again or alternatively you can contact your chosen shop on or send us an email at