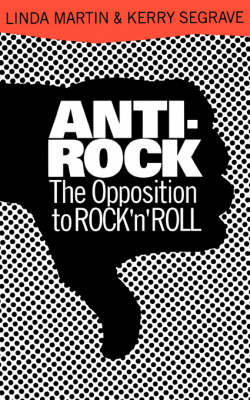 Paperback
Published: 01/03/1993
Can be ordered from our supplier
Rock is a music of rebellion against authority, and has consequently frightened and outraged people throughout its forty-year history. Anti-Rock is the first book to detail the objections of rock's detractors. Critics from parents to religious groups, industry executives to scientists, government spokesmen to eccentric crusaders, have all attacked rock vehemently with comments such as "It's the jungle strain gets 'em all worked up"; it's "one step from fascism"; and "These deafening, dope-ridden, degenerate mob scenes have no more place in our America than would a publicly promoted gang rape." Here is: Albert Goldman, writing in the New York Times in 1968, comparing Mick Jagger to Adolf Hitler. A 1981 university study concluding that prolonged exposure to disco music "causes homosexuality in mice and deafness in pigs." Dr. John, a New York physician, writing in 1977 that rock music causes "a breakdown in the synchronization of the two sides of the brain." Tipper Gore, the former Vice-President's wife, co-chair of the Parents Music Resource Center and author of Raising PG Kids in an X-Rated Society, commenting on heavy metal lyrics: "I'm a fairly with-it person, but this stuff is curling my hair."
Publisher: The Perseus Books Group
ISBN: 9780306805028
You may also be interested in...
We would love to hear what you think of Waterstones. Why not review Waterstones on Trustpilot?