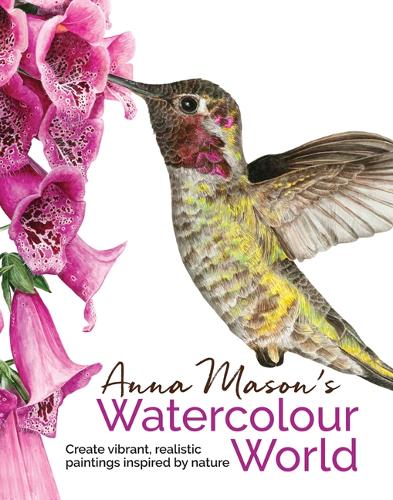 Anna Mason's Watercolour World: Create Vibrant, Realistic Paintings Inspired by Nature (Hardback)
Anna Mason
(author)
Hardback
144

Pages
Published: 27/03/2018
Anna Mason's vibrant, detailed and uplifting watercolours have earned her worldwide recognition. In this, her second book, she goes beyond flowers to explore her inspirations from across the natural world, including fruit, birds and animals. The book gives you a very personal insight into Anna's way of working; with clarity and warmth she will help you find inspiration, choose scale and composition, see things correctly and work with discipline and flow until you produce fabulous work of your own. Packed with advice and inspiring finished pieces, this gorgeous book guides you through her method of working with four beautiful step-by-step projects: a blackberry, an autumn leaf, a sunflower and a garden bird. Each project contains a traceable outline. The book is suitable for beginners or for more experienced artists looking to refine their style or try new techniques.
Publisher: Search Press Ltd
ISBN: 9781782213475
Number of pages: 144
Weight: 882 g
Dimensions: 280 x 216 x 15 mm
---
MEDIA REVIEWS
This engaging guide to painting a wide variety of natural subjects is packed with information and inspiration.
Anna's illustrations are particularly clear and enlarged images allow you to see the individual brushstrokes that make up the shading on a single blackberry or the detailing the feathers of a blue tit.
This is an intriguing, enthralling and thoroughly enjoyable book.
-- The SAA * The SAA Catalogue 19/20 *
This book is beautifully illustrated and has excellent small exercises to complete. Some Silk Painters may be slightly irritated by yet another 'Watercolour book Review' which is understandable, however there are so few exclusively silk painting books from which to choose we have to draw knowledge and practice from the nearest medium.
Anna has a very practical approach to painting explaining colour, form and texture, by breaking down images into shapes of colour. Whilst silk paints and dyes may differ in colour we can easily substitute colours to achieve the same effects on pre-treated silk.
The exercised are easy to follow, all depicting some aspect of nature. I could spend many hours just browsing this book, knowing full well I would learn some valuable snippets to use in my own paintings.
* International Journal of the Guild of Silk Painters *
This book is glorious in every sense, from the beautiful cover to the absolutely stunning paintings throughout the book, this is something to bring joy on the dullest of days. Simply to sit and turn the pages is a wonderful source of inspiration, but the detail is outstanding. it's easy to forget that they are paintings, her paintings are so realistic you want to touch a petal, or bite into an apple. In the Introduction Anna shares her take on her world, 'Those precious moments, the kind that makes you stop in your tracks and feel grateful to be alive are what inspire my watercolours' .
Throughout the book she shares her inspiration tips and her love of gardening.
This beautiful book is packed full of helpful advice, how to garden, how to photograph, and how to paint from those photographs, how to understand colour, form and texture. Anna also describes in detail her 5 stage painting method, how to draw as well as helpful advice on selecting brushes, paper and paints. Four projects are broken down into the key details. The final chapter is about Improvement and also the importance of taking a break from your painting to gain a new perspective.
Anna also has a second book, equally inspirational, The Modern Flower Painter - Creating Vibrant Botanical Portraits in Watercolour.
Both books would be a wonderful source of inspiration to any artist whether a beginner, or more experienced, Very Highly Recommended!
* My Creative Notebook *
This stunning book has a magnificent quality of reproduction. This matters, because Anna paints with considerable detail and many of the illustrations are, I think, slightly oversize, so that her brushstrokes are easily analysed. Anna's subject matter is flowers, fruit, leaves and birds and the core of the book are the very nicely presented demonstrations that show how colour and detail are built up. These are more analytical than some of the more brushstroke-by-brushstroke ones and should satisfy the needs of the more advanced worker at whom this is aimed. On top of this, the progression is by approach and method, so the demonstrations are not seen in isolation, but as part of a holistic treatment. This is a quite radically different book and it contains much to like.
-- Henry Malt * The Artist, September 2018 *
July 2018
Aimed predominantly at beginners or more experienced artists looking to try new techniques, Anna Mason's Watercolour World explores how to paint the natural world in watercolour, including fruit, birds and animals. From choosing your subject to the right composition techniques and good working practice, Anna guides you every step with plenty of advice and inspiring paintings. Detailed step-by-step projects are included, each accompanied by a traceable outline to get you started.
* The Leisure Painter *
This is, indeed, an absolute delight.
The basis of the book is a series of natural subjects: birds, animals, flowers, leaves and fruit and, in each of the demonstrations, Anna shows you how to build up colour and details in layers. An added feature is the oversize final illustration which allows you to see the brushwork in considerable detail; this is where the quality of reproduction really counts. Any unsharpness here would render the book useless.
This is one of Search Press's larger format offerings and they've made good use of the real estate by providing space on the pages and allowing quite a lot of white paper. The result is an overall feeling of lightness that's enhanced by the rather surprising number of pictures of the author painting in a sunlit garden. Are these absolutely necessary: unequivocally, no. Do they intrude or detract from the content: again, no. In fact, I think they actually add to the overall experience by providing a warmth and lightness and a sense of Anna's presence in the text.
The sense I get from the book is of a pleasant afternoon spent with a congenial companion and teacher. There are the demonstrations I've mentioned already, but also more general advice on technique, composition, form, structure and style - how naturalistic do you want to be?
In this respect, the book is absolutely sound and, although I've made quite a lot of the overall experience, the quality of the instruction, which is what ultimately matters, is of the best.
* Artbookreview.net *
Bring the outdoors indoors and brighten up even the grayest day by painting the natural world. Ms Mason's style is almost photographic in its detail, capturing the beauty and color of flora and fauna through the medium of watercolor. This lushly illustrated hardcover book gives in insight into how she works, and how to use her expertise to capture nature for yourself.
Ms Mason runs an online painting school, and reading this book is a bit like attending a class. This is due to her way of talking to the reader, describing how she goes about her work and imparting all kinds of useful tips. She starts by talking about her love of gardening and nature, and how soul refreshing it is. There are tips of using a camera, working from photographs and composing a good picture. All her lessons are accompanied by many examples so it is easy to understand what is being discussed. Discover this artist's own take on choosing materials, achieving realism, drawing and painting techniques and more. It is very much a personal look at her methods in one way, but they are methods that would work well for anybody trying to achieve a similar realistic look to their art.
Half the book is given to learning the basics of this style of painting and the other to the projects. There are only four of these but each one really goes into everything you need to know to produce the picture. You can work through all the stages, each of which has a photograph of the picture at that stage plus a description of what to do. Paint a blackberry, autumn leaf, sunflower head and a blue tit; the realistic style not only brings them to vibrant life but enables the painter to see their detail and beauty. At the back are traceable outlines which help those whose drawing skills are not of the best, but I would mostly recommend this book to somebody with a good working knowledge of painting. This is a gorgeously illustrated book with plenty of coffee table appeal while being a user friendly primer at the same time. Highly recommended.
-- Rachel Hyde * myshelf.com *
You may also be interested in...
×
Download the Waterstones App
Would you like to proceed to the App store to download the Waterstones App?
Reserve online, pay on collection


Thank you for your reservation
Your order is now being processed and we have sent a confirmation email to you at
When will my order be ready to collect?
Following the initial email, you will be contacted by the shop to confirm that your item is available for collection.
Call us on or send us an email at
Unfortunately there has been a problem with your order
Please try again or alternatively you can contact your chosen shop on or send us an email at