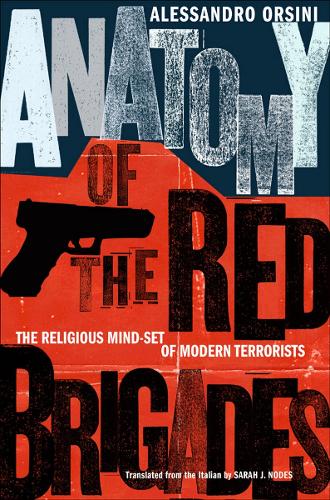 Hardback
296

Pages / Published: 25/03/2011
In stock online

Free UK delivery
The Red Brigades were a far-left terrorist group in Italy formed in 1970 and active all through the 1980s. Infamous around the world for a campaign of assassinations, kidnappings, and bank robberies intended as a "concentrated strike against the heart of the State," the Red Brigades' most notorious crime was the kidnapping and murder of Italy's former prime minister Aldo Moro in 1978. In the late 1990s, a new group of violent anticapitalist terrorists revived the name Red Brigades and killed a number of professors and government officials. Like their German counterparts in the Baader-Meinhof Group and today's violent political and religious extremists, the Red Brigades and their actions raise a host of questions about the motivations, ideologies, and mind-sets of people who commit horrific acts of violence in the name of a utopia.
In the first English edition of a book that has won critical acclaim and major prizes in Italy, Alessandro Orsini contends that the dominant logic of the Red Brigades was essentially eschatological, focused on purifying a corrupt world through violence. Only through revolutionary terror, Brigadists believed, could humanity be saved from the putrefying effects of capitalism and imperialism. Through a careful study of all existing documentation produced by the Red Brigades and of all existing scholarship on the Red Brigades, Orsini reconstructs a worldview that can be as seductive as it is horrifying. Orsini has devised a micro-sociological theory that allows him to reconstruct the group dynamics leading to political homicide in extreme-left and neonazi terrorist groups. This "subversive-revolutionary feedback theory" states that the willingness to mete out and suffer death depends, in the last analysis, on how far the terrorist has been incorporated into the revolutionary sect.
Orsini makes clear that this political-religious concept of historical development is central to understanding all such self-styled "purifiers of the world." From Thomas Muntzer's theocratic dream to Pol Pot's Cambodian revolution, all the violent "purifiers" of the world have a clear goal: to build a perfect society in which there will no longer be any sin and unhappiness and in which no opposition can be allowed to upset the universal harmony. Orsini's book reconstructs the origins and evolution of a revolutionary tradition brought into our own times by the Red Brigades.
Publisher: Cornell University Press
ISBN: 9780801449864
Number of pages: 296
Weight: 567 g
Dimensions: 235 x 156 x 27 mm
---
MEDIA REVIEWS
"Anatomy of the Red Brigades successfully fills a gap in the scholarship by looking at a religious mindset when examining a form of terrorism that is not intrinsically connected to religion."-Ryan Shaffer, Terrorism and Political Violence, Volume 25, Issue 2, 2013
"Are terrorists mad, bad, or a combination of the two? It takes a special sort of mind to prepare to kill large numbers of people on the basis of highly speculative political analysis. Orsini's remarkable book gets as close to any to understanding this sort of thinking."-Lawrence D. Freedman, Foreign Affairs (September/October 2011)
"Alessandro Orsini dissects and analyses the roots of the political ideology of the Red Brigades. Even in a context of academic study, his talent is that of describing everything with great clarity, producing an analysis executed in a plain language which avoids any erudite intellectualism. . . . The book has at least two further merits. The first is that of showing the killing power of Red Brigade ideology based on the dehumanization of the Red Brigades' political enemies, a process which occurs within a psychological power, an emotional force field, called 'the revolutionary sect.' The second is its timeliness. The book closes with a chapter devoted to the right-wing Black Brigades of the Seventies, but we are sure it can facilitate the understanding of terrorism as a cultural phenomenon even in its new modern forms, namely those that stretch their tragic and criminal reach into our daily lives."-Dante Notaristefano, President of the Italian Association of Victims of Terrorism
"This is a compelling and accessible book that would benefit both scholars and practitioners in the field of terrorism and political violence. The Red Brigades were one of the most important terrorist groups in modern history. Alessandro Orsini has made an enormous scholarly contribution that explains why. In this way, Orsini's study is not only an explication of the Red Brigades, their background and modus operandi, but is also an examination into the timeless nature of terrorism itself"-Perspectives on Politics
"The book will be relevant to scholars not just interested in collective violence, but scholars who are interested in the dogmatization process of terrorists groups, of political ideology, and support for dictators in the contemporary world. This is a uniquely organized book, and it is my assessment that scholars in the future will be comparing it with Christopher Browning's monograph on Nazi holocaust, Ordinary Men."-Mobilization
"Anatomy of the Red Brigades is a disturbing journey into the suffocating, obsessive psychology of the Red Brigades mind-set. This book is captivating in its accounts, rich in its analysis, and profoundly important as an outstanding analysis of one of the bloodiest terrorist groups of the twentieth century."-John Horgan, Director, International Center for the Study of Terrorism, Penn State University
"Anatomy of the Red Brigades provides a uniquely insightful and comprehensive account of one of history's most fascinating terrorist groups. Alessandro Orsini has written an important and original work that sheds new light on understanding the modern terrorist mind-set in general and the motivations of the Red Brigades specifically. His work thus makes a significant contribution to the literature on terrorists and terrorism."-Bruce Hoffman, Director, Center for Peace & Security Studies, Georgetown University, author of Inside Terrorism
"What if the terrorism that shook the Western world from the late 1960s to the mid-1980s were unconnected to the economic, political, and social conditions? It is this possibility that Alessandro Orsini examines in this extraordinarily well-researched and well-documented book. Orsini has discovered that the terrorist mind-set always exists just below the surface, is difficult to cope with, is difficult to change, is irrational, and is likely to resurface at any time under conditions we cannot predict."-Spencer DiScala, University of Massachusetts Boston
"Alessandro Orsini has presented us with a book of high scholarly distinction. Anatomy of the Red Brigades is a tour de force of intellectual history and a major attempt to explain both the Italian experience with terrorism and terrorism in general."-Journal of Cold War Studies (reviewing the Italian edition)
You may also be interested in...
Simply reserve online and pay at the counter when you collect. Available in shop from just two hours, subject to availability.
Thank you for your reservation
Your order is now being processed and we have sent a confirmation email to you at
When will my order be ready to collect?
Following the initial email, you will be contacted by the shop to confirm that your item is available for collection.
Call us on or send us an email at
Unfortunately there has been a problem with your order
Please try again or alternatively you can contact your chosen shop on or send us an email at