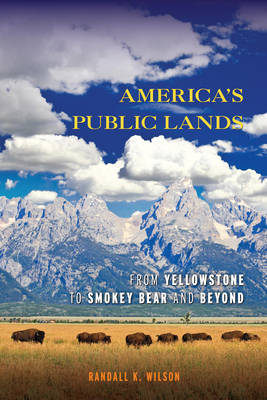 America's Public Lands: From Yellowstone to Smokey Bear and Beyond (Hardback)
Randall K. Wilson
(author)
Hardback
334

Pages / Published: 18/04/2014
How is it that the United States-the country that cherishes the ideal of private property more than any other in the world-has chosen to set aside nearly one-third of its territory as public lands? Considering this intriguing question, Randall K. Wilson traces the often-forgotten ideas of nature that have shaped the evolution of America's public land system. The result is a fresh and probing account of the most pressing policy and management challenges facing national parks, forests, rangelands, and wildlife refuges today. The author explores the dramatic story of the origins of the public domain, including the century-long push toward privatization and the subsequent emergence of a national conservation ideal. Arguing that we cannot fully understand one type of public land without understanding its relation to the rest of the system, he provides in-depth accounts of the different types of public lands. Including chapters on national parks, national forests, wildlife refuges, Bureau of Land Management lands, and wilderness areas, Wilson examines key turning points and major policy debates for each land type. He considers questions of bison and elk management and recent disputes over fire policy, roadless areas, mining claims, and grazing fees. This comprehensive overview offers a chance to rethink our relationship with America's public lands, including what it says about the way we relate to, and value, nature in the United States.
Publisher: Rowman & Littlefield
ISBN: 9781442207974
Number of pages: 334
Weight: 599 g
Dimensions: 239 x 163 x 24 mm
---
MEDIA REVIEWS
This book is a significant addition to the literature on US federal lands. Wilson organized the text around land management agencies rather than temporal order of land preservation action, taking a fresh look at differences in agency missions and public perceptions. The book works on multiple levels, blending individuals and landscapes. Part 1, in three chapters, reviews the history of the disposition of lands in the country. The cycle of land distribution and subsequent conservation actions is succinctly but richly presented. Present and future land use opportunities and challenges clearly have their origins in past decisions. Part 2, in six chapters, presents the national parks, forests, wildlife refuges, Bureau of Land Management (BLM) lands, and the National Wilderness Preservation System (of rivers and trails). The chapter on the BLM is an exceptional contribution to the public lands literature. A final chapter synthesizes the author's perspective on federal public lands. Extremely well researched, this is a treasure trove of facts and explanations that distills a huge literature of historical, scholarly, and popular origins. It is destined to be a highly cited classic in land management. Summing Up: Essential. All students, researchers/faculty, professionals/practitioners, and general readers. * CHOICE *
Essential reading for those interested in how Americans value nature and how they use their collectively owned lands. * Forest History Today *
Wilson offers a well-written, thoughtful, and ambitious synthesis of the story of America's public lands that (literally!) covers a great deal of ground clearly and concisely. In addition to providing a historical narrative of how the nation's public lands system came together, Wilson contextualizes the story more broadly, seeing how the various components of the system (the National Park Service, the Bureau of Land Management, etc.) reflect different notions of nature and economic development. He also offers a framework for examining current issues that involve public land policies and uses. Wilson's personal enthusiasm for America's public lands runs clearly throughout the book and his hope is that this overview will add to greater public and scholarly awareness of the system and the settings it protects. . . .The book should be required reading for North American historical geographers, historians of the American West and public lands, employees in a wide assortment of public agencies, and for anyone interested in why one-third of the United States looks the way it does. * Journal of Historical Geography *
America's Public Lands is a wonderful introductory book for those interested in federal land management practice and law. It contains enough detailed analysis of contemporary issues to engage those familiar with the subject while it is broad enough to give nascent readers to the field a fine single volume that encapsulates much of what has been argued on the subject over the last several decades.The book's most interesting premise is that public lands need to be addressed as one system and not a collection of fiefdoms divided by bureaucratic borders. Wilson's unifying concept is being advocated at the highest levels in Washington, D.C., and it was voiced by Secretary of Agriculture Tom Vilsack in his first policy speech on the national forests in Seattle in 2009. * The American Historian *
Effective. . . . Admirable. . . . By placing these public lands institutions in tension with one another, Wilson does something more than provide an up-to-date history and mission analysis of the agencies that oversee public lands; America's Public Lands, perhaps for the first time, combines these histories and contemporary contestations in a single text, situating each of the institutions within a larger ideology, discourse, and practice of conservation and intentional management. . . . Wilson envelops these conceptualizations into lived realities and practices, ultimately demonstrating how ideas turn into institutions that are dynamic, but also deeply rooted in their pasts. . . . The first text in nearly two decades . . . to treat the public land system as a coherent whole, part of a larger ideological and managerial project. In this regard, the text has no contemporaries, as it provides a single academic resource that revels in these lands' existence, but does so in a way that does not avoid the paradoxes, incongruities, struggles, and inequalities that help formulate their contemporary management. . . . Wilson's book offers readers a chance to reconsider our complex, multifaceted, and often ironic relationships with public lands in the United States. . . . Appropriate for a wide variety of academic and popular audiences. While scholars will find usefulness in having the text as an up-to-date reference point, it will provide a substantial contribution to undergraduate and postgraduate courses as well. Widely diverse courses in public land management, environmental planning, environmental policy, environmental politics, environmental history, environmental law, environmental social studies, wilderness, and the environmental humanities will find this text to be valuable. Wilson's book neatly and creatively packs a great deal of information and analyses into just over 300 pages. * Society & Natural Resources *
Randall Wilson's America's Public Lands provides a useful introduction to the history and politics of the vast array of federal land programs. . . .Wilson has fashioned a readable, well-informed volume that builds on existing scholarship (including his own research on collaborative management) to construct a framework for understanding the essentially contested nature of our public lands as the setting for both resource exploitation and natural preservation. . . .The book is well designed as an introductory text for courses on federal land policy or western environmental history. It offers a clear and inviting narrative, an extensive bibliography to guide student research, and a sophisticated analytical blend of institutional politics and cultural change. . . .Wilson's comprehensive view offers much to engage experts as well, showing the political and ideological underpinnings of land issues that span all these agencies. * Environmental History *
America's Public Lands: From Yellowstone to Smokey Bear and Beyond considers how it's come to be that a nation that cherishes the ideal of private property has methodically set aside nearly a third of its territory as public lands, and provides a history of the making of America's public land system. Chapters do more than chart the usual evolution of parklands and policies: they consider the origins of the idea of public domain and access, considering forces towards privatization and conservation and how they interacted to produce the parklands system we have today. Chapters cover national parks and forests, wildlife refuges, and wilderness areas and provide discussions surrounding policy debates and establishment processes for many of country's top wildlife areas, making this a far more wide-ranging survey than the usual parklands history approach, and a highly recommended pick for any who would understand the bigger picture involved in parklands creation, history, and management. * Midwest Book Review *
Wilson provides a complete history, from colonial times, of what it took to build the national commons.... He tells a compelling and disturbing story of hunger, greed, and hubris in the history of land acquisition in the United States and in the disposition of these lands into private hands. * Public Administration Review *
Randall Wilson's America's Public Lands: From Yellowstone to Smokey Bear and Beyond is an exemplary work on the history of United States' public lands and national park systems.... America's Public Lands is clear and concise, and gives a thorough but succinct overview of the public lands system..... Winner of the 2014 John Brinkerhoff Jackson Prize by the American Association of Geographers, the book wonderfully displays the successes, failures, and controversies surrounding the park system and other public lands. It is a gift to the historical geographical community as the National Park Service enters its second century. It gives an insightful overview of historic viewpoints toward nature that allows readers to question the way they see public lands and the way they value these areas in the twenty-first century. * Historical Geography *
Unprecedented in scope and depth, this important work traces the American public lands system to its origins and in the process challenges the ways we think about our vast heritage. Meticulously researched and artfully written, the book is essential reading for anyone interested in the 650 million acres of federally managed lands in the United States. -- Howard R. Ernst, United States Naval Academy
At long last! A single-volume history of America's public lands that celebrates the miracle of their existence but never shies away from the messy contradictions, conflicts, and injustice that make up their history. This is the plain-language, people's political ecology of our treasured landscapes. -- Paul Robbins, University of Wisconsin-Madison
This book is a treasure for those looking for a thoughtful and efficient introduction to the history of our nation's public lands. Wilson successfully captures the drama of this still-unfolding story and challenges us to engage with the incredible legacy that public lands represent as well as the innate difficulties that come along with managing and protecting these areas. -- Neil Kornze
You may also be interested in...
Simply reserve online and pay at the counter when you collect. Available in shop from just two hours, subject to availability.
Thank you for your reservation
Your order is now being processed and we have sent a confirmation email to you at
When will my order be ready to collect?
Following the initial email, you will be contacted by the shop to confirm that your item is available for collection.
Call us on or send us an email at
Unfortunately there has been a problem with your order
Please try again or alternatively you can contact your chosen shop on or send us an email at