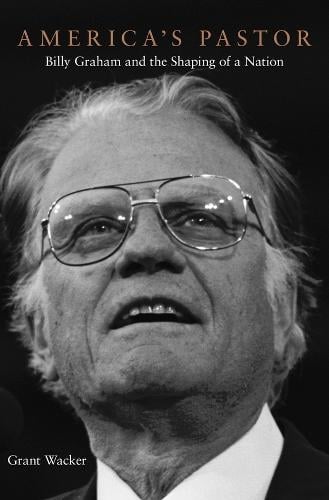 America's Pastor: Billy Graham and the Shaping of a Nation (Hardback)
Grant A. Wacker
(author)
Hardback
296

Pages / Published: 04/11/2014
During a career spanning sixty years, the Reverend Billy Graham's resonant voice and chiseled profile entered the living rooms of millions of Americans with a message that called for personal transformation through God's grace. How did a lanky farm kid from North Carolina become an evangelist hailed by the media as "America's pastor"? Why did listeners young and old pour out their grief and loneliness in letters to a man they knew only through televised "Crusades" in faraway places like Madison Square Garden? More than a conventional biography, Grant Wacker's interpretive study deepens our understanding of why Billy Graham has mattered so much to so many.
Beginning with tent revivals in the 1940s, Graham transformed his born-again theology into a moral vocabulary capturing the fears and aspirations of average Americans. He possessed an uncanny ability to appropriate trends in the wider culture and engaged boldly with the most significant developments of his time, from communism and nuclear threat to poverty and civil rights. The enduring meaning of his career, in Wacker's analysis, lies at the intersection of Graham's own creative agency and the forces shaping modern America.
Wacker paints a richly textured portrait: a self-deprecating servant of God and self-promoting media mogul, a simple family man and confidant of presidents, a plainspoken preacher and the "Protestant pope." America's Pastor reveals how this Southern fundamentalist grew, fitfully, into a capacious figure at the center of spiritual life for millions of Christians around the world.
Publisher: Harvard University Press
ISBN: 9780674052185
Number of pages: 296
Weight: 816 g
Dimensions: 241 x 168 x 38 mm
---
MEDIA REVIEWS
Grant Wacker brings his incomparable historical skills to illuminate an icon of American Protestant life. His treatment is at once deeply humane and extraordinarily learned, and he examines Graham's foundational status with a breathtaking range and savvy. In these pages we come to know Graham, but more importantly, we gain profound insight into the broadest contours of U.S. religious life in the last half of the twentieth century.--Laurie Maffly-Kipp, author of Setting Down the Sacred Past: African-American Race Histories
Wacker's engaging, comprehensive, and sympathetic (although not uncritical) study of Graham's multifaceted career is an admirable introduction both to Graham and to the evangelical movement he worked so hard to build.--Walter Russel Mead"Foreign Affairs" (01/01/2015)
Wacker's style is clear and engaging, and Graham's story has plenty to recommend it...What makes Wacker's book not just readable but engrossing, however, is what it reveals about American evangelicalism. Many of evangelicalism's most salient characteristics seem to inhere in the person and career of Billy Graham.--Barton Swaim"Wall Street Journal" (12/19/2014)
Wacker, who admires Graham, though not uncritically so, examines the evolution that took place from the hell fire and brimstone preacher three-quarters of a century ago to the polished international communicator, renowned throughout the world...This book is an honest appraisal of the man himself and the organization of which he was a part. It's thoroughly researched and worth reading.--Paul Hulme"Methodist Recorder" (01/16/2015)
It is required reading for anyone seriously interested in evangelicalism, 20th century American history, or the sociology of religion...For a thematic view of how Graham affected (and was affected by) American culture, Wacker's book is unparalleled. And if you're one of the many evangelicals under 40 who are only vaguely aware of how Graham shaped your world, you need this book.--Ted Olsen"Christianity Today" (02/06/2015)
Beautifully written...[and] the best general study of the Billy Graham Phenomenon...America's Pastor charts a parallel evolution in Graham's social and political career, and with a parallel ideological structure.--Mark Knoll"Books & Culture" (03/01/2015)
Wacker has spent the better part of his career observing the battle over Graham's legacy. His biography America's Pastor is an exhaustive and judicious effort to settle this cultural obsession with Graham and assess his influence. Other scholars have written doorstop-size narrative accounts of Graham's life, tracing events from his childhood on a North Carolina dairy farm through his massive revival campaigns and frequent visits to the White House. Wacker has produced a different kind of book. He has, it appears, read every work of scholarship about Graham, from the mightiest bestseller to the lowliest unpublished doctoral thesis. He has combed through a mountain of archival sources. The result is not a conventional biography, but a series of interpretive essays that evaluate Graham's various roles in twentieth-century America, from 'Preacher' and 'Entrepreneur' to 'Southerner' and evangelical 'Patriarch.' The result is the most comprehensive and balanced analysis of Billy Graham ever published.--Molly Worthen"The Nation" (02/23/2015)
Wacker examines not so much what Graham did as how he did it--a matter of manners and management as much as of vision and talent... Wacker's procedure allows appreciation of how Graham affected the image of the modern southerner (he desegregated his crusades in 1954); helped shape the new evangelicalism out of fundamentalist, Pentecostal, and the older evangelical churches; and much more, primarily through embodying at their best the middle-class American culture and mores in which he was raised. Wacker doesn't shrink, however, from showing how Graham's fascination with presidential politics led him astray repeatedly while allowing that he was a genuine spiritual counselor to the presidents--Lyndon Johnson, in particular. If a great subject deserves a great book, Billy Graham has one.--Ray Olson"Booklist (starred review)" (10/15/2014)
Wacker's analysis situates the salient elements of Graham's remarkable success and longevity in the chaotic American social and religious consciousness of the 20th century...In the intersection of ego and message, Wacker excels at examining Graham's complex public/private persona...A valuable look at the pastor of 20th-century American religious consciousness.--Sandra Collins"Library Journal" (11/01/2014)
A striking and authoritative account of one of the most influential Americans of recent times. Wacker writes gracefully and offers a fund of astute insights. By exploring Graham's background, his character, his beliefs, and his work, he reveals how Graham could move so comfortably among the powerful and at the same time always be able to speak effectively to so many ordinary people. Both Graham's admirers and his critics will come away from America's Pastor with a fresh appreciation of the man and his world.--George M. Marsden, author of The Twilight of the American Enlightenment: The 1950s and the Crisis of Liberal Belief
Grant Wacker has given us a superb--and richly detailed--portrait of Billy Graham, presented in the context of a solid cultural and historical analysis of the era in which Graham served as the kind of religious leader we are not likely to see again. And all of this from a marvelous storyteller. Wacker's deeply moving epilogue can stand alone as a model of inspiring prose!--Richard J. Mouw, Professor of Faith and Public Life and former President, Fuller Theological Seminary
America's Pastor is a masterful study of the life and influence of Billy Graham. With power and grace, Grant Wacker explains who Graham was, how his message and organization developed, and why he came to exercise such extraordinary influence in America. It is the most incisive--and accessible--study of Billy Graham that has been written.--Nathan O. Hatch, President, Wake Forest University
America's Pastor: Billy Graham and the Shaping of a Nation is a timely cultural biography. One of the world authorities on the subject of American Evangelicalism, Wacker makes a strong claim for Graham's historical importance.--Jon M. Sweeney"The Tablet" (11/01/2014)
[Wacker's] writing is accessible and vivid. And he takes a great deal of care in fleshing out the nuances of Graham's life and sketching the ways Graham emerged out of the fundamentalist movement and came to reshape the contours of American evangelicalism to the degree that he became a spokesperson for an American Protestantism committed to Jesus but tolerant and peaceful toward others. Neither do Wacker's insights overlook criticism of Graham, especially in the area of race...Wacker doesn't sugarcoat Graham's shortcomings, but this is, for the most part, a sympathetic portrayal of a preacher who helped a subgroup of devout Christians move from the sidelines to the center.--Yonat Shimron"News & Observer" (11/09/2014)
Unlike many accounts of Billy Graham's life and ministry, Grant Wacker's America's Pastor: Billy Graham and the Shaping of a Nation does not construct a heroic fable, nor does he deconstruct the evangelist as a lumbering proselytizer...Wacker's analysis of Graham's strengths and weaknesses is thorough and fair...An iconic life that America's Pastor captures so well.--Robert L. Kehoe III"First Things" (02/01/2015)
The work of a church historian in his best form, this masterpiece presents a fine-grained study of America's best-known preacher and his role in the shaping of mainstream Evangelicalism in the mid-20th century...Wacker's close study gives readers a glimpse of Graham's complexity, including the paradoxes that made him both beloved and controversial.--B. W. Hamilton"Choice" (04/01/2015)
Wacker's examination of Graham's place in U.S. politics and culture forms one of the most interesting, and at times surprising, aspects of his book...There is much in the book that even a reader with only a passing interest in modern religion will find interesting.--David Woolner"Irish Times" (05/23/2015)
[Wacker] adds to the voluminous Graham literature with a scholarly yet captivating narrative that situates Graham alongside King and John Paul II as the men most responsible under God for shaping our current spiritual climate, especially in the United States.--Collin Hansen"The Gospel Coalition" (11/17/2014)
Billy Graham has finally gotten the book he deserves. Written by one of the finest American religious historians of our time, this book is as captivating as Graham himself: eloquent, incisive, witty, and empathetic. I couldn't put it down.--Catherine A. Brekus, author of Sarah Osborn's World: The Rise of Evangelical Christianity in Early America
You may also be interested in...
Simply reserve online and pay at the counter when you collect. Available in shop from just two hours, subject to availability.
Thank you for your reservation
Your order is now being processed and we have sent a confirmation email to you at
When will my order be ready to collect?
Following the initial email, you will be contacted by the shop to confirm that your item is available for collection.
Call us on or send us an email at
Unfortunately there has been a problem with your order
Please try again or alternatively you can contact your chosen shop on or send us an email at