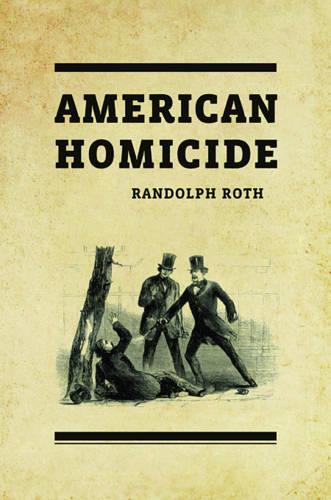 Paperback
672

Pages / Published: 05/03/2012
In American Homicide, Randolph Roth charts changes in the character and incidence of homicide in the U.S. from colonial times to the present. Roth argues that the United States is distinctive in its level of violence among unrelated adults-friends, acquaintances, and strangers. America was extraordinarily homicidal in the mid-seventeenth century, but it became relatively non-homicidal by the mid-eighteenth century, even in the slave South; and by the early nineteenth century, rates in the North and the mountain South were extremely low. But the homicide rate rose substantially among unrelated adults in the slave South after the American Revolution; and it skyrocketed across the United States from the late 1840s through the mid-1870s, while rates in most other Western nations held steady or fell. That surge-and all subsequent increases in the homicide rate-correlated closely with four distinct phenomena: political instability; a loss of government legitimacy; a loss of fellow-feeling among members of society caused by racial, religious, or political antagonism; and a loss of faith in the social hierarchy. Those four factors, Roth argues, best explain why homicide rates have gone up and down in the United States and in other Western nations over the past four centuries, and why the United States is today the most homicidal affluent nation.
Publisher: Harvard University Press
ISBN: 9780674064119
Number of pages: 672
Weight: 666 g
Dimensions: 229 x 147 x 15 mm
---
MEDIA REVIEWS
Randolph Roth's American Homicide should take its place as the definitive study in its field. -- Roger Lane, author of Murder in America: A History
[Roth] distills his argument into several key statistics, all of which hinge upon the fact that Americans are murdered more frequently than citizens in any other first world democracy: U.S. homicide rates are between six and nine per 100,000 people. Roth refutes popular theories about why this is so (e.g., poverty, drugs) and lays out an alternate hypothesis: "increases in homicide rates" correlate with changes in people's feelings about government and society, such as whether they trust government and its officials and their sense of kinship with fellow citizens. Roth examines homicides by historical period, race and region, especially significant when comparing the ante- and postbellum North and South--turmoil and divisiveness in the South led to an explosion of murder in some areas during the war that continued during Reconstruction...Those wanting to learn what history can teach us about this most primal act of aggression will find Roth's analysis fascinating. * Publishers Weekly *
Roth meticulously mines not only court records but also newspaper accounts, vital records, and attitudes expressed in diaries and letters, concluding that killings "are not determined by proximate causes such as poverty, drugs, unemployment, alcohol, race, or ethnicity, but by factors...like the feelings that people have toward their government, the degree to which they identify with members of their own communities, and the opportunities they have to earn respect without resorting to violence." This nuanced treatise regards social factors as correlative or coincidental rather than causative, seeing alienation and a deep absence of belief in governmental legitimacy as signifiers of violent actions. -- Frederick J. Augustyn Jr. * Library Journal *
American Homicide offers a vast investigation of murder, in the aggregate, and over time. Roth's argument is profoundly unsettling...As a discussion of the available data, American Homicide is rich, fascinating, and unrivalled. -- Jill Lepore * New Yorker *
In American Homicide, Randolph Roth traces the history of our murdering ways through the lens of our feelings about those in power...Roth argues that how we see ourselves in relation to our government--fringe movement or ruling party, patronized or disenfranchised--is at the heart of many decisions to take another life...If an individual feels secure in his social standing, it's easier to get over life's disappointments. But for a person who feels alienated from the American Dream, the tiniest offense can provoke a murderous rage... Looking at the fluctuating homicide rate at various times in our history, Roth tracks the historical consequences of shifting power. After the Revolutionary War, murder rates soared as the newly formed U.S. struggled to absorb British loyalists. The end of the Civil War didn't relieve the bitterness many Southerners felt toward the government and it shows in the precipitous rise in homicides in the rural South. On a positive note, Roth credits FDR for falling murder rates in the 1930s as Roosevelt's New Deal "increased Americans' faith in the country, their leadership, and one another."...Roth's book also offers a warning about our volatile political rhetoric. Words can have real-life, even violent, consequences. American Homicide is a vivid reminder that politics isn't just about winning-it's also about how you treat those who lose. -- Raina Kelley * Newsweek *
Randolph Roth's American Homicide presents a working hypothesis about why America is the most murderous of all the so-called First World nations. Roth's conclusions are profound and disturbing. -- Richard Rayner * Los Angeles Times *
American Homicide by Randolph Roth is a wonky, meticulously researched, fascinating survey of murder in America and why we've become the bloodiest wealthy nation on earth. Roth begins in the colonial period, then walks us through American history as he documents, analyzes, and hypothesizes about the evolving reasons why, how, and how often we kill one another. He looks at regional and chronological variances in the homicide rate, as well the differences between murders where killer and victim know one another versus when the two are strangers. Roth concludes from his research that four factors contribute to fluctuations in the murder rate in America: political instability; loss of government legitimacy; loss of a feeling of belonging among outcast or historically oppressed groups; and loss of faith in the social hierarchy. Crudely summarized, when Americans believe we're being governed wisely, fairly, equally, and legitimately, we're peaceful and productive. But when government misbehaves, the citizenry does too. -- Radley Balko * Reason *
In American Homicide, Randolph Roth offers an intriguing hypothesis to explain the country's homicide rates: Murder isn't personal; it's political. Drawing on the work of criminologist Gary LaFree, who argues that, in the 20th century, the crime rate increased when people reported greater distrust in government and other social institutions, Roth looks back through American history and locates a similar force at work over the previous century-and-a-half. According to Roth, homicide rates among unrelated adults are not determined by proximate causes such as poverty, drugs, unemployment, alcohol, race, or ethnicity. Nor are they influenced by stricter prison sentences or other tough-on-crime measures...With few exceptions during the 20th century, ours has remained the most murderous democracy in the world...In the end, whether or not we embrace Roth's thesis as definitive, his provocative and wide-ranging history persuasively argues for the benefits of a less divisive and polarized political culture. After all, if Roth is right, it just might be killing us. -- Christine Rosen * Weekly Standard *
A groundbreaking book...that offers something like a unified theory of why Americans kill each other at such a high rate and what can be done about it. -- Gregory Rodriguez * Los Angeles Times *
[A] magisterial analysis of the history of homicide in America...The heart of Roth's concern is to explain both the historical fluctuations that he so meticulously charts, and America's comparative exceptionalism in regard to murder. He stresses the enormous gulf in U.S. homicide rates compared with other affluent democracies...His book is a major achievement in charting the long-term patterns in American homicide, and broadly relating them to variations in political economy and culture. -- Robert Reiner * Times Literary Supplement *
You may also be interested in...
×
Download the Waterstones App
Would you like to proceed to the App store to download the Waterstones App?
In lockdown areas: reserve online, pay by phone. Collection available in most shops.
For shops outside of these areas: reserve online, pay on collection.
Or,
add to basket
, pay online, collect in as little as 2 hours, subject to availability.
Thank you for your reservation
Your order is now being processed and we have sent a confirmation email to you at
When will my order be ready to collect?
Following the initial email, you will be contacted by the shop to confirm that your item is available for collection.
Call us on or send us an email at
Unfortunately there has been a problem with your order
Please try again or alternatively you can contact your chosen shop on or send us an email at