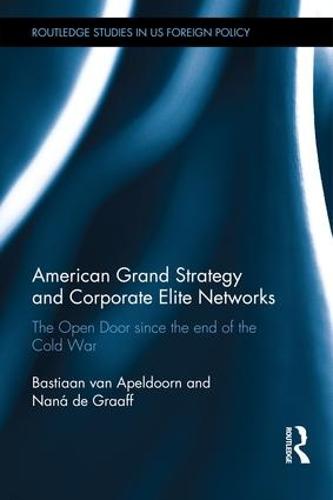 Hardback
318

Pages / Published: 28/10/2015
This book presents a novel analysis of how US grand strategy has evolved from the end of the Cold War to the present, offering an integrated analysis of both continuity and change. The post-Cold War American grand strategy has continued to be oriented to securing an `open door' to US capital around the globe. This book will show that the three different administrations that have been in office in the post-Cold War era have pursued this goal with varying means: from Clinton's promotion of neoliberal globalization to Bush's `war on terror' and Obama's search to maintain US primacy in the face of a declining economy and a rising Asia.
In seeking to make sense of both these strong continuities and these significant variations the book takes as its point of departure the social sources of grand strategy (making), with the aim to relate state (public) power to social (private) power. While developing its own theoretical framework to make sense of the evolution of US grand strategy, it offers a rich and rigorous empirical analysis based on extensive primary data that have been collected over the past years. It draws on a unique data-set that consists of extensive biographical data of 30 cabinet members and other senior foreign policy officials of each of the past three administrations of Clinton, G.W. Bush and Obama.
This book is of great use to specialists in International Relations - within International Political Economy, International Security and Foreign Policy Analysis, as well as students of US Politics.
Publisher: Taylor & Francis Ltd
ISBN: 9780415844987
Number of pages: 318
Weight: 612 g
Dimensions: 235 x 159 x 21 mm
---
MEDIA REVIEWS
'Anyone wanting to understand the fundamental drivers of U.S. grand strategy needs to read this superb, path-breaking book. Extending and deepening the "Open Door" approach to explaining American policy, van Apeldoorn and de Graaff make a compelling Innenpoltik argument. They have brought the role of social forces back into the discussion of the sources of grand strategy, and their argument is graphically supported by their use of Social Network Analysis to show the interconnections between policymakers and U.S. corporate and financial elites. American Grand Strategy and Corporate Elite Networks is a "must read" for serious students of U.S. grand strategy.' - Christopher Layne, University Distinguished Professor of International Affairs, Texas A & M University, USA
'In this bold and original work van Apeldoorn and de Graaff investigate the social sources of elite policy coordination and contestation over American grand strategy. These elites flit between between the transnational corporate sector and top-ranking national policy positions, shaping and reinforcing policy networks on the way. Van Apeldoorn and de Graaff detail how corporate elites have actively sought to influence US foreign economic policy, particularly through an Open Door strategy. This strategy has relied on elite networks to turn regulatory and trade barriers in East Asia, Europe, and North America into open doors for American capitalism. Using an astute combination of Social Network Analysis and prosopography, this fine study makes a serious advance in political economy and should be read all those interested in the nuts and bolts beneath the larger machinery of contemporary capitalism.' - Leonard Seabrooke, Professor of International Political Economy and Economic Sociology, Copenhagen Business School, Denmark
'Probing the social sources of American Grand Strategy with sophisticated network- and discourse-analytic methods, Van Apeldoorn and de Graaf make a major contribution to our understanding of international relations, the policy-planning process and the role of corporate elites as embedded agents within state-society relations. Their critical political-economy analysis unpacks the origins and trajectory of the US's unique project of the global Open Door, deftly highlighting both change within continuity across three post-Cold War administrations. Accessible, meticulously researched and persuasive, this book sets a new standard for research in International Relations and global political economy.' - William K. Carroll, Professor of Sociology, University of Victoria, Canada
'This is an outstanding, ground-breaking study that puts elite studies back on the agenda. But it goes far further than rehashing C Wright Mills's The Power Elite or William Domhoff's Who Rules America. The study establishes the objective and subjective significance of elites in American society, politics and foreign policy, and then even more significantly, shows through key decisions taken by administrations from Clinton to Obama how elites set the agenda for post-Cold war American grand strategy. This is a remarkable book that will become required reading for political scientists, area studies and IR specialists.' - Inderjeet Parmar, Professor in International Politics. City University London
'Tracing the often small tactical divergences in various post-War US administrations, this critical analysis roots US international order making to its broader Grand Strategy of rendering the global economy an 'Open Door' to US interests. In so doing its builds a nuanced theoretical understanding of the close interrelationship between US national security interests and the global political economy, and will become required reading for scholars in US foreign policy and security studies.'
- Doug Stokes, Professor of International Security at the University of Exeter, UK
'There is a sizeable literature on corporate interlocks and network analysis of links between business and private organizations, just as there exists an interminable flow of foreign policy analysis and advice in the form of book-length interventions, memoirs, or otherwise. This book breaks new ground by bridging the two lineages which at this level of detailed investigation has not been attempted so far. The authors have combined their remarkable talents and experience to offer the reader a treasure trove of detailed information on the many interconnections between the business and foreign policy-making arenas in the United States that casts new light on the continuities and shifts between successive administrations after the Cold War. By its theoretical depth, scholarly erudition, and extensive, fine-grained data analysis this will be a key reference work for many years to come.' - Kees van der Pijl, Professor emeritus, School of Global Studies, University of Sussex, UK
You may also be interested in...
Simply reserve online and pay at the counter when you collect. Available in shop from just two hours, subject to availability.
Thank you for your reservation
Your order is now being processed and we have sent a confirmation email to you at
When will my order be ready to collect?
Following the initial email, you will be contacted by the shop to confirm that your item is available for collection.
Call us on or send us an email at
Unfortunately there has been a problem with your order
Please try again or alternatively you can contact your chosen shop on or send us an email at