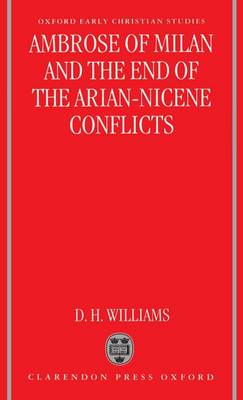 Ambrose of Milan and the End of the Arian-Nicene Conflicts - Oxford Early Christian Studies (Hardback)
Daniel H. Williams
(author)
Hardback
270

Pages / Published: 04/05/1995
This is a new and provocative study re-evaluating the history of the struggle between orthodoxy and heresy in the early church. Dr Williams argues that the traditional picture of Nicene ascendancy in the western church from 350 - 381 is substantially misleading, and in particular that the conventional portrait of Ambrose of Milan as one who rapidly and easily overpowered his "Arian" opponents is a fictional product derived from idealized accounts of the fifth century. Sources illustrating the struggle between the orthodox pro-Nicenes and "Arians" or Homoians, in the fourth century reveal that Latin "Arianism" was not the lifeless and theologically alien system that historians of the last century would have us believe. Dr Williams shows that the majority of churches in the West had little practical use for the Nicene creed until the end of the 350s - over twenty five years after it was first issued under Constantine - and that the ultimate triumph of the Nicene faith was not as inevitable as it has been assumed. Ambrose himself was seriously harrassed by sustained attacks from "Arians" in Milan for the first decade of his episcopate, and his early career demonstrates the severity of the religious conflict which embroiled the western churches,especially in North Italy. Only after an intense and uncertain decade did Ambrose finally prevail in Milan once the Nicene form of faith was embraced by the Roman empire through imperial legislation and "Arianism" was outlawed as heresy. This is an innovative and challenging book full of illumination new insights on the social, political, and theological entanglements ofthe early church.
Publisher: Oxford University Press
ISBN: 9780198264644
Number of pages: 270
Weight: 476 g
Dimensions: 223 x 143 x 21 mm
---
MEDIA REVIEWS
This new study ... makes a lively and challenging contribution to the literature on reception, as well as to our understanding of the events it describes. * Church Times *
There are patterns and paradigms here which are instructive for struggles of our own time. * Church Times *
The conclusions Williams has drawn emerge from an extremely detailed and careful reconstruction of the religious situation in Milan and of Ambrose's episcopate. It is impossible to exaggerate the difficulties involved in such a reconstruction...Prof. Williams's book repays careful study and reminds us of the simple reality that in the history of the church theology and politics cannot be severed. * Anglican Theological Review *
complex and challenging study...the author's coverage of the subject is thorough, nicely organised, and well written...anyone interested in late Roman western religion, theological issues, and Ambrosian Milan will find it an important and even compelling study * The Historian *
complex and challenging study...The author's coverage of the subject is thorough, nicely organized, and well written...Not all readers will thrill to this work; yet, anyone interested in late Roman western religion, theological issues, and Ambrosian Milan will find it an important and even compelling study. * The Historian *
It is a measure of William's achievement that on completing this book, one wonders how the generally accepted scholarly consensus on this matter could ever have been so misguided and simplistic. Williams has not only blown the dust off this concensus, he has completely overturned it. He is not only sensitive to, but prepared to confront and tackle, the complexities of fourth-century ideology, its councils and creed, imperial edicts and the changing role of its bishops. * The Expository Times *
Williams's work ... will be warmly by professional historians and graduate students interested in early church history ... His scholarship is broad and deep. Williams's Ambrose is in no sense a biography of Ambrose. It is alone in English as a critical historical account of the Ambrose-Homoian conflict in Milan. * E. Robert Geehan, United States Military Academy, History. Spring 1996 *
complex and challenging study ... The author's coverage of the subject is thorough, nicely organized, and well written. Williams does a great deal to rediscover the "historical Ambrose" by thoroughly examining such matters as his episcopal election, his dismissal of a Homoian priest, and his leadership of the difficult and counter-productive Council of Aquileia ... anyone interested in late Roman western religion, theological issues, and Ambrosian Milan will find it an important and even compelling study. * Jan T. Hallenbeck, Ohio Wesleyan University, The Historian *
enormous accomplishment * Michel Rene Barnes, Marquette University, Journal of Religion, April 1997 *
a succinct and well-reasoned account of the rise and fall of "Arianism" ... W. has presented a well-researched and convincing thesis ... W's study should prove fundamental to any future discussion of Western Arianism and Ambrose of Milan's role in the establishment of Nicene orthodoxy. * David G Hunter, Theological Studies *
What Williams has given us is a great struggle between gradually awakening and deeply loyal theological traditions and not the older "triumph-over-all-comers" of the Nicene faith. * Dennis E. Groh, Illinois Wesleyan University, Religious Studies Review, Volume 23, Number 1/January 1997 *
The thesis is bold and powerfully stated, and is entirely successful in its criticism of easy assumptions about an inevitable 'triumph of orthodoxy', and of the traditional hagiographical portrait of Ambrose. Williams's sympathetic reconstruction of a Milanese homoean community is ... one of his most signficant contributions, and even those unconvinced by his conclusions will find them invigorating. That Williams ultimately poses more questions than he answers does not detract from his achievement. He has amply succeeded in his declared intention of rescuing Ambrose from the hagiographers, and the western homoeans from their vituperators. By providing Ambrose with such worthy opponents, moreover, he allows us to appreciate the bishop's achievement in surviving. * Neil McLynn, The Journal of Theological Studies, Vol. 48, No. 1, Apr '97 *
Williams offers a compelling interpretation of the theological struggles of the late fourth century, and their relation to the political realities of the era,,,Williams shows a profound knowledge of the relevant texts of the period. * Church History *
His book makes an important contribution. He has reminded us that if we are to appreciate Ambrose in full, we must take full account of the theological and spiritual passions which motivated his soul. * Mark Humphries, NUI Maynooth, Hermathena *
You may also be interested in...
Simply reserve online and pay at the counter when you collect. Available in shop from just two hours, subject to availability.
Thank you for your reservation
Your order is now being processed and we have sent a confirmation email to you at
When will my order be ready to collect?
Following the initial email, you will be contacted by the shop to confirm that your item is available for collection.
Call us on or send us an email at
Unfortunately there has been a problem with your order
Please try again or alternatively you can contact your chosen shop on or send us an email at