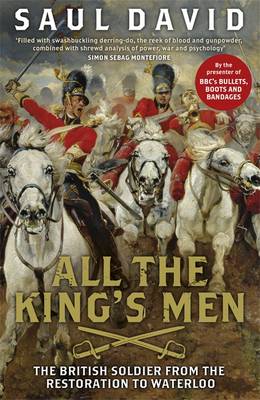 Hardback
Published: 02/02/2012
Saul David's "All The King's Men" is a thrilling history of the British Redcoat from the English Civil War to Waterloo. From the Restoration of Charles II in 1660 to the Downfall of Napoleon in 1815, Britain won a series of major wars against France that enabled her to lay the foundations of a global empire. By Waterloo, she was the paramount maritime and industrial power in the world, and would remain so for much of the nineteenth century. This is the story of that extraordinary century and a half of martial success and the people who made it possible: the soldier-kings William III and the first two Georges; the generals Marlborough, Wolfe, Moore and Wellington; and the ordinary British redcoats who - despite harsh service conditions that included low pay, poor housing, inadequate food and brutal discipline - rarely let their commanders down in battles as far afield as Blenheim, Plassey, Quebec and Waterloo. "Filled with swashbuckling derring-do, the reek of blood and gunpowder, combined with shrewd analysis of power, war and psychology". (Simon Sebag Montefiore). "An extraordinary story, packed with drama, incident and great characters...Combines a clear and powerful narrative with shrewd judgements, illuminating vignettes and fresh and telling detail. .."All The King's Men" is all you could hope for...Quite an achievement". (Patrick Bishop, "Country Life"). Saul David is Professor of War Studies at the University of Buckingham and the author of several critically acclaimed history books, including "The Indian Mutiny: 1857" (shortlisted for the Westminster Medal for Military Literature), "Zulu: The Heroism and Tragedy of the Zulu War of 1879" (a Waterstone's Military History Book of the Year) and, most recently, "Victoria's Wars: The Rise of Empire".
Publisher: Penguin Books Ltd
ISBN: 9780670916634
You may also be interested in...
We would love to hear what you think of Waterstones. Why not review Waterstones on Trustpilot?