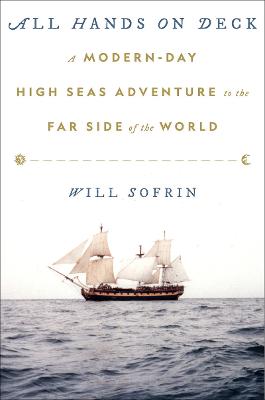 All Hands on Deck: A Modern-Day High Seas Adventure to the Far Side of the World (Hardback)
Will Sofrin
(author)
Hardback
Published: 25/05/2023
A maritime adventure memoir that follows a crew of misfits hired to sail an 18th-century warship 5,000 miles to HollywoodIn the late 1990s, Patrick O'Brian's multimillion-copy-selling historical novel series—the Aubrey–Maturin series, which was set during the Napoleonic Wars—seemed destined for film. With Russell Crowe as Jack Aubrey and Paul Bettany as Stephen Maturin, the production only needed a ship that could stand in for Lucky Jack's HMS Surprise, with historical accuracy paramount. The filmmakers found the Rose, a replica of an 18th-century ship that would work perfectly. Only there was one problem: the Rose was in Newport, Rhode Island, not in Southern California, where they would be filming. Enter a ragtag crew of thirty oddballs who stepped up for the task, including Will Sofrin, at the time a 21-year-old wooden-boat builder and yacht racer, who joined as the ship's carpenter.All Hands on Deck is Sofrin's memoir of the epic adventure delivering the Rose to Hollywood. It's a story of reinvention, of hard work on the high seas, of love, and of survival. The Rose was an example of the most cutting-edge technology of her era, but in the 21st century, barely anyone had experience sailing it. The crew effectively went back in time, brought to life the old ways of a forgotten world, and barely lived to tell the tale. Just a few days in, a terrifying hurricane-strength storm nearly sank the Rose, and later, a rogue wave caused a nearly fatal dismasting. And the ups and downs weren't limited to the waves—with the crew split into factions, making peace between warring camps became necessary, too, as did avoiding pirates and braving the temptations of shore leave. All Hands on Deck is a gripping story of an unforgettable journey and a must-read for fans who adore O'Brian's novels and the dramatic film adaptation of Master and Commander.
Publisher: Abrams
ISBN: 9781419767067
Dimensions: 229 x 152 mm
---
MEDIA REVIEWS
"Fact stalks fiction in this epic tale. Huzzah!" "High-spirited and finely detailed . . . Sofrin intersperses details of life aboard the Rose with tidbits of tall ship history and enlightening commentary on Patrick O'Brian's Aubrey-Maturin novels . . . this adventure tale will delight sailors of all stripes." "Enthralling . . . Experienced sailors and landlubbers alike will find Sofrin's work a pleasure to read." "Sofrin spares little detail, making all the issues of sailing and shipbuilding much less intimidating through carefully rendered diagrams, with all parts of the ship's superstructure and complex rigging meticulously labeled. Fans of the movie and serious sailors will revel in Sofrin's tale." "A tale worthy of Patrick O'Brian himself … All Hands on Deck is a vivid reminder not only of how far the sailing world has come, but also of how much we still share with the Jack Tars who came before us." "All Hands on Deck...offers a special, tightly packaged vignette exploring the serendipity of this brief but compelling career as a shipwright and deckhand." "A thrilling account. Readers needn't have ever set foot on a boat to enjoy this story." "Will Sofrin takes us on an unbelievable ride on the high seas . . . I have played pretend on the open ocean. Will Sofrin has lived the real experiences and survived to tell the tale." "Like many a sailor, Will Sofrin is a wicked good storyteller, with a jaundiced eye, an impish sense of humor, and a nose for the telling detail. Lovers of the Aubrey-Maturin novels and the movie Master and Commander: The Far Side of the World will find his account a worthy addition to the salty O'Brian world we love. You don't want to miss it!" "While researching for paintings I have probably read hundreds of ships' logbooks from the glory days of the Royal Navy, just as Patrick O'Brian did, so I know what things looked like from the quarterdeck (there are very, very few surviving accounts from the crews). But with this book Will Sofrin gives us a great insight into the intense working life of the lower deck, now just as it was then, constantly battling the elements, gear failure, and sometimes each other." "Will Sofrin's thrilling account of the eventful, sometimes terrifying delivery of the tall ship that starred in Peter Weir's adaptation of Patrick O'Brian's The Far Side of the World is a must-read. Even if you haven't seen the movie or read O'Brian's novels, this is an adventure story of the highest order." "All Hands on Deck is a fascinating read: a combination of a travelogue to distant lands, maritime history, and adventures and misadventures on the high seas. Through it all, author Will Sofrin is learning to live in tight and uncomfortable quarters on a tall ship alongside crewmembers of very divergent personalities. They ultimately form a team with the common goal of staying alive on an unforgiving and unpredictable ocean." "In the canon of classic literature is a disproportionate volume of epic tales of the sea. Almost invariably these tales focus on a young, green hand signing aboard a ship, casting off, and heading out into the great salty unknown for the first time. In All Hands on Deck, by Will Sofrin, we have a latter-day tale of a seagoing apprenticeship under sail. Lucid, personal, funny, and instructive, it could be read next to Two Years Before the Mast with no apologies. Ships and times may have changed, but the sea and young souls drawn to the sea have changed but little. This story is a worthy tale of a young man and a ship and the sea. I enjoyed it immensely." "People love tall ships, but the lives and culture of modern tall ship sailors are a mystery to most who attend sea festivals and the like. In All Hands on Deck, Will Sofrin accomplishes two things: He brings to light the real world of today's traditional mariners while telling the thrilling tale of how he himself was plunged into that world. With accomplished and insightful storytelling, Sofrin recounts an extraordinary, often hair-raising voyage, and in doing so reveals to readers the lives of the modern-day sailors of the big rigs." "In 2022, Will's twenty-year-old memories of 2002 with the Rose plunge up and down, from the present to historical descriptions of their passages and landfalls over the centuries, what life aboard these kinds of ships is now, and what it used to be like. With a cast of shipmates on the replica tall ship, from bowsprit to capstan, a door is opened for the reader between a developed modern world on a well-traveled ocean route and long-gone days when it was first being sailed, written, and talked about. A lively blend of new and old adventure stories, this book bromantically and informatively bridges time on the timeless seas."
You may also be interested in...
×
Download the Waterstones App
Would you like to proceed to the App store to download the Waterstones App?
Reserve online, pay on collection


Thank you for your reservation
Your order is now being processed and we have sent a confirmation email to you at
When will my order be ready to collect?
Following the initial email, you will be contacted by the shop to confirm that your item is available for collection.
Call us on or send us an email at
Unfortunately there has been a problem with your order
Please try again or alternatively you can contact your chosen shop on or send us an email at