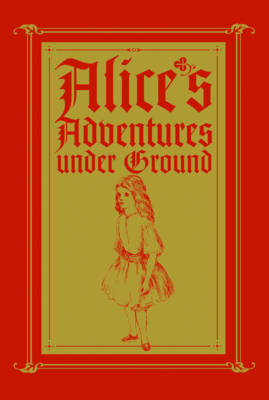 Alice's Adventures Under Ground: A Facsimile (Hardback)
Lewis Carroll
Hardback
Published: 01/11/2008
Many millions know and love the tale of "Alice's Adventures in Wonderland", but how many know the original story behind the famous book? It all began one 'golden afternoon' in Oxford, in July 1862, when three young Liddell sisters set out on a boating trip, accompanied by the Reverends Robinson, Duckworth and Charles Lutwidge Dodgson. To keep the children amused, Dodgson, a diffident young maths tutor, began to tell a tale about an inquisitive youngster, Alice, and her escapades in an underground world. Dodgson spun out the 'interminable fairy-tale' until Alice Liddell - the heroine of the tale - implored him to write it down, and two tears later, on 26 November, 1864, he sent Alice an early 'Christmas gift for a dear child'.The little book, entitled "Alice's Adventures under Ground", was bound in morocco leather and illustrated with 37 expressive pictures, and literary history was finally made in 1865 when the first of countless best-selling editions rolled off the press. In this superb facsimile of Dodgson's manuscript - now one of the British Library's most treasured possessions - modern readers can enjoy the expressive script and vibrant illustrations of the original. In an accompanying commentary, Sally Brown sketches a portrayal of Dodgson, and traces the stages through which the story passed as it was revised, expanded, illustrated by the Punch cartoonist John Tenniel and finally published as "Alice's Adventures in Wonderland", under the celebrated pen-name Lewis Carroll.
Publisher: The British Library Publishing Division
ISBN: 9780712350426
You may also be interested in...
We would love to hear what you think of Waterstones. Why not review Waterstones on Trustpilot?