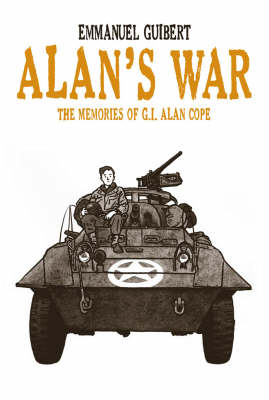 Paperback
336

Pages / Published: 09/11/2012
"When I was eighteen, Uncle Sam told me he'd like me to put on a uniform and go off to fight a guy by the name of Adolf. So I did."
When Alan Cope joined the army and went off to fight in World War II, he had no idea what he was getting into. This graphic memoir is the story of his life during wartime, a story told with poignant intimacy and matchless artistry.
Across a generation, a deep friendship blossomed between Alan Cope and author/artist Emmanuel Guibert. From it, Alan's War was born - a graphic novel that is a deeply personal and moving experience, straight from the heart of the Greatest Generation - a unique piece of WWII literature and a ground-breaking graphic memoir.
Publisher: Roaring Brook Press
ISBN: 9781596430969
Number of pages: 336
Weight: 636 g
Dimensions: 247 x 169 x 25 mm
---
MEDIA REVIEWS
"Guibert writes and draws for American G.I. Alan Cope in this poignant and frank graphic memoir of a young soldier who was told to serve his country in WWII and how it changed him forever. When he first enters Fort Knox at 18, he is young and impressionable, more of a dreamer than "the military type." Slowly, Cope grows through his experiences in the war. He forges candid friendships with his fellow soldiers and remains ever insightful in his recollections of the war and his life afterward. Together, Cope and Guibert forge a story that resonates with humanity. Guibert's illustrations capture the time period vividly. While the subject matter is familiar from many wartime memoirs, Guibert's fluid, simple but assured linework captures the personalities of Cope and his friends, elevating the material to a far more affecting level." --Publisher's Weekly, Starred Review
"This epic graphic memoir spans oceans and generations, with a narrative as engrossing as the artistry that illustrates it.
In his preface, renowned French graphic novelist Guibert (co-author: The Professor's Daughter, 2007, etc.) explains the bond he shared with the much older Cope, who had served as an American soldier during World War II and left his native country to return to France in the aftermath. "He spoke well; I listened well," writes Guibert. "Save two or three, his anecdotes were nothing spectacular. They evoked only very remotely what movies or books about the Second World War had taught me. Still, I found them captivating, because of the accents of truth they contained. I could literally see what he was describing." Now the American reader can as well -- (the first volume of the collaboration was initially published in France in 2000, the year after Cope's death). As the title suggests, this is one man's war memories, filled not with tales of larger-than-life heroism but with the chance encounters, tragic absurdities and small kindnesses experienced by a sheltered young soldier of uncommon intelligence, as recollected by an older man who has come to take stock of his life and reconsider the values by which he has lived it. He comes to question himself, his country and humanity in general, while retaining a humanitarian warmth and a deep appreciation for the arts.
The narrative voice is captivating, and the black-and-white illustrations are often stunning, whether capturing the grandeur of Big Sur and the giant redwoods of California or showing the destruction of European villages by soldiers who shared a common bond of humanity with the civilian "enemy." The Veteran's Day publication befits a volume that underscores the resonance and legacy of war.
Thankfully for readers, Guibert promises a prequel volume on Cope's childhood in California, in testament to "the storyteller in him that I was drawn to-his personality, his style, his voice, and his astounding memory." --Kirkus Reviews, Starred Review
"After churning out a series of popular children's books, French graphic artist Guibert recently detoured into biography. His chronicle of reporter Didier Lefevre in Afghanistan, The Photographer (in three volumes, so far), won several awards and raised the bar for Guibert's versatile drawing skills. The unlikely subject of his latest biography is World War II veteran Alan Cope, an American retiree living in France, with whom Guibert developed a close friendship in the early 1990s. Cope's charismatic demeanor and storytelling penchant gradually put a spell on Guibert, inspiring him to capture Cope's life in a fascinating tapestry of illustrated anecdotes, reproduced letters, and photographs. Cope, it turns out, saw very little action during his extended European tour in the latter half of the war, yet his peculiar misadventures as a radio operator, tank gunner, and chaplain's assistant carry their own appeal. His encounters with temperamental officers, friendships with fellow soldiers and German musicians, and struggles to find work in post-war France reveal a fascinating side of wartime life rarely seen in military films or history books." --Carl Hays, Booklist
"In 1994 a chance meeting between comic artist Guibert and an American expatriate living in France, Alan Cope, sparked a friendship that continued until Cope's death in 1999. During that time Cope shared the story of his experiences during and after World War II, and Guibert added illustrations to those tales. The result is this volume, a comic memoir of a man's life. Unlike so many memoirs, Cope wasn't unbelievably famous or heroic or, frankly, much more than ordinary, and therein lies the magic.
His tales have a literary quality about them that aptly highlights the drudgery of a soldier's life, the "hurry up and wait" attitude of much of the war. Guibert's illustrations of thick ink lines over paint perfectly flesh out the anecdotes. Unfortunately, the collection begins to lose its impact after Cope's departure from the Army. Guibert packs too much into the last third of the book, making the end seen rushed and too crammed full of information. Even with that failing, this is still a fine collection of war memories. Alan Cope may have been an ordinary guy, but Guibert was right to recognize the extraordinary nature of the everyman." --ICv2
"Relating the experiences of Alan Cope as a graphic novel memoir, Guibert (Sardine in Outer Space) adopts a conversational tone that makes readers feel as if they are overhearing the G.I.'s memories of World War II, both humorous and poignant. Guibert met Alan Cope "by chance" in 1994, when the former G.I. was 69 and Guibert was 30, and Cope began to relate his experiences to the graphic novelist. We watch Alan grow up on the page just after he is drafted in 1943 at the tender age of 18. Having only ever ridden a bicycle, the first thing Alan learns to drive is an army tank. Elements of the book may remind older readers of Catch 22, as when Alan's crew must wait two months after their arrival in Europe because the army has "misplaced" their weapons and vehicles.
Guibert uses this format to great effect, emulating the soldier's feelings of claustrophobia, for instance, when a 300-pound fellow soldier is sleeping above him. And when Alan attempts to descend from a barn's hayloft and discovers too late that there's no ladder to support him, Guibert divides the panels and employs the page turn to build optimal suspense leading up to the soldier's fall. The artist also evokes the awe-inspiring views for this young American seeing Europe for the first time ("We don't have villages like that where I come from. They were charming--tree-lined streets, fields, farms . . . everything was different and fascinated me, you know?") and, having returned safely home, viewing General Sherman, the largest tree in Sequoia National Park ("You know, you can't begin to imagine that tree until you've seen it, and you can't quite grasp it when you do. You just feel it, that's all"). Guibert leaves the tree's trunk colorless, allowing the audience to use their imaginations, with Alan's words as the launch point. Graphic novel fans will also appreciate the ease with which Guibert shifts between Alan's flashbacks and foreshadowing. The narrator comes across as a laid-back fellow who gets along with even some of the tougher members of his unit, and he accepts the homosexuality he detects among several of his fellow soldiers. His placid temperament helps to explain how easily he makes friends with Germans after the Yalta accords, especially his influential friendship with German composer Gerhart Muench and his American-born wife, Vera, a poet. This friendship becomes a kind of measuring stick for Alan's growth. Gerhart, being older and more worldly, attempts to guide Alan (on his "calling" as a minister and his choice for a wife), and although they have rifts, they overcome them. Much of the memoir reaches into Alan's post-war life, but what will be of most interest to older teens is Alan's candid view of his military training, the war itself and what he discovers about human beings' commonality more than their differences." --Jennifer M. Brown, Shelf Awareness
"Gr 10 Up-Cope was a paper delivery boy in California in 1941 when Pearl Harbor was bombed. A couple of years later, at 18, he was drafted into the U.S. Army and shipped off to Europe. In 1994, he met cartoonist Guibert and recounted his wartime experiences and what he'd thought of them during the intervening years. The resulting book-published in France a year after Cope's death in 1999-puts readers nearly inside the skin of a young man who learns to deal with Army regulations, a number of Western cultures, friendships, and what turned out to be a lifelong exploration of life's possible meanings. Guibert allows Cope to speak directly from the pages, where the images he is describing unfold in small, neat panels in which grays, black line, and open white space provide details of expression, furnishings, the open countryside, and military equipment. Guibert and Cope are well matched and compelling as storytellers. There is no central dramatic moment here-Cope's major wartime work involved neither attacks nor defenses-but the complete honesty offers insights and answers often omitted in war stories. Cope becomes so real that, as he ages across the final quarter of the book, teens will stay involved with how his youthful experiences and ideals colored his mature choices and memories." --Francisca Goldsmith, Halifax Public Libraries, Nova Scotia, School Library Journal
You may also be interested in...
Simply reserve online and pay at the counter when you collect. Available in shop from just two hours, subject to availability.
Thank you for your reservation
Your order is now being processed and we have sent a confirmation email to you at
When will my order be ready to collect?
Following the initial email, you will be contacted by the shop to confirm that your item is available for collection.
Call us on or send us an email at
Unfortunately there has been a problem with your order
Please try again or alternatively you can contact your chosen shop on or send us an email at