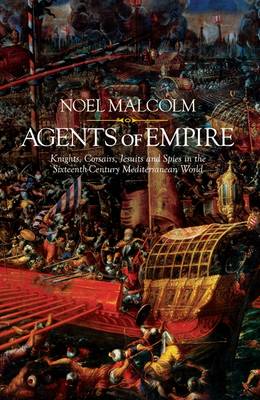 Agents of Empire: Knights, Corsairs, Jesuits and Spies in the Sixteenth-Century Mediterranean World (Hardback)
Noel Malcolm
(author)
Hardback
640

Pages / Published: 28/05/2015
In the second half of the sixteenth century, most of the Christian states of Western Europe were on the defensive against a Muslim superpower - the Empire of the Ottoman sultans. There was violent conflict, from raiding and corsairing to large-scale warfare, but there were also many forms of peaceful interaction across the surprisingly porous frontiers of these opposing power-blocs. Agents of Empire describes the paths taken through the eastern Mediterranean and its European hinterland by members of a Venetian-Albanian family, almost all of them previously invisible to history. They include an archbishop in the Balkans, the captain of the papal flagship at the Battle of Lepanto, the power behind the throne in the Ottoman province of Moldavia, and a dragoman (interpreter) at the Venetian embassy in Istanbul. Through the life-stories of these adventurous individuals over three generations, Noel Malcolm casts the world between Venice, Rome and the Ottoman Empire in a fresh light, illuminating subjects as diverse as espionage, diplomacy, the grain trade, slave-ransoming and anti-Ottoman rebellion. He describes the conflicting strategies of the Christian powers, and the extraordinarily ambitious plans of the sultans and their viziers. Few works since Fernand Braudel's classic account of the sixteenth-century Mediterranean, published more than sixty years ago, have ranged so widely through this vital period of Mediterranean and European history. A masterpiece of scholarship as well as story-telling, Agents of Empire builds up a panoramic picture, both of Western power-politics and of the interrelations between the Christian and Ottoman worlds.
Publisher: Penguin Books Ltd
ISBN: 9780241003893
Number of pages: 640
Weight: 1121 g
Dimensions: 240 x 162 x 43 mm
---
MEDIA REVIEWS
This is a remarkable book - remarkable for its erudition, its range, and its readability. It depicts in vivid detail a world in which frontiers are porous and shifting, and in which merchants, soldiers, corsairs and the local agents of empire seize the opportunities for riches and advancement offered by more or less permanently unsettled conditions. It is a world, too, that pullulates with spies and informants eager to sell the latest information or misinformation to their paymasters in imperial and national capitals, in papal Rome, and in city-states, all of them desperate for up-to-date news of the activities of their rivals and enemies. For all the detail, Noel Malcolm never forgets the wider picture and we are constantly given fresh insights, not only into well-known episodes such as the Battle of Lepanto, but also into the overarching story of western relations with the Ottoman empire. In my view the book is a masterpiece, which will open the eyes of readers to the intrinsic interest and importance of a historically neglected region of Europe within the framework of a relationship between civilizations which is as complex today as it was in the sixteenth century. -- Sir John Elliott, Regius Professor of History Emeritus, University of Oxford
The word "magisterial" is overused, but for once it is properly applied to this latest offering from a scholar who is as prolific as he is polymathic. Agents of Empire is magisterial because its author really has mastered his subject, having scoured the archives and libraries of Europe to collect everything that matters, then distilled it into a highly readable, almost picaresque study of men who sought to interpret the Ottoman "Other" for their variously Venetian, Spanish and Papal masters. Its lengthy subtitle barely does justice to the range, erudition and fascination of this chronicle of two remarkable families from Ulcinj, a minor Albanian port. The world that Malcolm depicts is that of Fernand Braudel's structuralist classic La Mediterranee et le Monde Mediterraneen a l'epoque de Philippe II, and he deploys the techniques of "micro-history" used by more recent scholars such as Natalie Zemon Davis in her studies of Martin Guerre and Leo Africanus. But Malcolm is more original than either: working not with historical celebrities, but with individuals virtually unknown even to specialists, he moves from the microcosm of the Bruti and Bruni clans onto the larger canvas of Venetian-Turkish relations in the Adriatic, and ultimately to the macrocosmic level, where Holy Roman emperors confronted sultans who also (since their conquest of Constantinople) laid claim to the title of caesar. Where Braudel lacks detail and Zemon Davis lacks context, Malcolm offers both. -- Daniel Johnson * Standpoint *
One of the many great merits of Noel Malcolm's highly impressive Agents of Empire is that his book exposes to view the intricate relationships along a coast where the Venetians had long been the major power, but were increasingly challenged politically by the Ottomans... In order to make sense of this world of shifting boundaries and loyalties, Noel Malcolm has focused on two inter-connected families, the Bruni and the Bruti ... [Malcolm] followed the scent of the Bruni and the Bruti like a bloodhound. The number of archives he has visited is astonishing, as his ability to read material old and new in any number of languages; footnotes cite quotations in sixteenth-century Romanian, and he humbly apologizes for his ignorance of Ottoman Turkish despite possessing a basic knowledge of modern Turkish. ... Malcolm describes his work as a sort of micro-history; but it is micro-history of a distinctive and original sort: rather than isolating exceptional cases ... Malcolm seeks to shed light of major developments, particularly in the realm of politics, through the close examination of people of moderate significance. He shows how their lives help us understand big connections across the spaces linking Poland, the Habsburg Empire, the Ottoman Sultanate, Italy and much of the Mediterranean. In fact, his canvas is even wider, because one cannot understand the relationship between the Ottomans and the West without taking into account the Ottoman alliance with France, while in England Queen Elizabeth thought for a time that the Turks were plausible allies against her Catholic enemies. Noel Malcolm avoids vacuous theorizing and jargon, and he displays quite exceptional mastery of his material. Agents of Empire is both a work of impeccable and original scholarship and a splendidly readable account of a critical moment in the history of both Eastern and Western Europe, and both Christendom and Islam. -- David Abulafia * TLS *
You may also be interested in...
Simply reserve online and pay at the counter when you collect. Available in shop from just two hours, subject to availability.
Thank you for your reservation
Your order is now being processed and we have sent a confirmation email to you at
When will my order be ready to collect?
Following the initial email, you will be contacted by the shop to confirm that your item is available for collection.
Call us on or send us an email at
Unfortunately there has been a problem with your order
Please try again or alternatively you can contact your chosen shop on or send us an email at