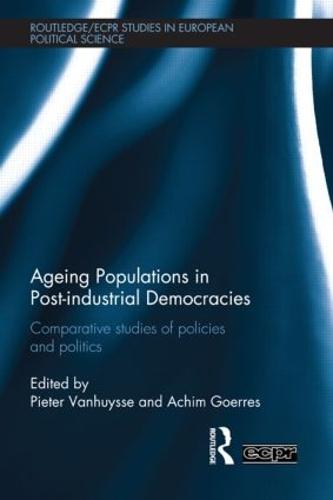 Ageing Populations in Post-Industrial Democracies: Comparative Studies of Policies and Politics - Routledge/ECPR Studies in European Political Science (Hardback)
Pieter Vanhuysse

(editor)

,

Achim Goerres

(editor)
Hardback
274

Pages / Published: 04/10/2011
In stock online

Free UK delivery
Most advanced democracies are currently experiencing accelerated population ageing, which fundamentally changes not just their demographic composition; it can also be expected to have far-reaching political and policy consequences.
This volume brings together an expert set of scholars from Europe and North America to investigate generational politics and public policies within an approach explicitly focusing on comparative political science. This theoretically unified text examines changing electoral policy demands due to demographic ageing, and features analysis of USA, UK, Japan, Germany, Italy and all major EU countries.
As the first sustained political science analysis of population ageing, this monograph examines both sides of the debate. It examines the actions of the state against the interests of a growing elderly voting bloc to safeguard fiscal viability, and looks at highly-topical responses such as pension cuts and increasing retirement age. It also examines the rise of `grey parties', and asks what, if anything, makes such pensioner parties persist over time, in the first ever analysis of the emergence of pensioner parties in Europe.
Ageing Populations in Post-Industrial Democracies will be of interest to students and scholars of European politics, and to those studying electoral and social policy reform.
Official publication date 1st January 2012.
Publisher: Taylor & Francis Ltd
ISBN: 9780415603829
Number of pages: 274
Weight: 590 g
Dimensions: 235 x 159 x 23 mm
---
MEDIA REVIEWS
Praise for Ageing Populations in Post-industrial Democracies:
'The politics of age, and of ageing societies, is finally being discovered as a field worthy of serious attention. Pieter Vanhuysse and Achim Goerres, twoã of the handful of younger scholars leading this discovery, have assembled a volume that maps out and extends the current boundaries of the field. From grey parties to pension reform, family policy and welfare attitudes, it speaks to issues that are asã theoretically productive as they are politically contentious.' - Martin Kohli, Professor of Sociology, European University Institute Florence
'The process of population ageing has been compared to a seismic shift which has profound consequences on all aspects of our societies but is too slow to make headlines or matter in daily politics. This book makes a major contribution to spelling out its manifold political consequences and providing a scientific basis for enhancing the public discussion.' - Wolfgang Lutz, Founding Director of the Wittgenstein Centre for Demography and Global Human Capital (IIASA, Vienna Institute of Demography, WU-Vienna)
'Ageing Populations in Post-industrial Democracies is an indispensable guide to the current state of play in ageing societies. The essays in this volume are wide-ranging, covering pension politics, pensioners' parties, political behavior, intergenerational justice, and family policy. The systematically comparative approach means this collection adds up to considerably more than the sum of its very smart parts.' - Julia Lynch, Associate Professor of Political Science, University of Pennsylvania
'This is a terrific collection of essays on demographic change and generational politics, using a variety of research methods. Going beyond simple formulations of greedy older voters and myopic politicians, the carefully-researched chapters in this volume present findings that are sometimes surprising and always thought-provoking. For scholars and policymakers seeking to understand where the study of aging polities is headed over the next decade, this volume is a great place to start.' - Kent R. Weaver, Distinguished Professor of Public Policy, Georgetown University, and Senior Fellow at the Brookings Institution, Washington D.C.
'The plurality of approaches and levels of analysis is where the strength of the book lies; it allows the reader to understand the issue at many different levels. The volume provides important findings for those interested in politics of ageing democracies, and the editors do an excellent job of placing the contributions within the larger debates in the literature.' - Tim Meijers, Universite catholique de Louv
`Ageing Populations in Post-industrial Democracies makes a major contribution towards addressing this paucity of data and empirically informed argumentation in an area that has raised so much interest and controversy in recent decades, but until now remained largely unexplored territory in the literature. ... the chapters amount to a firm rejection of the `grey power' hypothesis and the `war of generations' stereotype, with the complexity of generational politics convincingly highlighted ... Ageing Populations in Post-industrial Democracies has provided a tantalising invitation for advancing an increasingly important field of scholarship and is essential reading for graduate students and researchers working on this topic.' - Ageing & Society Journal
`a wide-ranging collection of comparative essays, covering pension politics and regimes, spending patterns, pensioner parties, family policy and intergenerational justice. ... (this) volume formulates a number of questions whose salience is on the rise in the wake of the third decade of `permanent austerity' and the consequent intensification of the demographic challenge. Is there a mounting generational cleavage influencing party politics in Western and Eastern countries? ... Rather than providing definitive answers, the contributors provide stimulating thoughts for reflection, setting the agenda for future research on the politics of ageing.' - Bulletin of Italian Politics
`Ageing ã Populations ã in ã Post-Industrial ã Democracies ...ã helps ã us ã understand ã population ã ageing ã in ã a ã global ã context ã by ã illustrating ã the ã ways ã in ã which ã politics ã and ã institutions matter across countries and welfare regimes. This collection finds striking differences in the politics and policies of different countries. Accordingly, it fails to support convergent arguments that the demographic and economic pressures related to population ageing will lead to similar political action among OECD countries. This collection implores us to move beyond convergent presumptions about ageing populations in OECD countries and to appreciate the influence of political institutions.' - Canadian Journal of Sociology
`This is a great addition to the Studies in European Political Science series .. taking an explicitly comparative political science approach. ... A main theme of the book is the interplay of demographic and fiscal considerations with political variables in the evolving adaptation to aging populations. ... In some regards, the similar demographics and fiscal constraints among European countries push in the same direction, but at the same time there is path dependency based on existing institutional and policy frameworks in each country. ... Achim Goerres and Pieter Vanhuysse observe in the introductory chapter that the increase in life expectancy and the relative size of the elderly population bring into question the very basis of the welfare state' - Canadian Public Policy
`a collection of articles which examine different aspects of the relationship between age and political power in advanced nations. In particular, several of the papers question whether older people show a greater inclination to vote following their logical self-interest, in support of parties who promise them more generous age- related benefits, or whether their voting decisions are based on a more complex range of factors. ... compelling evidence that some aspects of government policy are affected by the age of the electorate (particularly pension reform and generosity), while it seems that the interests of the elderly are not necessarily privileged during the design of labour market reforms.' - Intergenerational Justice Review
`Pieter Vanhuysse and Achim Goerres wish to shed light on the consequences of population ageing - one of the major policy challenges in advanced democracies. ... the volume offers a much-needed broadening of the research agenda related to generational politics. ... One of the merits of this book is to demonstrate that to fit the label `generational politics' the research agenda should comprise the life-course from the cradle to the grave. ... Ranging from small-n comparative case studies to formalistic, model-based analyses the contributions represent different ontological and methodological traditions. This methodological pluralism is refreshing and gives room for an inventive exploration of issues that a more stringent conceptual framework would most likely have rendered out of range.' - Journal of European Social Policy
`The intergenerational conflict of interests is often framed in terms of a `war of generations' ... this book offers eleven chapters that sketch a more nuanced picture, by answering a wide variety of questions with different methods and at different levels of analysis. .... This plurality of approaches is where the strength of the book lies; it allows the reader to understand the issue on many different levels. The volume provides important findings for those interested in the politics of ageing democracies, and the editors do an excellent job of placing the contributions within the larger debates in the literature.' - Political Studies Review
'This timely volume ... adds to our knowledge about generational politics and welfare state politics in the following aspects. First, a simple distinction between "old" and "new" welfare politics is of limited use in understanding political dynamics of ageing population. ... Second, generational politics is not a zero-sum game based on short-term material interests. ... Third, despite varying degrees of influence, all chapters show that domestic political institutions and policy legacies play an important role in mediating convergence pressures. ... Ageing Populations in Post-Industrial Democracies represents a competent venture into a relatively unchartered terrain from a comparative political science perspective. This book provides a wide range of interesting and nuanced findings to learn from and puzzle over.' - Swiss Political Science Review
You may also be interested in...
Simply reserve online and pay at the counter when you collect. Available in shop from just two hours, subject to availability.
Thank you for your reservation
Your order is now being processed and we have sent a confirmation email to you at
When will my order be ready to collect?
Following the initial email, you will be contacted by the shop to confirm that your item is available for collection.
Call us on or send us an email at
Unfortunately there has been a problem with your order
Please try again or alternatively you can contact your chosen shop on or send us an email at