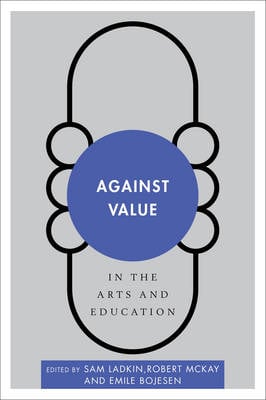 Hardback
446

Pages / Published: 18/05/2016
Against Value in the Arts and Education proposes that it is often the staunchest defenders of art who do it the most harm, by suppressing or mollifying its dissenting voice, by neutralizing its painful truths, and by instrumentalizing its ambivalence. The result is that rather than expanding the autonomy of thought and feeling of the artist and the audience, art's defenders make art self-satisfied, or otherwise an echo-chamber for the limited and limiting self-description of people's lives lived in an "audit culture", a culture pervaded by the direct and indirect excrescence of practices of accountability. This book diagnoses the counter-intuitive effects of the rhetoric of value. It posits that the auditing of values pervades the fabric of people's work-lives, their education, and increasingly their everyday experience. The book uncovers figures of resentment, disenchantment and alienation fostered by the dogma of value. It argues instead that value judgments can behave insidiously, and incorporate aesthetic, ethical or ideological values fundamentally opposed to the "value" they purportedly name and describe. The collection contains contributions from leading scholars in the UK and US with contributions from anthropology, the history of art, literature, education, musicology, political science, and philosophy.
Publisher: Rowman & Littlefield International
ISBN: 9781783484898
Number of pages: 446
Weight: 712 g
Dimensions: 223 x 146 x 38 mm
---
MEDIA REVIEWS
This challenging collection explores the aporias of value with great energy and gusto, questions the social consensus implied by ethical criticism via negative dialectics enlisting Kant, Hegel, Blanchot, Derrida, Beuys, Nancy, Foster and a few others. Such an effort calls up Geulincx's motto of Ubi nihil vales, ibi nihil velis ("Where your value is nothing, you will want nothing") upon which Beckett founded his refusals. If values are ubiquitous in our market societies, it is up to a contrarian "Nothing" to interrupt the circuits of power and open new portals of discovery. -- Jean-Michel Rabate, Professor of English and Comparative Literature at the University of Pennsylvania
The tyranny of value, of calculability, is evident in every facet of contemporary education. This book contests that tyranny through critique and refusal. It is relentless and passionate, full of disgust. It reads like a manifesto, a call to arms. For anyone seeking to understand what we have come to and what we have lost this is the place to start - this is a serious and searing counterblast to the cruelty of numbers. -- Stephen Ball, Distinguished Service Professor of Sociology of Education, Institute of Education, UCL
Against Value is a remarkably astute critical intervention, and one that our contemporary moment - both cultural and political - desperately needs. The language of `value' has itself become a means through which the essential threat that art poses to our social norms can be contained and constrained. This book menaces that political conservatism, restoring the very possibility of a criticism that might actually go towards changing our society. That, though not the value of the book, is the point. -- Thomas Docherty, Professor of English and Comparative Literature, University of Warwick
This fascinating and multifaceted collection questions the audit culture currently destroying the arts and education. The assembled authors expose a pervasive and allegiance-demanding regime of "value" that parades itself as rational but is deeply and madly self-referential and empty. These arguments are frightening in a sense, as they ask us to take the first halting steps into an unknown territory where we re-learn how properly to defend what we really love--without regard to everything's serviceability to some externally imposed "value." This first-rate volume helps to provide an initial vocabulary for describing what so many of us feel in our bones but cannot quite articulate. -- David J. Blacker, Professor of Philosophy of Education and Director of Legal Studies, University of Delaware
This book is a tonic for those tired of the pieties of value-talk in the fields of education and the arts. It suggests that the very notion of value is totally compromised, unthinkingly reflecting, rather than challenging, the ills of neoliberalised society. Bravo to the editors for bringing together such a simulating collection of essays. -- Lars Iyer, Reader in Creative Writing, Newcastle University
An ultra-narrow notion of value dominates contemporary art and education. The old adage that our time knows the price of everything and the value of nothing is more germane now than ever. Against Value in the Arts and Education assembles a brilliant array of commentators to sketch out a coming future, one in which the spent figure of homo economicus is finally abandoned, but also free of the false criticality and faux nostalgia that has functioned as neoliberalism's twin for too long. This remarkable and prescient book will fundamentally reshape the debate to come. -- Peter Fleming, Professor of Business and Society, Cass Business School, City University London
How could anyone be against value? What could this mean? The counter-intuitive thesis heralded in the title of Sam Ladkin, Robert McKay and Emile Bojesen's provocative and insightful book constitutes a bold and cogent attack on the culture of accountability. The insistence on "values" that today pervades the arts, education, and so much else is exposed here in all its hollowness. The essays collected in the volume, complemented by a powerful introduction, work with and through the arts to reveal what is at stake and what matters, in original, sometimes disturbing, and always thought-provoking ways. -- Paul Standish, Professor of Philosophy of Education, UCL Institute of Education
For some time now, the field of Design has been preoccupied with demonstrating its value to and its role in society, articulated in endless projects that evaluate the "impact" of Design and designers on business and social problems. And yet somehow we never quite get to the answer, so the cycle starts again, while other aspects of the field would benefit from sustained inquiry. This book provides useful challenges to even thinking about this question. It opens up the context in which questions of value and valuing have come to dominate, and hobble, the arts and education. The argument in the book shift attention away from the methods and practices for determining value - which people in my field often reach for - towards a critical exploration of the worldviews and assumptions that shape and drive evaluation. By proposing that the arts and education resist value, this book opens up new ways of thinking about the nature of art and design practice and the worlds they help bring into being. This links helpfully to recent research about the value of ignorance in doing research and inventing new social arrangements and provides new directions for research, practice and policy. -- Lucy Kimbell, Director, Innovation Insights Hub, University of the Arts London
Resisting reductive moralizing ... with an array of contributions ... the book examines value, and our relation to it, on a fundamental level. ... Against Value in the Arts and Education is a resounding wake-up call. ... Whether engaged in criticism, art and/or education, we are wholly embedded in the production of value and concomitantly subdued through various mechanisms of valorization. This book attempts to plot paths for agency and suggest spaces of resistance - or to borrow Pollock's words, restore our capacity to say "No!" Renee Turner, Willem de Kooning Academy, Hogeschool Rotterdam, the Netherlands -International Journal of Education Through Art
You may also be interested in...
Simply reserve online and pay at the counter when you collect. Available in shop from just two hours, subject to availability.
Thank you for your reservation
Your order is now being processed and we have sent a confirmation email to you at
When will my order be ready to collect?
Following the initial email, you will be contacted by the shop to confirm that your item is available for collection.
Call us on or send us an email at
Unfortunately there has been a problem with your order
Please try again or alternatively you can contact your chosen shop on or send us an email at