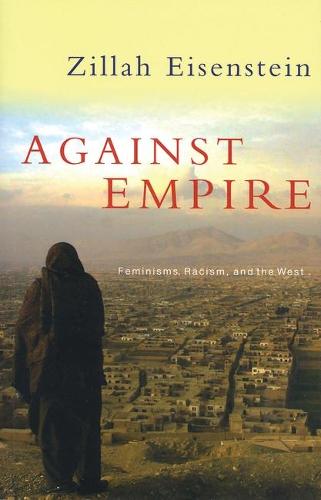 Paperback
256

Pages / Published: 01/08/2004
In Against Empire, Zillah Eisenstein extends her critique of neoliberal globalization and its capture of democratic possibilities. Faced with an aggressive American empire hostage to ideological extremism and violently promoting the narrowest of its interests around the globe, Eisenstein urgently looks to a global anti-war movement to counter U.S. power. Looking beyond the distortions of mainstream history, Eisenstein detects the silencing of racialized, sex/gendered and classed ways of seeing. Against Empire insists that 'the' so-called West is as much fiction as reality, while the sexualized black slave trade emerges as an early form of globalization. 'The' West and western feminisms do not monopolize authorship; there is a need for plural understandings of feminisms as other-than-western. Black America, India, the Islamic world and Africa envision unique conceptions of what it is to be fully, 'polyversally', human. Professor Eisenstein offers a rich picture of women's activism across the globe today. If there is to be hope of a more peaceful, more just and happier world, it lies, she believes, in the understandings and activism of women today.
Publisher: Zed Books Ltd
ISBN: 9781842773956
Number of pages: 256
Weight: 322 g
Dimensions: 216 x 138 x 138 mm
---
MEDIA REVIEWS
'Zillah Eisenstein, one of the most lively feminist theorists of democracy, here calls on us to question universalism, to embrace a more radical "polyversal" understanding of today`s world, and, out of both efforts, to craft a more genuinely feminist democracy. As always, Eisenstein is way ahead of the curve.' Cynthia Enloe, author of "Maneuvers: the International Politics of Militarizing Women`s Lives." 'When Eisenstein boldly declares that "the globe needs anti-racist feminist voices for peace", she speaks for us all. Embodying writing as an act of resistance in Against Empire, she offers a renewed politics of radical anti-colonialism centered around a constructive recognition of difference that privileges diversity as a fundamental feature of global community. Ultimately, she identifies the pursuit of justice as a common standpoint uniting us all.' Bell Hooks, feminist theorist and cultural critic 'This is a powerful and provocative work, at once an autobiography of an ardent and wide-ranging activist and a critical study of the workings of empire in this time. Eisenstein not only shows how feminism can and must rise to its global challenges, but how the workings of empire are systematically related to gender. She refuses the recourse to culturally imperialist notions of "women" and the "human" and shows how each of these terms might gain a broader, emancipatory meaning within a global framework.' Judith Butler, UC Berkeley 'Zillah Eisenstein writes with passion and commitment. She traces the complexity of the relationships between gender, class, race and religious oppression against women, links the global with the local, the West with the East, the personal with the political, the economic with the cultural. Despite the complexity of her subject her language remains simple, illuminating and refreshing in this dark age of war and neo-imperialism.' Nawal El Saadawi 'Written with Eisenstein`s usual lucidity, originality, and deep and wide knowledge of neoliberalism and histories of feminism around the globe Against Empire is the most far-reaching and visionary argument for a radically polyversal, anti-imperialist feminism for our times. A truly courageous, provocative and eminently pedagogical book.' Chandra Talpade Mohanty, Syracuse University, and author of "Feminism Without Borders, Decolonizing Theory, Practicing Solidarity". 'Zillah Eisenstein takes readers with her on an exhilarating journey beyond the world of engrained notions and policed conversations as she deflates old dichotomies and facile demonizations that divide nations, races, religions, and genders and that nurture insecurities. Against Empire is provocative, inviting agreement or disagreement, but above all calling for fresh and free thinking. It is a critical book for critical times.' Margot Badran, Northwestern University 'Eisenstein argues for the establishment of a `polyversal humanity', one which interrogates the notion of the West and questions its globalising mission. Specifically, she focuses on the existence of multiple feminisms, pointing to women's activism worldwide, not only in the West. She starts her critique by looking at the West's war on terror and multiple assaults on Iraq in particular. She points to the use of `terrorism' as a tool in mobilizing blind patriotism, smothering all forms of dissent, and enforcing silence. Eisenstein looks at the ways that women's bodies have been key in the deployment of these war fantasies. She connects the current political climate, which uses terrorism to justify domination, with past events such as the bombing of Hiroshima, the CIA-led coup in Chile, and the war in Afghanistan. Eisenstein looks at the ways that these assaults on justice have taken place with the complicity and active involvement of corporate America in order to satisfy its insatiable greed. She goes onto trace anticolonial movements in India, citing the work of Gandhi and Tagore. The liberatory aspects of these movements are discussed while still interrogating the objectification of women by many of it leading thinkers. Anticolonialism is then connected to movements for the abolition of slavery and later anti-racist movements. Finally, she points out the various cites of feminism around the world, breaking the myth that feminism is the exclusive hold of Western women. Her book looks at the multiple levels on which power operates and argues for a polyversal feminism-one that allows dialogue between different groups and looks at the possibility of working in coalition without privileging one position over others.' Prof Lou Kushnick, University of Manchester 'Eisenstein's book is a valuable attempt at making feminist theory anti-imperialist and non-western-centric.' Carol Anne Douglas 'Incredibly wide in scope, this book is an important read for students of contemporary politics and feminism and for activists hoping to better understand the intricate connection between empire and gender.' World Pulse
You may also be interested in...
Simply reserve online and pay at the counter when you collect. Available in shop from just two hours, subject to availability.
Thank you for your reservation
Your order is now being processed and we have sent a confirmation email to you at
When will my order be ready to collect?
Following the initial email, you will be contacted by the shop to confirm that your item is available for collection.
Call us on or send us an email at
Unfortunately there has been a problem with your order
Please try again or alternatively you can contact your chosen shop on or send us an email at